The other nine
The word "golf" conjures images of radically overweight white men wearing synthetic fibers while riding in motorized carts. It's a four-letter word that brings to mind the continued enslavement of the lower classes at posh, white picket fence country clubs. Golf is a "game" that coronary candidate John Daly can play extremely well while corrupt, corporate CEOs boast of their ability at the "sport." It's something that other people's parents play.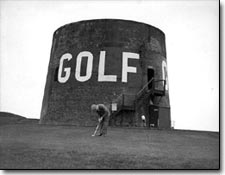 However, one of the unexpected and unplanned side effects of my wife's pregnancy was my newfound addiction to this dirty little game. During the course of a couple months during her third trimester, golf first got my attention. And though my daughter Skyler turns 2 this June (and curiously can't stand more than five minutes on the links), the problem is only worsening. But in my defense, things are not always as they seem in La Plata County.
For the record, the aforementioned corporate variety is not the game of golf that enraptured me. I actually play a perverted Southwest Colorado/Northern New Mexico variant. At the point in time when my wife Rachael could no longer see her toes and had reached maximum prenatal discomfort, I was conveniently escaping to the Hunter's Run Golf Course in nearby Oxford. The scratchy nine-holer is one of the only places in the world where the greens fee is roughly the same price as a high-end box of fish sticks. It is also the only golf course I know of where not one but two singlewides come into play and present themselves as potential hazards on a hole.
The place's charm is obvious immediately. On the first hole, the men's tee is hidden high above the fairway in a tangle of pi`F1on and juniper. Hitting off a pizza box-sized square of grass, the player must thread his ball down a 40-foot wide corridor cut through the trees. In a vintage Hunter's Run twist, a player can put a slight fade on his ball and bounce it off the roof of the clubhouse and cheat a couple dozen yards out of the par 5. These little idiosyncrasies show up all over the place.
But the real reason Hunter's Run is beautiful and brilliant is that the stereotypical golfer wouldn't give it even a passing thought. As evidence, I had one such player mutter through his short goatee, "I don't go in for that kind of pasture pool."
It's also beautiful and brilliant because of its tiny greens and its wicked rough (I once returned home with a four-inch gash spanning my face as a result of too much Tecate mixed with a lost ball). These factors, and others like seasonal absence of grass, result in a more than challenging golf course. Take away the singlewides and the club house, and Hunter's Run bears a strong resemblance to the game the Scots originated hundreds of years ago on the land they called "links" and considered too undesirable to be farmed.
Another favorite Four Corners haunt of mine is the Hidden Valley Golf Course in Aztec. Like Hunter's Run, Hidden Valley draws a predictable response from the golfer we discussed earlier. "I don't know why you'd drive that far to play at that hoedown," Ibeen told.
There are no doublewides at Hidden Valley but Hole No. 5 is a treacherous par 5 split by a deep ditch and accompanied by the constant sputtering of a gas well compressor.
Balls that go out of bounds on the course are truly lost forever courtesy of the high chain link topped with barbed wire surrounding the perimeter.
The course lay-out is tight and vaguely maze-like, and first timers are always easy to spot as they wander around aimlessly battling the onset of madness. With additional length and wildly undulating greens, Hidden Valley is likely more difficult than Hunter's Run, and expletives regularly echo around the grass acreage surrounded by sandy hills.
On one trip to the "Big A" as we affectionately call it, three of us had the pleasure of approaching the snack bar and ordering three cans of domestic beer.
"It's actually cheaper if you get six," the woman behind the counter politely told us.
"Sounds good to us," we replied.
"You guys want a cooler and ice with that?"
Realizing we'd actually died and gone to heaven, the hack job we then put on the next nine holes didn't seem nearly as painful.
This spring I arrived at Hidden Valley only to be greeted by a surprising capital improvement at the course. As I got within earshot, I realized that the club house now boasts an outdoor stereo. "Journey's Greatest Hits" was searing at high volume through the speakers, and yes, I was witnessing yet another first for American golf.
Steve Perry sang me through hard times and extra strokes up the first fairway with the band's prophetic "Wheel in the Sky." And as I enjoyed better times on No. 3, en route back to the club house, Perry greeted me again, this time with a cheerful "Don't Stop Believing."
On another occasion a couple winters ago, Hidden Valley gifted me my favorite golf memory. My brother and I found ourselves playing a final round at "The 'Tec Center," as Josh likes to call it. We'd just hit our shots off the No. 15 tee when four separate golf carts carrying one occupant each approached the adjacent 18th. The carts were sheathed in plastic and each sported mini-heaters. As always, Josh and I were hoofing it, and I believe I was wearing shorts.
Out of the carts came two pairs of Wranglers, one set of insulated Carhartt coveralls and a shiny blue satin jacket. All four men were wearing cowboy boots, and all four sported different flavors of foam trucker hats. They all looked to be in their 50s and obviously knew their way around the course.
Shocked and awed, Josh and I watched as the satin jacket wearer tipped his cap at us, approached the tee, dropped his ball flat on the surface, and with no offering of a practice swing, uncorked 300 yards of the straightest golf shot either of us had ever seen. Two others followed suit, and the man wearing the coveralls did one better and added around 15 yards to the shot. All four tipped their caps, got back in their carts and went screaming down the fairway.
Ironically, those four swings could have been comfortable and profitable on the Hooters Tour or maybe even amongst the Senior Pros. But instead of pointing their carts in that direction, those four seemed to gravitate back toward the club house. After 18 holes, it's usually time to refill the cooler, let the Wheel in the Sky spin a revolution and start it all over again.