Durango Film Festival names award winners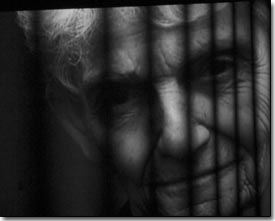 A scene of the documentary entitled "Curtis" shines through the upstairs balcony at the Abbey Theater./Photo by Todd Newcomer
The fourth annual Durango Film Festival concluded yet another successful year last Sunday. After it was all said and done, more than 7,000 attendees viewed 125 different films in various genres. The 2004 Durango Film Festival award winners follow:

Children's Film: "Spidermen" A short film from director/producer Harry Kellerman on a young boy's efforts to reclaim his Halloween candy stash.
Live Action Short: "25, 5 & 3" Director Sonny Quinn shows the struggles of Jim, a father freshly released from prison attempting to reunite with his estranged adult son.
Animated Short: "The Old Man With Knapsack" Directors HyunKyung Park and Woonki Kim won for the depiction of Ernest Hemingway selling The Old Man and the Sea to a movie studio and his adaptation for the big screen.
First Feature: "The Handcuff King" A feature by director Arto Koskinen about a troubled Finnish boy who is torn between right and wrong, Finland and Sweden, love and hate, and memories of the past.
Jury Commendation Feature: "A Man Like Me" Julius Kemp and Clarence Hui teamed up to construct this feature about an Iceland postal worker battling the complications of falling in love with a Chinese immigrant.
Documentary Feature: "Born Into Brothels" Directors Ross Kauffman and Zana Briski document a journey of how photographer Zana Briski saved kids from Calcutta's red light district by sharing the talent and opportunities that are embodied in the art of photography.
Jury Commendation Documentary: "Long Gone" This film directed by Jack Cahill portrays the life and values of hobos who still ride the rails.
Filmmakers Award: "Born Into Brothels"
Regional Audience Award: "Mending the Sacred Hoop" Director James Kleinert creates a deeper look into the life of the Lakota Nation after an American Indian peace movement was started in 1990.
Audience Award: "Born Into Brothels"
Student Film: "Sonata" Director Boris Undorf illustrates sharp contrast between fairy tales and mystery as a little girl grows up balancing childhood isolation and the evils of the adult world.
Durango School Children: "Gateball" A short on a small Japanese town's gateball championship and how one shot changed the entire game, by director Takashi Kawashima.
Short Documentary: "Chernobyl Heart" Director/Producer and Academy Award winner Maryann DeLeo traces the path of the Chernobyl Children's Project representatives who see the affects of the nuclear contamination in Belarus.
Narrative Feature: "Moonlight" An adopted girl keeps a wounded drug courier boy found near her house a secret, by director Paula van der Oest.