Rediscoverying the dory
Local boat builder works and lives a labor of love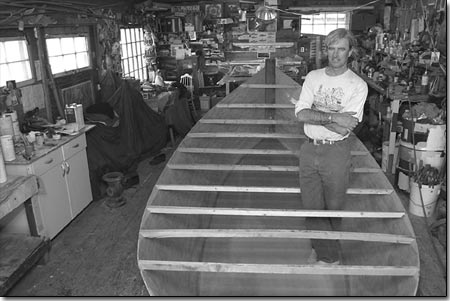 Andy Hutchinson displays his most recent creation, the shell of a new river dory, inside his workshop Sunday afternoon. Hutchinson, a Grand Canyon river guide, has been making the wooden boats for nearly 20 years./Photo by Todd Newcomer.
Andy Hutchinson prefers to float the massive, flesh-pounding rapids of the famed Grand Canyon in high-grade plywood. Never mind the 840/47-denier nylon, the Kevlar or the fiberglass – those textiles that are ostensibly the only ones that can withstand the unfortunate boat-bottom-to-snaggletooth-rock meetings. For Hutchinson, the best trip in this beastly canyon is layered, veneered wood, which, at first glance, looks as if just sitting on it will snap it in half.
Not so. Hutchinson declares that the hard-hulled boat sitting freely on the floor of his shop at the top of Farmington Hill is brawny enough to withstand the toughest of rapids in a sometimes unforgiving place. After all, when Major John Wesley Powell forged the canyon in the late 1800s, he and his accidental friends did so in nothing but wood.
But Powell's boats were unwieldy, keeled, cutwater boats. What Hutchinson is building is a durable, graceful dory – one that will glide smoothly down the magnificent canyon and give its riders an unparalleled float. The ride in a dory is so famous, so coveted, that this style of boat is beginning to regain popularity.
For Hutchinson, this means all kinds of benefits; among them is some income, since he is one of the few dory makers in the West who custom-builds the boats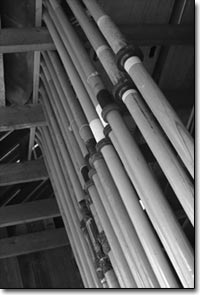 A row of ores hangs from the rafters in Andy Hutchinson's barn./Photo by Todd Newcomer
upon order. But more importantly, Hutchinson says, it means reviving the spirits of pioneering river runners. Only in the past 10 years have dories become a more sought-out watercraft by river runners in search of a more "organic" experience on the water.
"It's kind of a retro thing going on," Hutchinson says. "It's not like my phone is ringing every day, but there has definitely been a surge."
During the summer, Hutchinson works as a commercial guide for Kanab-based Grand Canyon Expeditions. He almost exclusively rows dories – whether on commercial or personal trips. During the winter, he runs his business, High Desert Boatworks.
Water fights and bikinis
Growing up in Salida, Hutchinson routinely drove by the Arkansas River – the most popular whitewater river in the country.
"In the summer I saw the guides out there having water fights and the girls were in bikinis, and I thought, 'Hey, I want to do that.'"
So he did. In the late 1970s, Hutchinson learned to paddle. In 1982, he was invited on a Grand Canyon trip. It was there that he spotted his first dory.
"I saw it, and I was smitten," he recalls.
Two years later, he rowed his first dory on a winter trip down the San Juan River. Only a few years later, he built his first boat.
Hutchinson's interest in river running pioneers like Bus Hatch, Martin Litton and Norman Nevills fueled his dory lovesickness. River historians credit Litton for introducing whitewater dories to the industry and the Grand Canyon. Hutchinson even credits Litton for successfully fighting the Bureau of Reclamation against damming the Grand Canyon after the agency had already done so with Glen Canyon Dam by convincing the Bureau how valuable the recreation industry was and how many people relied on a free-flowing river.
"The dory saved the Grand Canyon," Hutchinson says.
Over the years, several veteran river runners have reworked and refined whitewater dories. 4 As a baseline, Hutchinson uses well-known boat builder Jerry Briggs' designs to build the 16-foot, 9-inches-long wooden boats that typically have six hatches, passenger benches and hardwood rails and trim. The finished product, Hutchinson says, is a work of art.
"It's definitely a labor of love. I feel like it's my piece of artwork, and I have a hard time when one of them leaves my shop."
Hand-making a Grand Canyon dory is time consuming. Each one requires somewhere around 300 hours – or 2BD months. This is partly why, Hutchinson says, there are so few dory builders in the West (fellow Durangoan Derald Stewart is also among this group). In between river time, skiing and other outdoor pursuits, Hutchinson ends up building only one a year. And he is fine with that. Hutchinson is not keen on having a market flooded with mass-produced dories. Nor is he solely interested in building dories just for monetary gain.
For many years, he says, he undercharged customers simply because he was new to the business and didn't want to exploit people. Even now, he winces at admitting he actually makes a profit building boats.
"Yeah, I guess it's that part of the river runner in me," he says.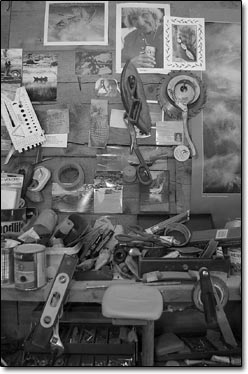 A collection of tools and river running paraphernalia litter Andy Hutchinson's work bench./Photo by Todd Newcomer.
The Sandra
In the 12 years Hutchinson has been a dory maker, he estimates he's built 10 from scratch. But he has also undertaken at least 25 other dory projects, whether it's repair or helping others build. Each dory has its challenges – and rewards. But none was as challenging or rewarding as a project he took on in 2000.
Greg Reiff, Norman Nevills' grandson, called Hutchinson looking for help. In the late 1930s, Nevills created a style of dory that was broader than the ones that Utah trapper Nathaniel Galloway had been building for whitewater boating. Nevills' wider dory allowed him to cut through the strong rapids with skill and safety. His style of dories was so well liked that river runners used them on the Colorado River for the next 30 years.
Reiff had found one of Nevills' boats that he built in 1947. Named the "Sandra" – after his daughter (Reiff's mother) – the dory was sitting in a back yard, rotting away from age and exposure. Nevills' family wanted Hutchinson to restore it.
He agreed – solely because of the emotional rewards.
"It was very humbling," Hutchinson recalls. "I mean here's this boat that was Norman's, and I got to bring it back to life."
Because much of the boat had deteriorated, Hutchinson had to extensively research how the boat was originally built. He traveled to river museums, where some of Nevills' Cataract Canyon boats were on display. Using measurements, old photographs and a compilation of anecdotes (Nevills died in a plane crash in 1949), he re-created an icon of the West.
Ultimately, Hutchinson reconstructed the Sandra using modern-day materials, such as epoxy and fiberglass. Nevills originally used wood, screws and caulk. But because Reiff wanted to float the boat on a river, they decided current techniques were acceptable. After several months in a Durango barn, Hutchinson relived history. He breathed new life into a coveted dory and, to boot, was able to meet Frank Wright, the Sandra's main boatman when he worked for Nevills. When Hutchinson sent the Sandra on its way, he cried.
"I realized that through Frank, mama Sandra and Cataract boat Sandra, old rivers and boats do talk," Hutchinson wrote in a memoir of the project.
Dory spark
Even without a story like the Sandra, Hutchinson still believes each dory has its own spirit. When on the water, he doesn't often see the dories he builds. They are far and wide. But if he does spot one of his handmade crafts, he gets a kick out of it. He says it's because he knows how unique dories are to a river experience.
"Rafts are so care free – kind of Tom-Sawyer like," he explains. "And though dories are less forgiving, they give you high performance."
Yet, he still finds it difficult to explain that dory "spark." He can only quote the famous Litton:
"Those who have to ask will never know."