Real estate now largest local industry
Growth eclipses tourism, oil and gas industries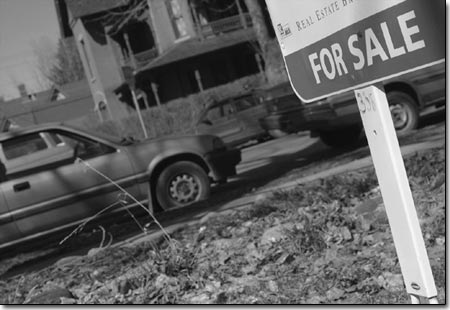 A "For Sale" sign sits in the front yard of a downtown Durango home. Durango's robust real estate market has bypassed tourism and oil and gas as the highest grossing local industry. All forecasts point at continued strength in coming years.
/Photo by Todd Newcomer.
It's no secret that Durango's real estate market remains strong. And the crystal ball looks promising for people who own property in Durango and La Plata County or are in the business of selling it. Based on recent studies, a strong real estate market has been forecasted well into the future. That strength is evidenced by real estate's move above tourism and oil and gas as La Plata County's largest and most lucrative primary industry.
Local real estate brokerage, the Wells Group, recently commissioned a study by appraiser Bob Allen and Bobby Lieb, executive director of both the La Plata Economic Development Action Partnership and the Durango Chamber of Commerce. Lieb and Allen were given the charge of assessing the local real estate market and came to the basic conclusion that the market should remain strong in 2004 and beyond. Lieb cited an interesting indicator of real estate's present strength in the La Plata County economy.
"Tourism, oil and gas development, and real estate are the top three industries that bring new wealth into the local economy," he said. "That's new money, and it eventually builds wealth in the community."
What's most interesting, according to Lieb, is that real estate is now the biggest generator of this new wealth. "Real estate now pulls the largest amount of new money into our economy," he said.
At $203.4 million annually, real estate is now well ahead of tourism ($142 million) and oil and gas ($123.6 million). Based on factors like interest rates, population growth, and local real estate inventory, sales and construction, this dominance should continue. John Wells, broker/owner of the Wells Group, is optimistic about the future. Looking at the current real estate picture, he cited numbers that are 30 to 40 percent higher than last year.
"It's really been substantially better than the first two months of 2003," he said. "It's about on pace with 2002, which was going gangbusters until the fires hit."
Wells noted that this promising future for real estate is being reflected in other areas of the local business community. He commented that there is a strong indication that the Durango area should be able to finally put the fires and slow tourism behind it.
"There's a good level of optimism for the Durango business community in general right now," he said. "That's a good sign considering what's happened over the last few years, catastrophe or otherwise."
However, Wells also said that prices inside Durango city limits have escalated to the point that numbers of sales 4 have tapered off slightly.
"In-town sales have reached record highs," Wells said. "But we are taking a little breather right now. The demand's there but the prices seem to be a little too high to attract buyers."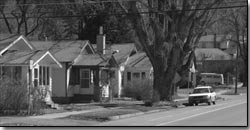 Although the local real estate market is stronger than ever, sales of downtown homes have slowed slightly due to prices that are out of reach for many homebuyers./Photo by Todd Newcomer.
The market is based exclusively on what buyers are willing to pay for local real estate, according to Wells. He added that numerous new homes are currently being developed throughout the county and demand could shift.
"Buyers establish the market based on demand," Wells said. "There's also a lot of new product being developed 85 The key is to look at the price points. When you get to prices above $500,000 or $550,000, houses are not moving that quickly because of affordability issues. If you can bring on inventory below $250,000, it's going to move well."
In the Wells Group study, Lieb analyzed a more indirect component of the real estate market. Rather than looking at interest rates and sales volumes, Lieb studied the current and future job markets and the ability for people to continue to make a local living and afford local real estate.
"My part in it was looking at how the local area impacts the real estate market," he said. "There's a general impression that only newcomers buy homes. In fact, the last two years have been dominated by local buy-up."
With this in mind, Lieb added, "The big question people are asking is, 'Are we going to have jobs or are we just going to become a retirement community?'"
With a mind to La Plata County's principle industries of growth, tourism, and oil and gas, Lieb said that his findings uncovered significant hope for the future workforce. "There is significant job growth projected by 2020," he said. "There has been over the last decade significant job growth in the service, natural gas development and growth, and there will continue to be more."
He also said that substantial job growth in the health-care field and the construction industry is forecasted. "Construction and health care are going to be two industries that are going to be significant in the county in the next decade."
In conclusion, Lieb said that Durango and La Plata County will continue to grow for many years to come. "I think we're in the middle of a cycle," he said. "We're going to continue to grow."
Gina Piccoli, broker/owner of Coldwell Banker Heritage House Realtors, shared Wells' and Lieb's optimism. She, too, said that the future of the La Plata County real estate market looks bright.
"We're swamped," Piccoli said. "I think the market as a whole is still really good."
Piccoli cited numerous factors that she believes will contribute to a strong 2004 for her office.
"Interest rates are still low and that helps," she said. "I think the economy in other areas of the country is also improving. We were in a little bit of a lull after the fires, but this winter's snow has everyone optimistic about the drought ending."
Relative to other resort areas in the state, Piccoli said that Durango and La Plata County still present the outside buyer with a good value. "We're not an Aspen or Vail or Telluride, and when you compare our prices to those places, we're not even close," she said."
However, Piccoli also shared Wells' assessment that buyers are not jumping on downtown properties as quickly as in past years. "I do think the appreciation of downtown properties and the speed at which they're being bought up have both slowed down," she said.
But Piccoli concluded that the slow down is really not that significant. "Last year maybe things took two weeks to sell. This year, it might be two months, but that's still a good, strong market."