Guide to St. Patty's local style
A sampling of Durango brewer's offerings for the special day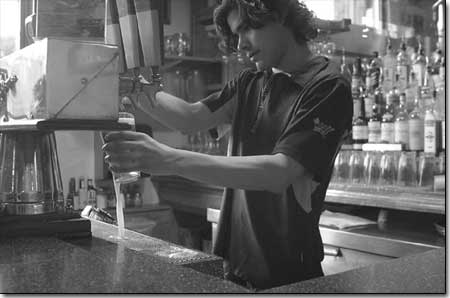 Robert Coy pours a fresh pint at Carvers' back bar Monday afternoon around happy hour. Durango brewers are serving up a special batch of microbrews just in time for St. Patrick's Day./Photo by Todd Newcomer.
St. Patrick's Day is a meaningful holiday for the Irish – a religious celebration to honor their patron saint and pray for missionaries worldwide. For the rest of the masses, it's an excuse to drink way more Guinness, black & tans, Irish whiskey and green beer than is reasonably prudent.
Then there's us, the true desperados who use the holiday as a thinly veiled excuse to "research" a story on local, seasonal beers that the aforementioned masses can enjoy this St. Patty's Day. Although we cannot profess to possess any official beer tasting credentials, we do happen to be the proud new owners of a Kegerator, which is more than sufficient in most people's books. Thus, armed with our Mug Club cards and a powerful thirst, we set out on our taste quest.
The journey started with Ska's Nefarious Ten Pin, an imperial porter from the boys in Bodo. With a hefty 8 percent alcohol content, its name, which is directly translated to "wicked" for non-English majors out there, was wisely chosen. However, we soon learned at a local liquor store that the limited supply of the wicked brew had evaporated into the thirsty community. Using a little fiendish behavior of our own,we coerced our friends at Lady Falconburgh's into breaking into their secret stash of Nefarious bombers.
We split a bomber bottle – 22 ounces, or 1 pint, 6 ounces – after the bartender fidgeted with the stubborn wax seal.
"They kinda got the childproof thing going," he said as he struggled to open it.
Once it was poured, we went in for a smell. Bryan felt it was "light on the nose for a porter," and once we drank it, we found it was medium bodied with a mild (and delicious) flavor. Jen's take was that the Ska guys like to drink copious amounts of beer, so a high-octane, drinkable porter is a no-brainer for them.
As our first beer of the night, we were pleased to feel the start of a buzz after splitting the bomber, and toasted to the beer's well-endowed properties. We decided to resist the urge to "cleanse our palettes" with rum and cokes, and headed to Carvers.
The Carvers crew also loves to sample its wares, which makes for fine brews. They used St. Patrick's Day as an excuse to brew up a red ale called "Sweet Irish Revenge."
"We steeped a leprechaun in it," quipped Aaron Seitz, co-owner.
Sweet Irish Revenge was "still cooking" at the time of the tour, but we were able to sample a bit of the unfinished product. It has an attractive color and promises to be quite drinkable, in keeping with the spirit of the day. It has an alcohol content of 5 percent, still respectably more than that 3.2 crap.
The good citizens of Durango will be able to sample Sweet Irish Revenge on St. Patrick's Day – March 17, in case you're wondering – while listing to the live Celtic sounds of Beltaine. The Carvers crew is hoping for the return of the regular who likes to slap stickers on passersby that read, "I don't have to drink green beer to prove I don't know anything about my ancestry."
Next stop was Steamworks. The seasonal beer offered here this St. Patrick's Day is, ironically, an Octoberfest beer (technically a "Marzen/Octoberfest"), which was not yet ready for consumption at time of writing. So we helped ourselves to Mug Club mugs of a couple of favorites, Backside Stout and Third I.P.A.
The I.P.A. has hops on the nose and rings in at 7.9 percent alcohol. This is a great beer for transplants from the Pacific Northwest, who are accustomed to heavy hops. The Backside Stout, a nitro with 5.4 percent alcohol, has a great malt flavor while still being well hopped and smooth.
The bartender said Steamworks doesn't brew many seasonals, and there is still plenty of the chili beer left over that was brewed during the fires in 2002. They'd love help finishing the batch!
We swayed back to the Telegraph office to crack into a bomber of Durango Brewing's new Derail Ale, an apt end to a boozy evening as it has the highest alcohol content, weighing in at 8.5 percent.
"Take it easy with this one," brewer Davy had warned. He added that it's not available on tap because "it's too strong to have at a bar."
As we poured the elixir into our glasses, Bryan remarked, "Smell that caramelly sweetness." It tastes sweet too – very malty.
Suffice to say, the rest of the evening was a jolly good time – St. Patrick's Day came a little early to the couple whose friends refer to them as "the Frickin' Reeders." So cheers, and if you choose to partake in these libations this St. Patrick's Day, just remember that if you see little green men, it's time to go home – and take a cab!