by Mike Sheahan
T he official start of the 2004 Major League Baseball season is still weeks away, but already the game has experienced several great losses. First, Reds owner Marge Schott hauls off and dies, then the son of baseball great Ted Williams follows suit. John Henry Williams is the guy who, based on a contract written on not much more than a cocktail napkin, had the baseball legend's head removed and body cryogenically frozen. This is a very disturbing trend. Really, who knows what could be next. Maybe George Steinbrenner loses all his money in a crooked Bunco scheme or Tim McCarver develops permanent laryngitis? The baseball world can only hope for both.
The days leading up to St. Patrick's Day are filled with so many options for entertainment diversions, that one might just be tempted to observe this year's holiday by staying home and watching "Finnegan's Rainbow." Surely that won't happen, even if Van Halen and Def Leppard played a double bill the night before St. Patty's, plenty of us would find enough reason to pretend to be Irish on Wednesday to warrant yet another boycotting of the pointless holiday.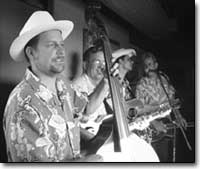 Halden Wofford and the Hi Beams
The week really heats up on Saturday, March 13, with the return of Halden Wofford and the Hi Beams to Storyville. Last fall the band played to a very enthusiastic crowd, and it's probably safe to say that most everyone in the crowd that night will be back for more Saturday. Halden and the Hi Beams play authentic, real deal honky tonk and country music in and around Denver, and the group's show is the first in a line of many that will culminate in Austin, Texas, during the South by Southwest music conference. Among the folks the Hi Beams cite as influences are pioneers Lefty Frizzell, Hank Williams and Bob Wills, and they mean it. Their mix of high lonesome twang and tasteful guitar, steel and mandolin sound just as right on the stage of a smoky bar today as they would have in your grandpa's barn 50 years ago. Even if you think you don't like country music, go see this band. Truth is, the real deal is hard to come by, and these guys are it.
After a night of honky tonkin' and carousing, the best idea is to scoop up the kids (borrow some if you don't have your own) and do something wholesome and productive. On Sunday, March 14, The Community Concert Hall at Fort Lewis College has the solution for redeeming your late night self. The duet of Regan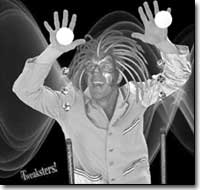 The Tweaksters
Patno and Julia Snyder, better known as The Tweaksters , will present their acrobatic juggling act at 3 p.m. The Tweaksters seem to be partly jugglers, partly acrobats and partly comics. The result should be solid entertainment for the entire family, even your over-partied self. The Tweaksters should make for a relatively affordable afternoon of family togetherness.
An afternoon such as the above, coupled with (finally) a good night's sleep should leave you ready for another night of fun and unbridled wackiness. On Monday, March 15, head to the Abbey Theatre for a night of said fun featuring David Lindley and Wally Ingram . Ingram's expert drumming coupled with Lindley's guitar, steel guitar, banjo and a host of instruments I can't even identify, have led some people to call them the best two-person group there is. "Mr. Dave" constantly wins awards for his lap steel ability and is equally adept at the other instruments. His music travels the world in terms of style. I describe his stage presence as what one might expect if Weird Al were a supremely talented musician. Hackish descriptions aside, one should just know that the Lindley/Ingram ticket is the perfect bookend to what should be a wild weekend.
Website of the Week: www.toiletwisdom.com/" is a site that explores the world of bathroom graffiti. Something about relieving oneself in public areas inspires the inner poet in all of us. From the relevant: "God is dead' Nietzsche" and, in someone else's hand "Nietzsche is dead' God", to the bewildering: "Read The Goods,'" bathroom graffiti has touched us all in some way. The toilet wisdom site gives one a chance to reflect on the ways such misspelled scrawling, often done with car keys, has touched all of us.
This Week's Album to Drop Everything and Buy: The New Rhythm and Blues Quartet (NRBQ) has been turning out superb pop rock for 35 years now, and some geniuses finally got around to putting out a tribute album. Credit the folks at SpiritHouse records for eventually picking up the dropped ball and, as the label's first ever endeavor, releasing "The Q People." Yo la Tengo, Steve Earle and Widespread Panic are bands all joined by one thing, a professed love for NRBQ. The Q has always been about the good times, and the bands involved on this tribute play right into that hand. On his version of "A Girl Like That," Steve Earle sounds more joyful and relaxed than he has in a couple years. The truth is that NRBQ's songs are so good that an album of me snoring them in my sleep would probably sound alright.
Tribute albums show up all too frequently and often with no good reason, but "The Q People" is a tribute that is not only deserved but also very well done. Widespread Panic's version of "Ain't No Horse," while going on too long, is quite tolerable all the way through, and the album's strangest entry, a 15-plus minute SpongeBob SquarePants entry called "Little Floaters Wild Weekend," is worth the time. True NRBQ fans will have fun counting the Q references during the piece.
As the members of NRBQ age and their records go out of print, I can only hope this tribute will encourage a new generation of music fans to explore the band's history and discover some truly historic music.
Long live the Q. mpsheahan@ yahoo.com.