KSUT releases 'Roots and Rhythms Vol. II'
Members-only album amasses 'raw performances'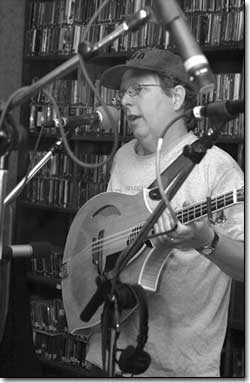 Derek Trucks, second from left, and his bandmates Yonrico Scott, Kofi Burbridge, Todd Smallie and Mike Mattison, will be playing next Tuesday at the Abbey.
For a second time, public-radio station KSUT is bringing supporters a snapshot of what the music scene was like in Durango over the past couple of years.
This week, during its on-air fund drive, KSUT is offering "Roots & Rhythms Vol. II" to anyone who pledges $60 or more to the station. Roots & Rhythms contains live performances by artists who have visited the KSUT studios over the past few years, en route to their various gigs in the area. For many listeners, the CD will be a reminder of concerts past. For others, it will be a chance to hear musicians they never had the chance to see live.
The CD is a mE9lange of musical genres, but all songs fit within the borders of the station's Music Blend. And many musicians on this CD didn't confine themselves to promotional new releases. There's a good mix of old and new.
The Indigo Girls, who appeared in Durango on tour with Winona LaDuke last spring to promote wind-powered energy, pull off "Let it be Me," a cut from the duo's 1992 "Rites of Passage." Singing in their usual rare harmonies and counter melodies, the girls perform this politically stirring song that is as relevant to today's national affairs as it was 14 years ago.
Then there is the familiar and regularly appearing (in the Four Corners) Patty Larkin, singing from the 1997 release "Perishable Fruit." Larkin sings "Wolf at the Door," which showcases one of the things (besides crisp, earthen guitar work) she does best – social commentary. Here, Larkin alters her voice every now and then to accentuate the ironies and rationalizations about which she sings.
"Roots & Rhythms
Vol. 2" is available only
by pledging $60 or more
to KSUT. The station's
on-air fund drive continues through Saturday, Feb. 28, but listeners also can pledge after the drive and receive a CD as long as the supply lasts. To pledge, call 563-0255 or go online at www.ksut.org.
Greg Brown's "Small Dark Movie" is the penultimate track on this CD. Singing this cut off 1996's "Further In," Brown, who has become somewhat of a cult figure among folk music fans, conjures deep shadows (from his deep voice) in his lyrics and the talking-blues lope of his speech. His sexy sootiness sounds like an echo that trails off into the last few moments of dusk. (On this CD, Lucy Kaplansky, who covered this song of Brown's on "Going Driftless," a release that raised money for breast cancer awareness, follows with her own "Land of the Living.")
Matt Flinner performs something more recent. Culling from last year's self-titled release, this mando-virtuoso gives listeners a mature work of musical interplay on "Men From Boise." Aided by background drums, Flinner's on-air performance reinforces his position as a champion picker (he started out as a banjo prodigy during his teen-age years) and respected musician in the business.
Adding to stellar performances of these celebrated musicians is the sound quality of the CD. While visiting the station, these musicians cozied up to a microphone in a room that Stasia Lanier, KSUT's station manager and music director, describes as multipurpose – part studio, part lunch room and part music library.
"It's a pretty humble space," she says. "It's by no means a recording studio."
The cuts on the CD are "basic two-track recordings" that Lanier says required little production to bring up to recording standards. But nary a flaw on the CD indicates such modest recording digs. Each track has been meticulously added to the compilation with only a touch of technical flair.
"They are just raw performances," she adds.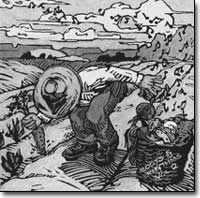 Local artist Maureen May designed the coverfor KSUT's "Roots & Rhythms Vol. II"
Rounding out the local appeal of the CD is the original cover artwork. Local artist Maureen May created a hand-colored linoleum cut image of a farmer digging up root vegetables. The image plays off the first Roots & Rhythms CD, for which May also provided the artwork. May says she wanted to retain the theme of the CD title, especially since she enjoys cultivating an image to match the intent of the project.
"I like to support KSUT and public radio," May says in explaining her involvement. "But I also like the challenge to come up with ideas that get the point across."
Ultimately, Roots & Rhythms is truly a grassroots effort. Lanier says that all musicians donated the use of their songs on the CD. None is receiving payment or royalties. Because the CD is available only with a pledge, the station benefits and is able to continue to provide community radio. With this kind of support, Lanier says station directors plan to create future Roots & Rhythms volumes – provided good musicians continue to perform in the area.