Soul Serenade
Derek Trucks Band heads to Durango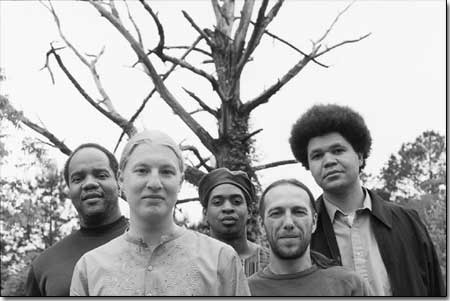 Derek Trucks, second from left, and his bandmates Yonrico Scott, Kofi Burbridge, Todd Smallie and Mike Mattison, will be playing next Tuesday at the Abbey.
Slide guitarist Derek Trucks is a musician people love to write about. He started performing professionally at the ripe age of 11. His uncle is Allman Brothers Band drummer, Butch Trucks. He is married to blues singer/guitarist Susan Tedeschi. He currently tours with his eponymous band as well as the Allman Brothers, which has led to frequent comparisons to the late Duane Allman. And then comes the kicker: He's only 24 years old.
But actually, the most intriguing aspect of Derek Trucks is that he's an innovative maestro who strives to evolve musically rather than seek out commercial viability – and he's bringing his band to Durango. The Derek Trucks Band plays the Abbey Theatre on March 2.
In a phone interview from Jackson Hole, Wyo., Trucks said that his band members (Kofi Burbridge/keyboards, flute and vocals; Todd Smallie/bass and vocals; Yonrico Scott/drums, percussion and vocals; Mike Mattison/lead vocals), despite having diverse musical backgrounds, are close knit. He said they have developed a sort of ESP when performing together, thanks to a typical six-days-a-week performance schedule.
"We really feel with this band that you have to stay out there and really play to keep the music growing the way we want it to, so we tour constantly," Trucks said. "Evolution musically is definitely a big part of what we're trying to do."
Though the band delves deeply into improvisational music, Trucks said he doesn't consider it a jam band (though its latest release, "Soul Serenade," is nominated for "Studio Album of the Year" at the Jammys, the jamband Grammys).
"I think the mentality of this band is more a 1960s jazz group with a lot of R&B and blues sensibilities," he said.
It's clear he has great respect for his bandmates.
"They keep the fire lit underneath," he said. "It makes you constantly move forward. You need people onstage constantly kicking your ass musically ... I love playing with these guys."
Trucks also loves touring with the Allman Brothers Band – which he has been doing since 1999 – where band members have become contemporaries rather than father figures, he said.
"You can't really get down and play music with somebody if you feel that they're on a different level than you," he said. "You have to be able to stand toe to toe."
He added that they are proud of what's happening with him, especially his uncle Butch and Oteil Burbridge, the band's bassist (and brother to Kofi).
With music such an integral part of Trucks' life, it's fitting that he found a mate in Susan Tedeschi. The couple met when Tedeschi was opening for the Allman Brothers a few years ago in New Orleans.
"I would always joke with people, saying if I ever met a woman that has Mahalia Jackson and Howlin' Wolf records and Coltrane records, I would marry her on the spot, and I had to step up to the plate," he laughed.
But he added that it is great to partner with a strong female musician who understands the realities of life on the road.
"It's easy to think it's a 24-7 party," he said. "Once you're out here you kind of know the difference 85 every other relationship I'd ever had, it was you get out on the road (for) two or three weeks and questions start comin' up – it's just impossible to deal with."
As for whether their toddler Charlie will be a child prodigy like his father: "There's instruments all over the house so if he shows any inclination towards it, he'll have a head start on a lot of people."
It's not surprising that Trucks would be attracted to a woman with a powerful singing voice, because he listens to a lot of vocalists. In fact, he said often when he's playing guitar, he thinks of vocalists like Otis Redding and Aretha Franklin and "a lot of gospel."
"I think that slide (guitar) is one of the instruments you can really emulate the human voice with, and the human voice seems to connect with people quicker than any other instrument," he said.
And connecting with audiences is important to Trucks, who tries to tailor shows to audiences, which vary with shows in places ranging from Durango and Denver to New York to Alabama.
"You have to come in early and feel out the vibe and try to write the set toward that," he said.
Ultimately, the goal is to create music that touches people. Trucks believes music is an intangible art form that can "change the way you look at life."
"I know personally, when you're dealing with a million things in life, an hour onstage can be pretty therapeutic, and I think it's that way for people that really listen, too," he said. "Hopefully with this band on a good night, somebody's comin' away with somethin'."