by Mike Sheahan
Some of you may not know it, but we have all just lived through one the most turbulent and disaster-ridden weeks ever to visit our young civilization. First, a shoddily constructed glass roof in Moscow collapses on a middle-class public swimming pool, killing a dozen people. Then Ralph Nader announces he intends to collapse the glass roof on another presidential election. Add, and I swear all of this is true, a band called the PBR (Professional Bull Riding) Allstars releasing an album called "Buck and Roll Volume 1," and these are truly troubling times. The PBR Allstars' album features such things as a song called "If I Can Just Hold On" followed by the tune "Faster, Faster." Oh, those racy pro bull riders.
Rodeo and Russian disasters aside, one has only to look back four years to realize that Ralph Nader and his few measly million votes have the power to shape American policy for at least four years. As the writer of this column, I have always tried to stay in the shallow end of the pool, picking on some undeserving local band rather than the free world's leader, for fear of getting in over my head. However, whether we are left or right on the political spectrum, we should all remember that less than 3 million votes spread across the country (Nader's take) or a mere 537 votes in one state (Bush in Florida) can actually make a world of difference. 'Nuff said.
Friday, Feb. 27, provides a delicious double bill that garners The Goods' "Best Night Out of the Week" award. The DoubleTree Hotel starts things off by hosting the 18th annual Chocolate Fantasia . The event, which benefits the Volunteers of America Southwest Safehouse, begins at 5:30 p.m. and features local pastry and dessert geniuses trying to out sweet each other in the world of competitive confectionism. The obvious winner is you, the $15 ($12 in advance) ticket buyer. It seems the idea is to bring your sweet tooth, be willing to have it fall out, and enjoy supporting a most worthy cause. Advanced tickets can be purchased at both City Markets and Albertson's among others.
At 8 p.m., when the chocolate overdosing ebbs, one should, after grabbing a quick one at a local spirit house, head to Steamworks for the monthly bluegrass visit by The Badly Bent . The Bent ranks high on the local echelon of bluegrass bands and is always worth seeing and never disappoints. Sure the crowd at Steamworks is voicy, but part of that volume will no doubt include the wondrous mating act that is three FLC seniors clumsily hitting on three FLC sophomores with amazing success.
The more one takes the car ride to Albuquerque, the more one realizes that the trip's not so hard. This newfound ability to take multihour road trips in stride comes, for many of us, from getting used to living in the wide open Southwest. A lot of us come from places where a 60-mile drive can take two or three hours and means at least one freeway change. Friday, Feb. 28, Neil Young and Crazy Horse hit the Tingley Coliseum. If you read this in time, and haven't seen Young with Crazy Horse, drop it all and go. Young and the Horse make real magic.
Never let it be said that The Goods doesn't support the jam community. Tuesday, March 2, the Derek Trucks Band makes a stop at the Abbey. Trucks grew up in the Allman Brothers family as nephew of founding drummer Butch Trucks. Recently nominated for a Jammy award, the DTB is sure to bring the real jammy stuff. Have a great time kids, just don't take the brown acid.
It may be a week early to mention, but the Bastard Sons of Johnny Cash are making their third run at Durango on Thursday, March 4, at Storyville. Even if it means lying to your loved ones, lie with abandon and just go. The Bastard Sons will do you proud, and when you get home, your family will understand.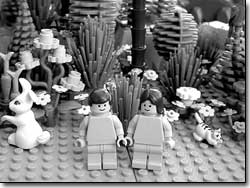 Website of the Week: Since last week, yours truly and several friends have become ordained ministers thanks to the Universal Life Church. A few detractors, Doubting Thomases if you will, have asked "What of it?" "What difference could it make in the world?" One must only visit www.thebricktestament.com to see that difference at work. Armed with little more than a Bible, his imagination and a very extensive LEGO set, the Rev. Brendan Powell Smith has set out to reveal his literal interpretation of religious law in playful brick form. He explains all stories, from Moses' run-in with a burning bush to the Bible's take on when it's appropriate to stone one's children to death. Much like life, parts of the Bible are not suitable to all viewers, so the good Rev. Smith has created a handy, cable TV-like rating system that should guide all surfers to their proper areas.
Album Under Review: From the opening riffs of "Bambi Molester" to the album's closing 30 seconds, a quick take on the standard "Under the Sea," the latest by the Minus Five , is yet another in the band's long-running study of pop ingenuity. There are few greater pop songwriters than Minus Five's lead man, Scott McCaughey who, along with primary collaborator Pete Buck, can consistently bridge the river of cheese between pop city and punk town. It's a big river, the instruments' drive and lyrics are the guide. McCaughey and crew are the boatmen. "In Rock" is just that; a musical trip in a boat that seamlessly navigates the deepest, stickiest river. All that means is "In Rock" is a very good record from a man who, for more than 30 years, has refused to let up.
I voted for Nader in 2000. mpsheahan@yahoo.com