by Mike Sheahan
Three years ago when baseball player Alex Rodriguez became a free agent, he was quoted as saying that he wasn't looking for a team that would pay him the most money, rather he was interested in the team most likely to win a World Series. He then left a first place team, the Seattle Mariners, for the Texas Rangers, that same division's last-place team. With his trade to the Yankees last week, it seems that A-Rod actually meant to say that he intended to sign with any team that would give him his famous record-shattering contract, then jump ship at first chance for the only team that stands to vie for a ring every year. It's the most despicable, disgusting and damnable deal ever made. Is it enough to make me give up on baseball? The strike of 1994 wasn't enough so this probably isn't either, but be sure George Steinbrenner and the Damn Yankees have given us all a reason to hate again, and hate we surely will.
Baseball season is still six weeks away though, and there are more pressing items at hand. Like digging through the enormous pile of entertainment options at hand this week.
The fun starts tonight, Thursday, Feb. 19 at the Diamond Circle Theatre with an evening called "The Night of the Troubadours." Local singer-songwriters Sand Sheff, a personal favorite, Terry Rickard, and a good friend, Tim Guidotti, will provide the entertainment. The cover is a mere five snaps and this should be a great evening of talented local musicians. The music starts at 7 p.m.
One could entertain oneself for two straight nights without leaving the Abbey Theatre this weekend. First, Friday, Feb. 20, the Abbey plays host to one of our town's biggest local live draws and tireless promotion machines, Freewill Recovery. We should all know by now, but Freewill is a fun band that very comfortably sits on the fence that divides rock •roll from jam band. In less capable hands, this is often a disastrous mix, but these guys manage to pull it off. The cover for the night is a mere 3 bucks, and between 9-10 p.m., well drinks are a glorious 2 bucks. Five bucks and you're in the door with your first cocktail? Sounds just right.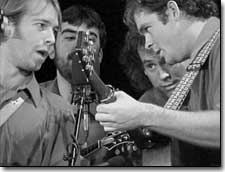 Steep Canyon Rangers
If that's not enough, Saturday, Feb. 21 brings an evening of authentic bluegrass featuring Steep Canyon Rangers . The Rangers hail from Asheville, N.C., where bluegrass is king. They are a great example of the new wave of real-deal bluegrass bands. In 2002, Steep Canyon Rangers won the Rockygrass band contest for new bands and did so on the strength of butter-melting harmonies and expert playing that, thankfully, never goes over the top. Local bluegrass traditionalists the Stoney Creek Ramblers will open the show, which gets out of the gates at 9 p.m. Whether you are already into bluegrass or you think Nickel Creek is an example of the real thing, this show is just for you.
Fat Tuesday is a holiday that coincides with the beginning of the Catholic holiday called Lent. When Lent starts, one is supposed give something up for the holiday's duration, which ends with Easter. Some people do crazy things like giving up beer, a thing I heartily discourage. The good news is, you don't have to be Catholic to enjoy deprivation. Anyone can join the self-flagellating fun. Durango favorite Tim O'Brien will bring his trio to the Concert Hall at Fort Lewis on Fat Tuesday, Feb. 24, for fun while you try to decide what to give up for a month. The mandolin playing O'Brien will be joined on stage by John Doyle on guitar and Casey Driessen on fiddle. The result will be another course of spectacular, old-time music in a town that often starves for it. What you pick for Lent is up to you, but make sure it's not bluegrass music, the Durango Meltdown is right around the corner, and God does not like a turncoat.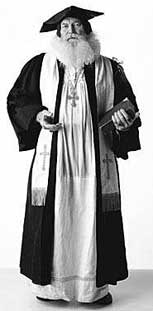 Website of the Week: The Universal Life Church in Phoenix wants you to become an ordained minister. In fact, the church is so eager that you can, with five minutes of work online, set yourself up to be performing weddings next week. This columnist became ordained a few hours ago and already I feel like St. Bartholomew after the cleansing of the Phoenicians or something like that. Don't forget kiddies, the ordained are exempt from a government draft should our military become entrenched in the three other wars that seem to be lurking around the corner. Simply visit www.ulc.org to become a man or woman of the cloth. Free wedding anyone?
Album of the Week: Heavy metal is an acquired taste. It takes years of training to fully enjoy it, and most people never get it. I am one of those people, and the Foo Fighters' Dave Grohl recently made me admit that. His latest project, "Probot," features Grohl, one of the brightest minds making music, teaming up, on each song, with one of his childhood metal heroes to create what is sometimes a spectacular vanity project.
Metal is hard to "get" because, what with all its cartoonish posturing, ridiculous costumes and over the top rock star-ism, it's hard not to think everyone is just having a good laugh at themselves. But then you talk to the musicians and their fans and you realize the style is almost a religion. Metal fans are the most rabid and seriously dedicated there are. Grohl, who wrote all the music and plays most instruments (his collaborators wrote the lyrics and sing), has released an album that is at its best a loving tribute to his hardest rocking influences. His teaming with Lemmy from Motorhead, "Shake Your Blood," is an instant classic that should have been a bonafide hit for Motorhead 20 years ago. Other songs, however, meander into noisefests that should only appeal to angry pothead teen-agers, exactly the Dave Grohl who is paying homage here.
Rock critics everywhere are going crazy about this "Probot" album, and I partially attribute this to a Dave Grohl as King Midas mentality (how could anyone really enjoy some guy growling the words "big sky" for three minutes), but as I said, I just don't get it.
Cherbot is on tour again. mpsheahan@yahoo.com