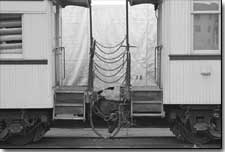 Idle time: Two empty Durango and Silverton Narrow Gauge train cars sit motionless on the tracks at the Depot./Photo by Todd Newcomer.
Broad-based coalition takes on drilling plan
A diverse coalition has filed suit against the Bureau of Land Management's approval of 10,000 new oil and gas wells in the vicinity of Farmington. A combined force of ranchers, Navajo governments and environmental groups had filed suit in Federal District Court. The lawsuit argues the BLM's decision will lead to destruction of the ranching economy, the region's air quality and thousands of American Indian cultural sites and assets. The suit also charges that the BLM failed to consult with the Navajo Nation and local communities prior to approval.
In the decision being challenged, the BLM authorized 9,942 oil and gas wells, 12,200 wellhead compressors and 319 larger compressors by the year 2022. The coalition notes that this will lead to 75,000 tons of new air contaminants, 1,000 miles of new roads and 44,300 acres of disturbance
"The BLM is approving massive new development, yet they are clearly not able to handle the soil, range, water, air and wildlife impacts that are overwhelming communities throughout the Basin from the existing development alone," said Tweeti Blancett, a rancher in the Basin and a member of the San Juan Citizens' Alliance. "Without intervention, this new development will take place on the backs of ranchers, landowners and residents of this basin."
Jennifer Goldman, of the Oil and Gas Accountability Project, noted that the BLM has acknowledged that the new wells will greatly degrade air quality throughout the Four Corners. However, she added that the agency has not made provisions to address these impacts.
"The BLM's own analysis shows that this oil and gas development will drastically degrade our air quality and they are just passing the buck on meaningful management of these impacts," Goldman said.
The BLM's proposal also authorizes gas drilling on and near two mesas that are sacred to the Navajo and will impact thousands of cultural sites.
In conclusion, Dan Randolph, organizer for San Juan Citizens' Alliance, said that the lawsuit was the coalition's last resort.
"We tried every step of the way to offer responsible compromise solutions to this planning process," he said. "But the Bureau of Land Management ignored the efforts of community groups, Navajo chapters, landowners and the public in its rush to fast-track a national energy plan."
Hut system comments solicited
The Forest Service has officially kicked off the public scoping process for a mountain bike hut system connecting Durango and Moab. San Juan Hut Systems is currently taking reservations for the route and, barring any major public objections, the system should be up and running this summer
San Juan Huts Systems has expressed interest in creating a mountain bike route between Durango and Moab linked by backcountry huts. The company currently operates a popular hut system between Telluride and Moab and said the demand for the expansion has been tremendous. As proposed, the new hut system would begin near Durango Mountain Resort, cross Bolam Pass into the Dolores drainage south of Lizard Head Pass, climb behind the Wilsons, then descend into Paradox Valley and skirt the La Sal Mountains before dropping into Moab. The route would follow existing double-tracks and primitive roads and include six huts. Each 256-square-foot hut would be equipped with eight bunks and kitchen facilities and be fully stocked with food, drinking water and sleeping bags. Trips would run between June 1 and Oct. 1 and be six nights and seven days in duration. It is anticipated that as many as 848 riders would use the system during a season.
Tom Kelly, of the Dolores Public Lands Office, said that proposal meets environmental criteria and is now in the hands of the public. "We reviewed everything we need to up to the public scoping," he said. "We'll allow the comment period to run through early March and see what we get back."
Comments will be accepted through March 12 and can be sent to: Tom Kelly, Dolores Public Lands Office, P.O. Box 210 , Dolores, CO 81323. For more information, call 882-7296.
Local group works to unseat Bush
A Durango-based Political Action Committee has kicked off a campaign to help elect a conservationist to the White House. Wild Pac is building financial support from Americans concerned about public lands stewardship in order to help elect the eventual Democratic presidential nominee.
"George Bush has the worst environmental record in presidential history," said Victoria Simarano, Wild Pac executive director. "All of the Democratic candidates will be a vast improvement over George Bush when it comes to protecting our national parks, forests, monuments and wilderness areas."
Wild Pac is currently collecting contributions and all of the money will be passed on to the Democratic nominee.
"We can't afford another four years of the Bush Administration giving away our public lands to the highest bidder," Simarano said.
Wild Pac is a political action committee founded in 2000 to elect wilderness and public lands leaders. The group's executive offices are located in Durango.
New lynx release planned for spring
The Colorado Division of Wildlife has resumed winter tracking of the state's growing Canada lynx population and is preparing to release up to 50 more lynx into local areas this spring. Thirty-three lynx trapped in British Columbia and Quebec have already arrived in Colorado in preparation for release this April. Meanwhile, DOW tracking crews are slogging through snowdrifts and climbing over downed timber in the San Juan Mountains to record movements, habitat preferences and what prey the lynx hunt.
The 2004 efforts follow last year's first confirmed births of wild lynx in Colorado. Last summer, DOW trackers located six female lynx with a total of 16 kittens at high-elevation sites in the San Juans. Two weeks ago, lynx trackers found more good news. The tracks of a pair of Colorado-born lynx kittens were found with those of their mother, the first confirmation that lynx born last spring have survived so far.
"Documenting the births was an important milestone in our ongoing efforts to recover this native species," said Rick Kahn, leader of the DOW's lynx recovery effort. "But we have much work to do, including releasing up to 50 more lynx this year and another 50 in 2005 and possibly up to 15 more each in 2006 and 2007."
Kahn added that while progress has been made, there is still a long way to go. "We still have a long way to go before we reach our goal of having a self-sustaining lynx population back in Colorado," Kahn said.
The first releases are planned for the first week of April.