Durango - Moab hut link sees daylight
San Juan Hut Systems starts booking this week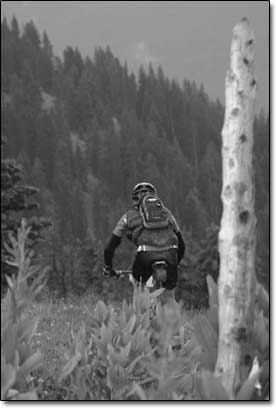 A mountain biker makes his way along a trail near Durango Mountain Resort, which would
be the jumping off point for the San Juan Hut System's Durango-Moab backcountry mountain biking route./Photo by Todd Newcomer.
A mountain bike hut system connecting Durango and Moab should be up and running by this summer. After 12 months of tense negotiations and differing expectations, the San Juan National Forest will open the system to public comment in the next two weeks. However, San Juan Hut Systems is confident that the public will smile on the proposal and will start booking summer trips for the route this week.
In February of last year, Joe Ryan, the system's owner and operator, approached the local Forest Service with plans to expand his business. He expressed interest in creating a mountain bike route between Durango and Moab linked by backcountry huts. Ryancompany currently operates a popular hut system between Telluride and Moab and said the demand for the expansion has been tremendous. As proposed, the new hut system would begin near Durango Mountain Resort, cross Bolam Pass into the Dolores drainage south of Lizard Head Pass, climb behind the Wilsons, then descend into Paradox Valley and skirt the La Sal Mountains before dropping into Moab. The route would follow existing double-tracks and primitive roads and include six huts. Each 256-square-foot hut would be equipped with eight bunks and kitchen facilities and be fully stocked with food, drinking water and sleeping bags. Trips would run between June 1 and Oct. 1 and be six nights and seven days in duration. It is anticipated that as many as 848 riders would use the system during a season.
Compared to the San Juan Hut Systems' existing route, Ryan characterized Durango to Moab as more remote and more visually stunning. He also said that while the riding is technically easy, the link-up would be more physically demanding than its Telluride to Moab brother.
"It's a bit more rugged," Ryan said. "There's more up and down through a quieter more remote area."
Now a year after his original request, Ryan's vision is close to being realized. "We're down to the last hoop," he said. If Ryan seems anxious, it is because he had hoped to be in business last summer and planned on a quick response from the Forest Service. Instead, over the last 12 months, he consistently alleged that the agency was dragging its feet. The Forest Service countered that the proposal is actually quite complex, noting that between Durango and Moab the route would cross two national forests and BLM, state, county and private properties. However, Ryan wasn't buying it and eventually got frustrated enough to enlist the aid of U.S. Sens. Wayne Allard and Ben Nighthorse Campbell and U.S. Rep. Scott McInnis.
"We met with each of their offices three times, and they got things moving," Ryan said. "They went to bat so well for us. It just wouldn't have happened without them."
Technically, the route still has not happened as the San Juan Hut Systems has not received its permit. However, Ryan is confident that his proposal will pass seamlessly through the final hoop – the public comment period.
"I've been told that the only thing left is the public scoping," he said. "I don't foresee anybody getting up and throwing a monkey wrench toward it. There's nothing there to throw one at."
Ryan said that the route follows only existing roads and double-tracks and that the six huts (two of which will be on private property) will be placed only in disturbed areas and removed at the end of the season. To facilitate the removal, Ryan has invented a two-piece trailer that will serve as the hut's floor and make for quick set-up and tear-down.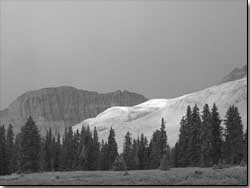 This scene, near Bolam Pass northwest of Durango Mountain Resort, would be one of many that mountain bikers could experience along the proposed backcountry mountain biking route from Durango to Moab. San Juan Hut Systems is
proposing the series of huts, which would be 252 square feet, come fully stocked and sleep 8./Photo by Todd Newcomer.
"They're little removable huts, and we're basically riding down public roads," Ryan said.
Whether the Durango to Moab Hut System sails through the public scoping is entirely up to the public, according to Tom Kelly, outfitter and guide administrator for the Dolores Public Lands Office.
"We reviewed everything we need to up to the public scoping," Kelly said. "We'll allow the comment period to run through February and see what we get back."
Like Ryan, Kelly said that the hut system's impacts should 4 be relatively minor. Consequently, the Forest Service is conducting an environmental assessment of the proposal rather than an intensive environmental impact statement.
"The impacts that we see with this actually don't trigger the need to do a full blown EIS," Kelly said. "The route is set on existing roads. The hut locations which we do need to go out and analyze are on sites that were previously impacted."
Kelly did note that by taking reservations Ryan is doing a little gambling. "I guess that's something that Joe's hedging his bet on," he said.
However, even Kelly said that the bet is a pretty safe one. "I feel comfortable saying that barring any unforeseen circumstances, we're moving in the direction of 2004 operation," he said.
And as Kelly mentioned, unforeseen circumstances could arise when the proposal is put to the public. Mark Pearson, executive director of San Juan Citizens' Alliance, said that the local conservation organization will be curious to see the proposal. "I think we'll certainly be interested in seeing what they've got proposed," he said.
Whether the San Juan Citizens' Alliance makes comments remains uncertain, Pearson said. "I guess we'll want to see if it's going to substantially change the existing character of that area," Pearson concluded.
Kelly said that the public comment period could open as early as Feb. 6 and will run for 30 days.