38 years surviving in snow
Silverton Avalanche School reconvenes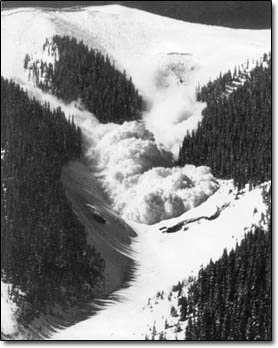 A large slide rips down the Battleship northwest of Silverton. Photo by Tim Lane/courtesy of Living (and dying) in Avalanche Country.
The cold morning air follows the barely awake students as they stumble up the old wooden stairs of Silverton's Miners Union Theatre. Clothed in layers of fleece and GoreTex and carrying travel mugs of coffee, they talk amongst themselves and find a seat in the chilly auditorium. The students begin to awake as the big screen in front of them flashes shots of skiers and boarders laying down first tracks, snow scientists digging pits and masses of snow crashing down mountainsides. These things set the stage for the reason these students have come to the Silverton Avalanche School, the oldest avalanche-awareness program in the country.
At the back of the room, leaning unobtrusively against the wall, arms crossed at his chest, legs crossed at the ankle, stands a man in Carhartts, flannel shirt and wide-brimmed hat. His blue eyes scan the events on stage and the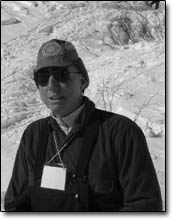 A Silverton Avalanche School
instructor, Larry Raab has been
instructing for more than 20
years./Photo by Dave Fiddler.
audience. He is repeatedly greeted by instructors back for another year and shakes hands with old friends. Larry Raab has seen this all before but can never quite stay away from the school, the weekends of student excitement, the gathering of the subculture of snow enthusiasts and backcountry adventurers. He's been doing this for more than 20 years, and before that he was just as untamed as the youth in the audience.
Sitting in the kitchen of his Silverton home, Raab grins when asked about his history with the school, and he looks at his wife, Rose, who gives him that "raised eyebrow, knowing look."
"Rosie actually took the school first," Raab says. "That was back in '75. At the time, I was more interested in peak-bagging, myself. I didn't get involved 'til '76." He explains that he was young and foolish and loved the backcountry, climbing in leather hiking boots or snowmobile boots and skiing on old military, cable-binding type skis.
"I never had good equipment, just whatever was available to get out there," Raab says. "Me and my climbing partner were doing crazy things in those days. Rose forced me to take the class."
Standing at the stove, Rose heats water for tea, and you can see her remembering the early days in this "anything goes" mountain town.
"I figure if we are going to live up here, we better do it right," she says.
The Silverton Avalanche School
returns for its 38th year next week. The school offers Level I and Level II courses that meet the American Avalanche Association's (A3) requirements for course curriculum, and Silverton's instructors are nationally recognized members of the Level I focuses on rescue theory, terrain recognition, use of avalanche transceiver and decision making. The three-day courses feature classroom lectures and fieldwork, and Sundays are slated for a backcountry tour emphasizing decision making and terrain recognition. Level II focuses more on snow science with courses in
data pits, stability, snowpack and crystallography. There are openings in a Level I class Jan. 30-Feb. 1 and a Level
II class Feb. 6-8. For more information log onto
www.silvertonavalanche school.com
or call Bruce Conrad at 387-5018.
Country's best classroom
San Juan County, and especially the U.S. Highway 550 corridor, is the most avalanche prone area in the lower 48 states. It also holds the eerie prestige of having the most avalanche deaths in the United States notched on its proverbial belt. This is precisely why Silverton Avalanche School, set in the heart of this avalanche terrain, is the country's best classroom for avalanche study.
"The San Juans are an excellent place to study avalanches because of the numerous avalanche paths and the typically unstable snowpack," says Andy Gleason, Colorado Avalanche Information Center Forecaster, Silverton Avalanche School instructor and all-around snow guru.
Gleason has spent years studying the unique snowpack of the San Juans, trying to stay one step ahead of Mother Nature and keep the highway safe. "We sit in a continental snow climate which is conditionally unstable and produces 4 lots of full depth 'climax avalanches' during a typical snow season," Gleason explains. Climax avalanches are those in which the entire snowpack empties from the slide area.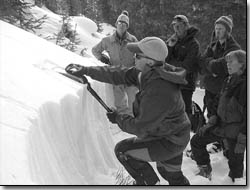 A Silverton Avalanche School student isolates a column of snow and performs a shovel shear test during the 2003 session./Photo by Dave Fiddler.
Rescue or recovery
Silverton Avalanche School started in 1962 when the Highway Department, Forest Service, Bureau of Land Management and Fish and Game Department decided their employees needed avalanche training to keep themselves safe. Fifty students gathered in Silverton for the first Avalanche and Winter Survival Workshop. The School remained institutional in nature until 1982 when it was taken over by San Juan County Search and Rescue. With the change came an increased enrollment of backcountry enthusiasts and the philosophy of self-rescue.
"Under most circumstances," Raab says, "you have a window of 30 minutes for probability of survival with an avalanche victim. You need to know how to save yourself or save your buddy. If you're in the backcountry and you have to go for help, the scenario has changed from rescue to recovery."
Raab recalls when he woke up to the importance of avalanche awareness. He'd been called out on an avalanche recovery on Jura Knob, north of Engineer Mountain, where the torrent of snow and debris had not run a straight line down the mountain. It had turned. The victim's buddies had searched the area all day and finally reported it to Search and Rescue that night.
"It was blizzard conditions and dark before they reported, so the next morning the team was helicoptered in," he said. A rescue dog named Leo found the man in about five minutes at the edge of the slide in a terrain trap.
"He'd been swimming and had almost reached the surface," Raab said. "There was only about an inch of snow covering his hand, just scuffing over his fingers. They'd have found him in time if they'd known where to look. All the clues were there."
After 20 years' experience with the school, doing everything from directing the school to teaching probe lines, Raab says the mentality of the students hasn't changed. The thrill seekers who play in the snow today are pretty much the same as those who came 30 years ago. What has changed is the amount of research that has allowed for a better understanding of snow science. Regardless, a recent study in Canada showed that 75 percent of avalanche fatality victims had received some avalanche-awareness training. The Silverton Avalanche School took that to the table and adjusted its curriculum accordingly.
"People need to understand that backcountry travel is a constant series of decisions," says School Director Bruce Conrad. "As avalanche educators, we need to instill this mentality into our students, as well as provide them with the tools necessary to make the decisions that will keep them alive."
Survivor stories told over and again reflect that the draw of first tracks often overwhelms logic and good planning. All the knowledge of snow stability and terrain recognition in the world won't do any good if the human ego steps in.