Reservoir proposal draws heat
Long Hollow Reservoir pitched to satisfy compact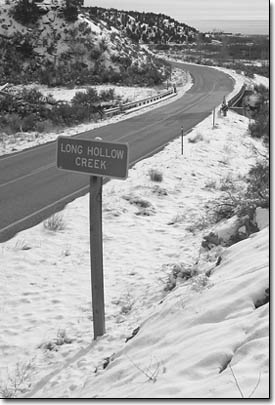 Highway 140 crosses over Long Hollow Creek on its way toward the New Mexico border. Under a contentious proposal currently being considered by the Army Corps of Engineers, the La Plata Water Conservancy District would build a reservoir here to help satisfy the interstate water compact./Photo by Todd Newcomer.
A storm is currently building over a new proposal to build a local reservoir. Proponents charge that the Long Hollow Reservoir in western La Plata County would fulfill part of Colorado's water commitment to New Mexico. Opponents counter that the reservoir will negatively impact La Plata River water quality, cheat Colorado taxpayers out of millions of dollars and provide a backdoor to resurrect the full scope of the Animas-La Plata project.
In 1922, the La Plata River Compact was drawn up between Colorado and New Mexico. According to the agreement, half the flow of the La Plata River as measured at Hesperus must be delivered across the state line for New Mexico's use. Sometimes the compact is effective. Often it is not, particularly during summer months when agricultural use and temperatures are both at their yearly highs. The La Plata Water Conservancy District (LPWCD), an organization formed in 1944, has worked since that time without success to build a reservoir to help fulfill Colorado's end of the bargain. The site deemed appropriate for the reservoir was and is Long Hollow, a tributary of the La Plata River located just south of the town of Red Mesa and 4 miles north of the New Mexico border.
The reservoir that is currently being proposed would inundate roughly 160 acres and be a relatively meager 5,432 acre-feet. The LPWCD would like to have it operational in two to three years.
Delivering on a promise
"The purpose primarily is to help resolve some of the problems with the La Plata River Compact," said Brice Lee, LPWCD president. "The compact was ratified in 1922, and there's been problems with it since then. We want to get water to New Mexico without harming Colorado users."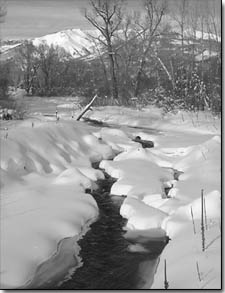 Water creeps through the La Plata River near Hesperus on Monday. According to
a 1922 agreement half this flow must make it New Mexico. The Long Hollow
Reservoir allegedly will solve problems with the compact./Photo by Todd Newcomer.
At one point in Long Hollow's incarnation it was tied to the larger Animas-La Plata project and would have utilized Animas River water piped into Ridges Basin and then diverted to a similar reservoir to satisfy the compact. Lee stressed that A-LP is no longer tied to Long Hollow Reservoir.
"This has nothing to do with the Animas-La Plata project," he said. "I want to make that very clear."
Without Ridges Basin as a water source, the "Dry Side" reservoir would rely on groundwater collected from natural precipitation as well as irrigation return flows. "The primary source is groundwater that arises in the La Plata drainage," Lee said. "We would more than anything else change the timing on when the water is delivered."
The process begins
Currently the Long Hollow Reservoir is going through the Army Corps of Engineers' Water Quality Certification process. The Corps took public comments through Dec. 8, 2003, and received 17 letters of concern. On Dec. 29, those letters as well as the Corps' concerns were sent back to the LPWCD.
"I forwarded the comments to the applicant," said Kara Hellige, chief of the Corps' Durango office. "They need to address those and the Army Corps' concerns . . . We have similar concerns to most of the public that commented."
Hellige explained that the Corps would like to see the LPWCD formulate an operational plan, identify appropriate flows to support native and endangered downstream fisheries, develop a water quality program and ensure that the compact is actually met. As the process goes forward, Hellige said that the Corps will determine whether to do the standard Environmental Assessment or a more rigorous Environmental Impact Statement.
"If we determine that the project would cause significant impact, we would review the project with an EIS and figure out what those impacts are and if they can be addressed and minimized," she said.
Severe water-quality problems
One group that is sure significant impacts will arise from Long Hollow Reservoir is the Citizens' Progressive Alliance, a longtime opponent of A-LP. Sunny Maynard, attorney for the CPA, said that a chief concern is diminished water quality because of the reservoir. She 4
said that by catching irrigation returns, water tainted with chemicals and fertilizers will be delivered to New Mexico violating the state's stringent water-quality standards.
"They are trying to catch irrigation return flow to satisfy the La Plata River Compact, and there are severe water-quality problems with that," she said.
Rather than building reservoirs, Maynard suggested that La Plata River users should honor their commitment to New Mexico by not irrigating when there is no water available. "We need to stop those irrigators from making diversions if we're not meeting our commitments," she said.
One of the worst rip-offs
The CPA's Phil Doe added that one of the most significant impacts of the Long Hollow Reservoir is a social one. "This is one of the worst rip-offs I've ever seen," he said.
Doe noted that in 1986, the State of Colorado set aside $30 million to cover its share of A-LP. However, in 1999, an initiative spearheaded by Sen. Ben Campbell transferred all the costs of A-LP to federal taxpayers. That $30 million (currently $42-plus million with accrued interest) was never repaid to Colorado and $15 million of that sum was awarded outright to the LPWCD for the Long Hollow project.
"Eighty-nine landowners are getting a $15 million gift, and they're getting it surreptitiously," Doe said. "Those landowners have managed to rob the state treasury of $15 million."
A-LP 'Large' resurrected?
In spite of Lee's statement to the contrary, Doe and Maynard added that another concern is that once a Long Hollow Reservoir is built, the original and larger Animas-La Plata project will be resurrected. Last summer, the CPA defeated a 2000 application that they said the LPWCD was trying to sneak through. The district had proposed diverting Animas River water through Ridges Basin into a Long Hollow Reservoir.
"I still see that's been their intention all along," Maynard said. "Everything shows that all the hype they did about downsizing Animas-La Plata was just that – hype."
Maynard concluded by asking why a small water district in rural La Plata County is doing the work of the State of Colorado engineer – fulfilling the compact. "The bottom line is, what's the state engineer doing and why is he permitting this?" she said.
Downstream concerns
Criticism of the Long Hollow Reservoir is also surfacing from an unlikely source – the beneficiary. During the Army Corps' scoping period, the New Mexico Interstate Stream Commission was among the groups and citizens that submitted concerns. Phil Mutz, Upper Colorado River Commissioner for New Mexico, said that chief among those concerns was that there would not be sufficient supply in Long Hollow Reservoir to satisfy the compact.
"The commission did not agree with the hydrologic analysis that was done for that reservoir," he said.
Mutz also said that the State of New Mexico is serious about seeing the La Plata River Compact satisified. "Sometimes we get it, and sometimes we get it a bit short," he said. "But that's what the compact's there for, and we expect Colorado to deliver."
Lee said that the LPWCD is doing its best to fulfill that obligation. He also said that the district wants to be as open with the public as possible as the process moves forward.
"We're hoping that this will help with some of the problems that have been created between the two states," he said. "It's not going to be a 100 percent fix, but it will help. This'll be going on through the process and as time goes on, there'll be plenty of opportunity for people to comment."