Local tourism continues to evolve
Young sports-oriented families, boomers choosing Durango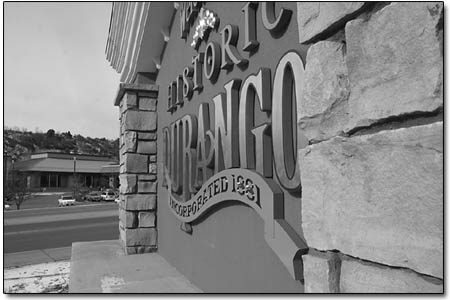 The sign at the southern end of Durango greets motorists early this week. About 1.2 million people visit Durango each year but local tourist attractions are working on ways to increase that number./Photo by Todd Newcomer.
Roughly 1.2 million people visit the Durango area every year and sink upwards of $260 million into local businesses. There is hope that these numbers will grow in 2004 along with recognition that the local tourism market is undergoing changes. In coming months, local marketing efforts will capitalize on past success and explore new ways of luring tourist dollars into Durango.
It is no secret that the local tourism economy is on the rebound. Strong visitation last summer helped the Durango area begin to recover from the fires in 2002 and the lingering effects of the Sept. 11 attacks. "Tourism is healthier than it was. Durango had a good summer, and it's bounced back after a tough time," said Bob Kunkel, chairman of the Durango Area Tourism Office Board.
However, the recovery remains incomplete for many local businesses. Kristi Nelson Cohen, vice president of sales & marketing for the Durango & Silverton Narrow Gauge Railroad, said she is banking on strong numbers in 2004.
"We were up about 25 percent last year, but not up to where we'd like to be in 2004," she said. "We're thinking that the coming year will be much improved and get us back on track, so to speak."
The prototype
According to the Durango Area Tourism Office (DATO), the ideal Durango tourists are either families with kids younger than 18 years old or baby boomers. Within these age groups, DATO is hoping to attract sports enthusiast households that earn more than $50,000 a year. The group has codified its path to this type of tourist in a Marketing and Operations Plan.
"The tourism plan is well written, in place and is a longer term plan for tourism in Durango," Kunkel said.
In the coming year, DATO will continue "branding" Durango as one of five things: a Western town, a historical community, a bastion of arts and culture, a sport/outdoors mecca or a center of American Indian heritage. The group also plans to increase its market presence and take a competitive approach in the targeted states of Texas, Arizona, New Mexico, California and within Colorado. This focus is based entirely on the strength of the "drive" market.
"We know we are primarily a driving destination," Kunkel said. "The bigger question is how far out we go in terms of geography."
Roy Cook, associate dean of the School of Business Administration at Fort Lewis College, said people are driving on vacations because of the nature of the times. "The biggest shift we're seeing is toward the 'last minute purchaser,'" he said. "Our tourism has really shifted to a spur-of-the-moment, drive market."
As for causes, Cook pointed to last week's "orange" terror alert. "I think people are still a little hesitant," he said. "There's still that tenuous factor out there."
Scott Fortner, Durango Mountain Resort marketing director, agreed, noting that the vast majority of the resort's business has arrived in cars this season. "I would say 90 percent of our skiers are driving this year," he said.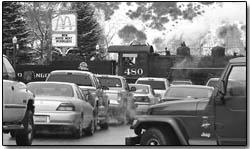 Cars on College Drive wait for the train to pass earlier this week. In an effort to attract more of its target market, the train will be offering "adventure train" rides next summer, which incorporate a train ride with things like rafting on the Upper Animas or backpacking in the Weminuche./Photo by Todd Newcomer.
The soft adventurer
According to DATO, young families with high household incomes and baby boomers are most likely to be driving to Durango currently. Tour groups, composed largely of senior citizens, have been fewer in number according to the office.
Cohen said that the D&SNG has recognized this trend and will be exploring new options in the coming year as a result.
"I believe our group tour market is changing," she said. "The baby boomers are now becoming our seniors, and they're not likely to get on a group motor coach and sit around."
The D&SNG will unveil the "adventure train" next July, which will focus on combination trips that include a ride on the locomotive along with a wilderness backpacking trip or rafting on the Upper Animas.
"In an effort to make our product more appealing to soft adventurers, we're going to be unfolding new products," Cohen said. "Seniors definitely appreciate steam train history, but I think we also want to attract an audience that's interested in a wilderness experience in conjunction with the train."
Fortner said that DMR has taken a stab at an even younger clientele and is deliberately targeting college students. The hope is that the move will help create lifelong skiers and long-term business. "We've made an effort in the wintertime with some of the bigger colleges in the region, and we're starting to see some results," he said. "The hope is that we can get them hooked in college and make skiing a sport of a lifetime for them."
Competitive edge
Looking toward the future, there is widespread optimism mixed with widespread agreement that competition for tourists is getting stiffer. Fortner pointed to a situation where DMR's competition is less with other ski areas and more with nonsnow offerings like Las Vegas, amusement parks or Mexico. In order to try to get a competitive edge on other attractions throughout the country, a great deal of partnering is happening locally. For example, DATO and DMR are jointly marketing to winter tourists
"DATO is a competitive marketing approach," Kunkel said. "To be successful we're working to fire on several fronts."
Cohen said that the D&SNG is working with entities like Mesa Verde and the Town of Silverton to stretch dollars and get a stronger message out. "The tourism market is very competitive right now," she said. "We're doing everything we can to stretch our marketing dollars and get a competitive edge."
In addition to increased competition, the current tourism picture also offers less certainty. Fortner noted that holidays like President's Weekend have become more hit or miss for the resort.
"Those holidays that can go either way are going to be tricky," he said. "Five years ago, you would know what's going to happen by looking at last year's book. Now it's more difficult."
Cook characterized this shift as indicative of the shift toward baby boomer tourism. While it may be more difficult from a planning perspective, he said it should greatly help the Durango economy over the long term.
"I think it's going to be great," he said. "You're going to see our shoulder seasons get filled in more. People are going to have more flexibility, and it's no longer going to be your typical high volumes during school vacation times."
Cook also pointed to the ultimate unknown – weather – as cause for optimism. "As long as we continue to get some snow, tourism should be good and not just this winter but next summer as well," he said.