Rolling with the times
From riding in to cemmentating on the Tour de France, Bobke comes full circle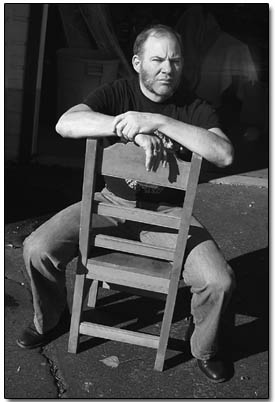 Bob Roll takes a seat outside his garage in Durango. The cycling legend has parlayed his knowledge of the sport into a career as an unconventional
but beloved commentator for the Outdoor Life Network./Photo by Todd Newcomer.

At this point in Bob Roll's career, it's tough to discern if his fame comes from being a legendary cyclist on the first American team to participate in the Tour de France, or from his post-pro shaggy muttonchops, inimitable commentating and random musings.
The former 7-Eleven team racer is popping up everywhere. He has a regular stint as Tour de France commentator on Outdoor Life Network. He travels throughout Europe to announce other noteworthy cycling races. He makes appearances at bike shows and other cycling events. He can also be found somewhere, sometime, responding to reaction about his newly re-released compilation of cycling columns.
And this, it should be noted, blows the truth out of Roll's declaration in his new book, Bobke II.
"As a pro cyclist, fame and fortune are soon forgotten, but your suffering as a racer stays with you as long as you live."
Roll is riding on a wave of stardom. A mass of cycling enthusiasts is buzzing about Bobke (Roll's nickname) and his ability to bring humor and wisdom to a sport that still pales in popularity in the United States compared to Europe. Subtitled The Continuing Misadventures of Bob Roll, his book is an entertaining read about his life as a bike racer – on road and trail – with a healthy dose of sarcasm, irreverence and unorthodox perspectives. The compilation was originally published eight years ago, but the re-release has been updated with ramblings that are more recent. Roll has added hilarious cycling predictions for this century (including a guess that Lance Armstrong would retire in 2001 and start a band that featured local ex-cross country racer Ruthie Matthes on vocals). There is also a new chapter reminiscing about Roll's two-week training stint with Armstrong in 1998, when the current Tour de France champ was on the road to recovery and an unprecedented cycling comeback.
These days, the muttonchops are as thick as ever. Yet amidst all of the fame, he remains unpretentious and humble, preferring to be in front of a camera than on a bike.
"I've ridden a half-a-million miles all around the world," he says. "I'm done with it. I have filled up my vessel of suffering."
That is not to say Roll has sworn off riding all together. Like he wrote, his suffering during his bike career remains with him. But you won't find him leading the pace line on the Durango Wheel Club's classic Tuesday night rides. Or even throwing down the gauntlet on a local downhill course. Instead, Roll says these days when he's in town, he prefers "tooling" around the valley solo at a comfortable pace (which is probably still twice as fast as most).
"Sure, there is some residual power from racing, and I might be faster than others, but speed is relative."
'Young and stupid'
So is a successful cycling career. Roll started cycling in 1981 in Northern California, his home territory. There is no grand story that accompanies Roll's initial interest in cycling. As he puts it, he was just a "young and stupid kid" in his late teens who liked to ride. But, after only two years of riding, Roll moved to Belgium, where he participated in Europe's premiere races with the top echelon of the sport. And in another two years, Roll became a professional.
It came early in his career – atypically early. But as fans and spectators learned, Roll is anything but a typical guy.
"That was pretty quick to turn pro," Roll recalls. "Most racers have a solid five or six years as an elite amateur racer. I skipped all that."
Roll admits that his rapid rise to professionalism created problems.
"Tactically, you have no idea what's going on. The Europeans don't like that."
He was, after all, riding with an elite class of cyclists who had participated in the sport for decades and carried around the prestige and tradition. Since these riders usually dominated the peloton, they had garnered the most respect.
In 1985, corporate convenience store giant 7-Eleven sponsored the first American professional cycling team. The team's first race was the 28-day Giro d'Italia. Roll and his teammates were entering new territory, where foreigners perceived them as "gifted interlopers, racing in Europe for cash and kicks."
The thrill is not gone
If that's how they were perceived, it was one rough way to go about it, says Roll. The 1985 Giro was a true European fete for Roll since he was more accustomed to 100km races instead of 250km.
"Initially it was quite a race," he says. "It was so long that the last 10 days I honestly didn't know if I could finish it. I had an adequate base of4 endurance miles, but I still spent more hours in the red of suffering."
The Giro was only a prologue to Roll's suffering. Seven-Eleven expected the race to be a launching pad for the first ever American team participation in the 1986 Tour de France.
"It was just viciously hard," says Roll about the Tour. "There was more media attention and fan frenzy than I ever dealt with. There was also so much pressure and pandemonium."
Seven-Eleven also had high expectations of the riders, hoping at least one of the 10 would win a stage. It happened, when Davis Phinney broke away from the pack and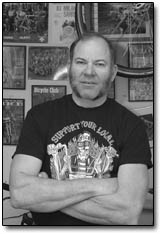 Roll surrounded by cycling
memorabilia in his garage./
Photo by Todd Newcomer.
dashed across the stage line. To boot, the team gave more than a stage win. Team rider Alex Steida (from Canada) grabbed the coveted yellow jersey after a morning stage race. Though he lost it in a Team Time Trial later that day, he put the American team squarely on the cycling map.
"It was really quite thrilling," says Roll.
Roll finished the Tour in 63rd place. He then went on to three more Tours de France – in 1987, 1988 and 1990, though he did not finish in '87 and '88 due to gastrointestinal problems and a crash, respectively.
Extending the American spirit
Roll continued road racing professionally until 1992, when he clipped out of his skinny-tire rig and planted himself firmly on two knobbies to become a professional mountain biker.
"By this time I was 30 years old and I had accomplished most of the things on the road that I thought I was capable of."
For the next seven years, he excelled at the sport that he calls "an extension of the American spirit." Ultimately, Roll didn't spend a lot of time on the podium, just like in his career in road racing. But he is counted among the elite riders of his time and is as well known as his teammates – whether for riding among the pack, sharing gut-busting stories in his signature way or burning an image in peoples' minds when famous cycling photographer Graham Watson snapped him riding off pavement and through muck during the 1988 Paris-Roubaix.
Pot of gold
At the end of his racing career, which came in 1999, Roll was ready for retirement from any type of riding.
"After 15 years as a professional, you don't have an ounce of lactic acid in your muscles, and you've got nothing but wooden legs. It gets to be pretty monotonous, so at that point I wanted to go. I didn't know what was next but I didn't even care if I was a short-order cook at McDonalds."
Roll also saw the timing as fortuitous, opening the door for a new generation of riders. For him, it was a sort of passing of the guard to riders like Armstrong. It was especially meaningful for Roll since he and Armstrong eventually forged a close friendship, based partly on similar beginnings. Like Roll, Armstrong spent little time as an elite amateur. Consequently, Roll explains, Armstrong also struggled with bike tactics and keeping up with European standards. Clearly, Armstrong learned quickly.
Roll ended his racing career just as Armstrong was coming back from a battle with cancer. Today, Roll is one of the people Armstrong credits for his return to cycling.
"Training with Lance the year of his comeback while I was finishing my career really was the pot of gold at the end of the rainbow," he says.
'Tour day France'
After retirement, Roll transitioned into the role of commentator, creating a new image of himself – one who could provide first-hand knowledge of the sport while cracking up those listening to him.
As a commentator, Roll comes off a bit like Davis Phinney with attitude. He has the ability to explain the sport to armchair cyclists. To him, this is important, he says, because there is still a chasm of knowledge between participants and nonparticipants.
"To some, it looks like a bunch of guys riding through a beautiful landscape, on their way to a picnic."
Roll also has developed a self-effacing style of commentating. He's known as the outspoken commentator with a unique fingertip-to-fingertip wrist roll while he's talking. He is also known for his now-purposeful pronunciation of the Tour de France as Tour day France. In fact, during this year's Tour de France, OLN ran promotional spots of Roll working on his pronunciation. Those much-talked-about spots joined hilarious promos of Roll imitating other flamboyant sports commentators, including Phil Liggett, John Madden and Howard Cosell.
Even with all of the poking fun, Roll says his transition into a commentator was a bit of a struggle.
"When you are an athlete, you are pretty much left alone to ply your trade," he explains. "But when you are a commentator, everyone wants to tell you how to do your job. You get the full brunt of peoples' expectations and criticisms. I was ill-equipped to deal with that."
Ultimately, his love for the sport – as a spectator – overshadows the criticism. He gets just as excited watching the Tour de France as he did riding it. More than anything, though, Roll relishes being part of a historic event that is now, more than ever, gaining notoriety on his home soil. Cycling to him is a dramatic sport that creates incredible stories of human suffering and triumph. The Tour de France is the pinnacle of it all.
"It's so great because it's an epic struggle between a man, his teammates and 21 other teams, all against a backdrop of nature."