by Mike Sheahan
W e are all currently knee deep in the holiday season, and it's my sincere wish that you, the reader, are not gaining too much weight, in the midst of a two-week bender or being driven crazy by out-of-town visitors. If any of these things are happening, all I can say is welcome to the club. And hang in there, there are only a few days of festivity and merriment left. After that, there'll be plenty of time to dry up and go jogging. Meanwhile, go right ahead and make that egg nog a double and then tell your mean, old uncle Charley what you really think of him.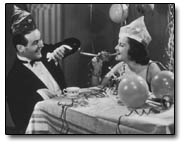 Of course this season of forced joyousness ends with the most forced of all holidays, New Year's Eve. I realize I run the risk of sounding like a broken record for this column's more regular readers, but the chance to say this comes but once a year, so here goes. New Year's Eve is a ridiculous holiday full of false sentiment and nostalgia being shared by people who have consumed way more than their personal limit of liquor. I can't make myself celebrate the passing of yet another year on some arbitrary day from a calendar created centuries ago. I refuse to wear a silly hat, blow on noisemakers or count to 10 with a bunch of drunken strangers. That said, I realize that I am in a vast minority on this one, and there a few good shows happening New Years, so I'll try to conceal my crusty attitude as I detail the night for you.
The instrumental jam band The Motet makes yet another appearance at the Abbey Theatre on the big night. It seems like The Motet has been to Durango so many times this year that only Ralph Dinosaur has played more shows in Durango. The band's fans are rabid though, and even with everything else that goes on that night, the Abbey should be packed.
Maybe the jam thing isn't your bag. If that's the case, you can join the nice kids at The Summit for an evening of entertainment featuring the Broke Mountain Bluegrass Band . Last summer at the Rockygrass festival in Lyons, the Broke Mountain boys won the new band contest. The band responded by quickly disbanding and dispersing across the country.
If you are of a traveling mind this New Year's Eve, Big Bad Voodoo Daddy will provide the entertainment at the Sheridan Opera House in Telluride. If swing music, zoot suits and hipsters with martinis are your thing, then this is right up your alley. Regardless of how you actually feel about hipsters, BBVD puts on a show worth seeing.
If for some ungodly reason you will find yourself in Denver for the big night, plan on spending part it at the Paramount Theater for a show by Jay Farrar . Farrar was a founding father of the great Uncle Tupelo and, later, Son Volt, and puts on a musically spectacular show. Most of his songs are somber or downright depressing, and his stage presence is less than commanding, so this won't exactly be the good-times rave up that most people expect from New Years, but for me, it's the perfect antidote.
If none of this fits your bill or seems a little lowbrow, you can always take a special late night ride on the train. Your $125 ticket will get the chance to take a train ride in style, provided with champagne and party favors all the while rubbing elbows with Durango's upper crust. Go to www.durangotrain.com for further instructions.
There you go. You are now armed with everything you need to have a wild night. Good luck and keep an eye out for the man.
Website of the Week: Have you ever wondered if there is any truth to that old story about the teen-age couple who were making out in their car, heard there was an escaped, one-handed psycho on the loose and when they got home found a hook in the door handle? Or how about the woman in a Florida supermarket who turned her back on her child for a couple of seconds and the kid disappeared. And when the kid was found, her abductor had already given her a haircut? Our culture is filled with these urban legends, myths and wives tales and www.snopes.com is a website devoted to scientifically exploring the validity of many of these stories. I am usually against using the internet for educational purposes, but for snopes.com I make an exception. And no, you can't dissolve a tooth by leaving it in Coke overnight.
The Last Two Albums of 2003: Two weeks ago, I presented my list of my favorite 10 albums of 2003. I still stand by said list, but in recent months two others were released that are worth mention. "It Still Moves" by My Morning Jacket and "Streetcore" by Joe Strummer and The Mescoleros are the honorable mention records of 2003.
My Morning Jacket is a five-piece, Southern rock band that mixes heavy reverb and a loud/quiet guitar style so well that I can overlook the group's jammy qualities. Those jammy qualities are why "It Still Moves" wasn't in the top 10, most songs are a minute or so too long and the guitar solos sometimes go way over the top. Still, "It Still Moves" is a healthy slice of Southern-fried rock.
"Streetcore" is the project Joe Strummer was working on when he died. At its best (songs like "Coma Girl" and "Long Shadow") it ranks with the best work he ever did. It's not all brilliance though. His version of Bob Marley's "Redemption Song" seems tossed in just to fill the album out. These moments are rare though, and the album is certainly worth owning.
Tell me all your problems. mpsheahan@yahoo.com