Mustard in the mountains
San Juan Mountain Mustard Co. cranks out grass roots condiments
written by Rachel Turiel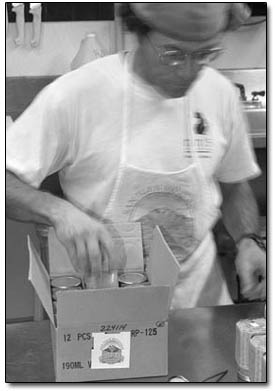 San Juan Mustard Co. CEO and head packer Paul Rappaport loads up a batch of his honey-dill flavored Sweetwater Draw mustard. Rappaport bases his mustards off a recipe from his New York grandmother./Photo by Todd Newcomer
It began almost 40 years ago in Brooklyn with Grandma Louise's mustard stash. Young Paul Rappaport knew the pantry was filled with Grandma's special homemade blend of spicy, pungent mustard. One night, Grandma, catching Paul reaching for the jar of gritty, brown treasure, told her grandson "mustard doesn't go with our dinner tonight honey." To which a small but strong -willed Rappaport answered, "It goes with my dinner." And so a seed was planted.
Although the San Juan Mountain Mustard Co. is just 1-year-old this holiday season, Paul Rappaport (aka Colonel Mustard) has been making mustard for more than two decades. Lonesome for Grandma's home cooking, he mixed his first batch in college based on his mentor's recipe. Due to popular demand amongst his friends, Rappaport began making a gallon at a time, spreading the joy throughout a small community in Vermont.
Being outdoorsy, athletic and community minded, it's no surprise that Paul Rappaport would meet his future wife, Stacie, in Vermont on a two-day, 150-mile bike ride to raise money for multiple sclerosis. Redheaded Stacie, co-proprietor and co-epicurean (as their business card states), is busy. She talks fast, moves fast and is the kind of person who knits, does yoga, gardens, skis, bikes, and paints and landscapes her house and yard to perfection.
In 1992, the Rappaports had the opportunity to caretake a farm in Vermont. With 40 gallons of maple syrup harvested each year, and a garden full of horseradish root, Paul and Stacie did the obvious: They made maple horseradish mustard. Under the name "Green Mountain Mustard," with much respect and gratitude for Grandma Louise, they launched their first mustard business.
Paul and Stacie laugh at their Green Mountain days: hand-written labels Xeroxed and hand cut, sometimes with the list of ingredients partially cut off in paper-cutter blunders. The kitchen on their goat and cow farm was hardly certified commercial, but they sold enough mustard to get to Alaska, where they spent some time before their whirlwind travels of the next four years to Oregon, Antarctica, New Zealand and finally Durango in 1997.
It's the mountains
Why Durango? Because of the mountains. Why mustard? Because of the mountains. After years of teaching science and working as a geologist in the oil and gas field, Paul found a connection between what is undeniably good (mustard) and what inspires him (mountains). While snowshoeing one day in the Red Mountain area – the seeds of San Juan Mountain Mustard already incubating in the minds of the Rappaports – the couple was struck with the direct connection between mustard and mountains: 1) If they could work hard for a stretch, cranking out large amounts of quality mustard, they'd have more time to spend in the mountains; 2) San Juan Mountain Mustard can help preserve their spectacular mountain home by donating a percentage of its profits to local environmental groups.
That day on Red Mountain inspired the names of the five original flavors offered by the mustard company. The bittersweet maple-horseradish mustard reminded them of the bittersweet boom and bust days of the early miners, and thus "Mad Miners" maple-horseradish was born. A percentage of the profits of Mad Miners Mustard goes to the Mountain Studies Institute in Silverton, an organization that promotes education and preservation of local ecology. The name Cascade Creek, which was given to a creamy, Asian-style spread, conjures up visions of snow cascading down mountainsides, and thus proceeds of this mustard go to the Colorado Avalanche Information Center, also in Silverton. "I call the Avalanche Hotline every morning in winter," Paul says. "They've saved my butt many times."
Tough town, sweet mustard
Durango's a tough town, some say, but the Rappaports have found nothing but support and encouragement for their new venture. Paul, being the Colonel, makes all the mustard, while Stacie, when she has a free moment from her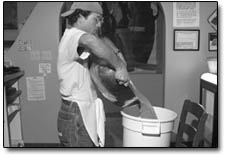 Rappaport mixes up an industrial-sized batch of his honey-dill flavored mustard in Nini's kitchen./Photo by Todd Newcomer.
practice as a physical therapist and massage therapist, does everything else. For their first year, with a staff of two, things have gone extremely well. The managers of Nini's Taqueria, whom Stacie plays ice hockey with, let them rent out their commercial kitchen for production. Several business owners 4
in town allow the Rappaports to ship ingredients and supplies on their trucks for no charge. Lady Falconburgh's has replaced all their previous table mustard with SJM mustard; Nature's Oasis carries their Sweetwater Draw (honey-dill) in bulk; and their five flavors can be found at 26 different establishments in Durango.
What makes this mustard so special? It's made locally, in small batches, by humans. The only power tool used is a blender. The sweeteners – molasses, maple syrup and honey – are unique and add flavor not found in the typical commercial, white-sugar mustards. It's made with all natural ingredients, no preservatives. You can even buy it in bulk, eliminating the need for another plastic, disposable package.
"Some of these things make it cost more." Paul Rappaport shrugs. "I could make a $1.50 yellow mustard if I wanted to."
"Mustard ain't supposed to be yellow," Stacie says, frowning.
Indeed. If your mustard is bright yellow, it has been colored with turmeric, a naturally yellow spice.
Fire on Red Mountain
Nini's Taqueria, Sunday morning, 25F degrees outside: Paul's in the kitchen with mustard seeds. Neil Young croons about shooting his baby on the CD player. Paul winces as he stirs four gallons of molasses chipotle mustard, also known as Fire on Red Mountain. The sting of vinegar and spicy smoked jalapeF1os waft into his eyes. Brown and yellow mustard seeds are swirled with dried, green herbs and bright red peppers as each stroke of Paul's hand marries the ingredients further.
The Rappaports rent Nini's kitchen by the hour. Though never hurried, Paul calmly and methodically navigates the task of making 8 gallons of mustard in four hours. Each step is ticked off on a checklist. Stainless steel tools, lined up on the table like surgical implements, glint off the florescent lights. Molasses and vinegar are measured out ahead of time, waiting for the precise moment when they will be added to the mix.
Though this work is culinary chemistry, the process is simple and low tech. The bottling equipment was rigged from pieces at the hardware store – its main mechanism is gravity. Between stirs on the large pot of mustard, Paul replaces Neil Young with a Beatles classic. And when a just-filled mustard jar overflows slightly, he is quick and easy with a paper towel.
After some time, Stacie bursts in from the frigid November morning and smiles at the neat rows of bottles filled with ochre-colored mustard flecked with green and red confetti. She rolls up her sleeves and sets in on the sink of dishes. As Stacie washes and Paul places empty glass jars under the ever-flowing mustard spout, they share their vision for the future.
Ski more, work less
The Rappaports would like to get more ski resort contracts. They're already at Durango Mountain Resort, Vail, Taos, Telluride and Wolf Creek. For Vail and Taos, they've created a private label, featuring the name of the respective local ski mountain, and will donate a percentage of profits to an environmental cause specific to each area. "Wolfie and Telluride don't get private labels, they're in the San Juans," Stacie explains.
They would also like to ski more. Or simply have more time to get out into the mountains. "I never even got into 'tele-shape' last winter," Stacie laments. In addition to making the mustard, there are always bottles to label, orders to fill, phone calls to return, deliveries to make. This is on top of Stacie's physical therapy work and the Spanish classes Paul teaches at the high school.
"It'd be nice to hire someone to do the labeling," Paul muses. "It's fair to say I have other interests besides making mustard."
The levelheaded Rappaports are not afraid to dream. They see the potential in owning their own commercial kitchen and being able to create jobs in Durango at their mustard plant. Paul would like to see bicycle-powered blenders, Stacie would like to work two days a week and spend the other five in the San Juan Mountains.
Meanwhile, in an apartment in Brooklyn, Grandma Louise continues to make her own spicy sauce, knowing all too well the moral of this story: Pay attention to your grandmas, they have wisdom we can all benefit from.