Dear Diver,


How long does it take for alcohol to get out of your system? If I'm drunk at night, but then drive in the morning, am I running the risk of getting a DUI?
- Wondering,
Lance
Lance,
Alcohol never leaves my system so I really wouldn't know. Ride a bike, you can still get a DUI but it's a lot less likely, and if you hit anything you probably won't kill it.
- Thanks, Diver
Dear Diver,


What is the story with the silly program I've been seeing on TV with Ricky Schroeder going out with hunting and fishing guides. I mean, "Silver Spoons" is OK, when he was on "NYPD Blue" it seemed believable, but now this? Bring back "The Champ!" What is wrong with TV?
- Mitch
Mitch,
You watch way too much TV. Get outside and ski.
- Thanks,
Diver
Diver:

Joei Nakamama, from Stonehouse Subs

Facts:

Diver of the year? Not likely. Diver who was in the right place at the right time this particular week? Very likely.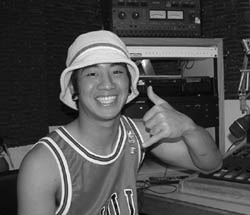 Got a dirty little secret?
Looking for guidance to remedy a sticky situation?
Seek help from the master of the kitchen! The Dish Diver has solutions to life's little messes. Send your problems to "Ask the Diver." - By mail to Durango Telegraph - Attn Diver -534 Main Ave., Durango, CO 81301; by email at telegraph@durangotelegraph.com, or by fax at 259-0448.
Dear Diver,

I've had a cold for two months! I don't have insurance, and I've come to the conclusion that over-the-counter medicine does not work. Now this whole Colorado flu thing is scaring the hell out of me. Why are people dying from having the flu in the 21st Century, with all this great modern medicine? What the hell is going on in the world? What can I do to be healthy?
- Maureen
Maureen,
I bet good personal hygiene would work wonders for you.
- Thanks,
Diver
---