Mardi Gras comes to Durango
The Dirty Dozen Brass Band is back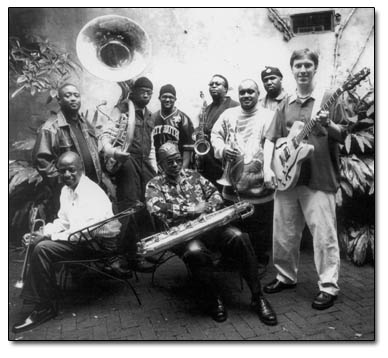 The Dirty Dozen Brass Band
For most people, New Orleans means great music and big parties. This Friday, Dec.12, a special party is coming to Durango's Abbey Theatre when the Dirty Dozen Brass Band goes onstage.
The Dirty Dozen Brass Band is one of those legendary bands that's been recording and touring for more than a quarter of a century. The band's sound is so universally appealing that it has collaborated with artists from across the musical spectrum. Miles Davis, Al Green, Wynton Marsalis, The Grateful Dead, Bonnie Raitt, Herbie Hancock, Los Lobos, 2 Live Crew, the Neville Brothers, Dave Matthews, Norah Jones, Widespread Panic, Buckwheat Zydeco, Elvis Costello, Dr. John and the Black Crowes are just a sampling.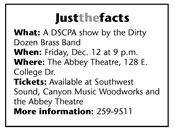 "People like the sound of the horns so they want to be a part of that," says Roger Lewis, original band member who plays baritone and soprano sax. And in keeping with the band's reputation for collaboration, he added that the band would be recording with Stanton Moore of Galactic after the interview.
Chris Aaland, publicist for the Durango Society of Cultural and Performing Arts, which booked the band, says he is excited about the show.
"They bring something different to the DSCPA, and that's a complete and total dance party," Aaland says. "We try to bring a lot of different types of music to town. This band succeeds in doing this by itself because it blends so many sounds.
"When you read the band's history, it's a history of American music," he adds.
The band started in '75 or '76, Lewis says, when it became the house band for the Dirty Dozen Social and Pleasure Club in New Orleans. Social and pleasure clubs began in the 19th century when many blacks couldn't buy life insurance, and the clubs provided funeral arrangements, which included employing brass bands for funerals. The bands would play somber music in the funeral processions (the "first line") to the church and burial site, but once the family of the deceased had gone away to mourn privately, the bands would play upbeat music for a street parade for the rest of the onlookers (the "second line").
"They started calling us the Dirty Dozen Brass Band, even though we never had 12 members," Lewis says.
The band was "discovered" by a man named George Ween, of Festival Productions, which created the New Orleans Jazz and Heritage Festival. Ween also promoted other international festivals.
"He was fascinated by the sound of our band," Lewis says. "He started putting us in festivals all over the world with famous musicians."
The Dirty Dozen Brass Band has continued to play the New Orleans Jazz fest nearly every year since 1979. The band has recorded a dozen albums in that time and guest appeared on numerous others. Its latest album, a traditional gospel album finished just days ago (still unnamed as of press time), should be released "by Jazz Fest time," Lewis says.
These days, the touring band consists of Lewis; Sammie Williams (trombone); Terence Higgins (drums); Kevin Harris (tenor sax); Jamie McLean (guitar); Efrem Towns (trumpet); and Julius McKee (sousaphone). Lewis says the band's love of music contributes to its chemistry. The band combines traditional jazz with other genres like funk, bebop, R&B and pop to keep things dynamic.
"What keeps the band fresh is we keep reinventing ourselves," Lewis says. "We've got a dish we call gumbo in New Orleans. It's like a soup but with all these ingredients – shrimp, oysters, chicken...all that good stuff. You put them together and season it well, pour it over a bed of rice and it tastes so good. That's what we do with our music: mix everything in there, and it leaves you with a good taste in your mouth."
And Lewis, who has played with the band in Durango before, says he encourages all comers – whether veteran fans or not – to get a taste of what the band is about.
"Come on out and get baptized in this Dirty Dozen music," Lewis says gleefully. "We love Durango. Everybody come and say 'Hello Roger!' That'd make my day!"