by Mike Sheahan
Hi. Thanks for coming. Your on the town fun starts tonight, Dec. 11, at the Summit. Jerry Joseph and the Jack Mormons will man the stage for all you fun-loving jam music fans. Because the band is associated with Widespread Panic, Jerry and the Mormons are often lumped into the generic jam band category, but the group's recorded music belies that assessment. Expect a solid rock show with some jamming and respectable original rock songs. The cover will be worth every penny.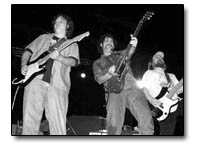 Saturday, Dec. 13, Haggard's Black Dog Tavern features something billed as " Bluegrass Mayhem ." The evening will feature members of Durango's best bluegrass group, The Badly Bent, teaming up with what's left of the Rockygrass award-winning Broke Mountain Bluegrass Band to create the mayhem. If you live near Haggard's, you've got no excuse to not show up, if you live in town, call a friend you can count on to drive then settle in for a great night of bluegrass music.
First the wheel, then sliced bread and now the Punk Rock Breakfast . Hallelujah! Somehow the geniuses at Ska Brewing have been able to combine two of my major loves in life (breakfast food and punk rock music) into one huge annual blowout. The punk rock breakfast is enjoying its third year and is quickly becoming a Durango institution. Storyville bravely plays host to the event and long lost Durango punk icons The Thirteens will again be on hand to provide the musical entertainment. This is your chance to rub elbows (and maybe knees) with some of Durango's finest music fans while enjoying very cheap drinks and the infamous "$5 plate of food." Sunday, Dec. 14, is your chance to eat and drink your heart, and liver, away somewhat guilt free. The madness starts at 9 a.m. Good luck.
The Best Albums of 2003: As every year ends, dorky music fans everywhere create a "best of" list. I am one of those dorks. Remember this list of albums represents only one opinion. I haven't heard Britney or Justin's most recent.
10. The New Folk Implosion/Steven Malkmus and The Jicks, "Pig Lib." (Tie, a geek move for sure, but this whole list is a geek move, right?) Both albums feature '90s post-punk pioneers (Malkmus and Folk Implosion's Lew Barlow) reaching a new stride. Each album is great, if sometimes a bit self-indulgent.
9. The Black Keys, "Thickfreakness." A superb guitar-and-drums blues record made by two guys who know their shit. Fuzzy guitar rules the day and clever cover choices make this record great. This album may be why the North Mississippi Allstars quit playing the blues.
8. White Stripes, "Elephant." The second duo to make this list, The Stripes made yet another inventive rock record that currently defines what is ultra hip. Drop that cynical chip from your shoulder and hop aboard the White Stripes train. It's a fun ride.
7. Lucinda Williams, "World Without Tears." After last year's disappointing release, "Essence," the queen of alt-country burst back with this stripped-down, gritty record that boasts possibly the sexiest song ever written, "Righteously." This album features all that is good about Williams (great melodies, exposing lyrics) without the self-conscious, over-wrought badness.
6. Wayne Hancock, "Swingtime." Wayne "The Train" has released three spectacular studio records, but his reputation has always been built around his live show. Recorded at the legendary Continental Club in Austin, Texas, "Swingtime" captures that myth. Over-the-top-notch accompaniment meets real life song writing to make this Hancock's best yet.
5. Ryan Adams, "Rock and Roll." The jury is still out on whether Adams is cool again. He still releases mediocre albums as often as I change my socks, but "Rock and Roll" is full of exceptionally crafted pop tunes and soars miles above anything he's done in almost 10 years.
4. Danny Barnes, "Dirt on the Angel." Barnes combines the wackiness of his career as frontman for the Bad Livers with the relative seriousness of his various side projects to provide his most comprehensive work yet. His covers of the Small Face's "Ooh La La" and Beck's "Loser" rival his own compositions "Life in the Country" and "Keep My Skillet Good and Hot. " Barnes makes music for the thinking roots fan.
3. The New Pornographers, "Electric Version." Carl Newman's pop vision is actualized perfectly. With an innate understanding of all that makes up useful pop music, Newman and crew, including the flawless Neko Case, have created 45 minutes of pure ear candy. I've heard that after hearing this record, John Mayer and Dave Matthews held hands and jumped off a tall bridge.
2. Scott Miller and the Commonwealth, "Upside/Downside." Miller is a self professed right wing nut job. In spite of that fact, he made some of the best music I've heard this year. The former leader of The V-Roys released a simple, ego-free record full of great songs that range from ready rockers to stripped-down acoustic offerings. His mix of blue collar huggability and in-your-living-room sincerity make "Upside/ Downside" one of this year's best records by a mile.
1. Drive By Truckers, "Decoration Day." By far the best. Any self-respecting music lover with stones enough to name a southern rock band the best of the year has made the same choice. With themes ranging from incestuous childbirth to losing ones' property to the bank, "Decoration Day" perfectly captures the modern Southern man's experience with clarity and fierce, stubborn pride. Oh yeah, "Decoration Day" rocks harder than Ted Nugent's greatest hits.