Tuna, Texas, comes to town
Durango Lively Arts Co. stages quirky Christmas comedy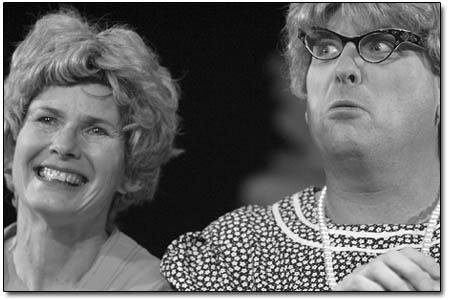 Wendy Ludgewait, left, and David Belew, right, portray just two of the 22 characters they'll morph into in their two-person show, "A Tuna Christmas," appearing at the Durango Arts Center this weekend and next./Photo by Todd Newcomer.

During the summer fires of 2002, a Durango Lively Arts Co. production called "Greater Tuna" added a dash of humor to an otherwise depressing time in Durango. The play featured 22 characters from the town of Tuna, Texas – acted by only two people. Starting Friday, Dec. 5, those two actors, Wendy Ludgewait and David Belew, will reunite for "A Tuna Christmas."
"We have always loved these shows," Ludgewait says.
The comedy opens as the townspeople of Tuna are preparing for the annual Christmas Yard Display Contest, a mere 24 hours before the actual holiday. Local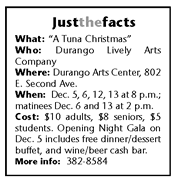 matriarch Vera Carp has won the prize for the past 14 years, but the mysterious Christmas Phantom has struck, messing with people's displays. He or she also unscrews every light bulb in the town Christmas tree so that it doesn't illuminate, and mayhem ensues as rumors about the Phantom's identity fly and Christmas nears.
The Tuna plays were written by Jaston Williams and Joe Sears, who still perform them, primarily in Texas. Because the duo continues to make their living performing their plays, it is a challenge to get the rights to produce the play, and impossible in Texas, Ludgewait says. It was out of compassion for Durango's suffering in the fires that the playwrights gave permission for the first play's production here, she adds. Permission for its sequel involved many phone calls, but was easier to obtain.
"She didn't have to cry this time around," Belew chuckles.
It's clear that Ludgewait and Belew, who have been friends and performers for 20 years, have the charisma and chemistry to pull off 11 characters each. The result is snappy banter, with exchanges like this one:
– "If he moves back to Lubbock, I'll just kill myself."
– "Baptists do not kill themselves."
– "I'll start a trend."
The pair has great comedic timing, and it doesn't hurt that Belew dresses in drag for several of his characters.
"We have a really nice rapport," Belew says. "I'm pretty confident we can walk onstage and make it happen."
Before Ludgewait moved to Durango in 1998, the two founded their own theater company in El Paso, Texas, in 1996.
"It was originally Dreamworks Theater Co., but I don't think Steven Spielberg would've liked that too much, so we changed it to 'Piranha Productions – Theater With a Bite,'" Ludgewait says. "But we were Dreamworks first!"
Ludgewait is a board member for Durango Lively Arts, but Belew lives in Chicago, where he is a project manager for the American Bar Association. He says he doesn't mind spending his vacations acting in Durango.
"It's a lot of fun to do," Belew says. "There's nothing better than doing a show you've always wanted to do and with someone you've worked with."
He says "Greater Tuna" was popular during the fires, which was gratifying.
"We had really great crowds," Belew says. "I think people really needed a break – to have some fun, enjoy themselves. I know a lot of people really appreciate that outlet."
For her part, Ludgewait is happy that Durango Lively Arts is experiencing a revival after going dormant for about seven years until regrouping in February. She says the theater company has five board members and numerous volunteers.
The company produces several shows each year, including a children's performance. Ludgewait says 50 kids recently auditioned for the upcoming "Joseph and the Amazing Technicolor Dreamcoat" - a promising sign for the future of theater in Durango.
Ken Hulick, a volunteer with Durango Lively Arts, says the scope and quality of theater in Durango – thanks to volunteer troupes like Durango Lively Arts, Durango Act Too Players and Durango Repertoire – is "impressive."
"I think for a small town we do really well," Hulick said.
He said the proceeds from tickets will be used to rent production space and cover other basic costs of the show.
"It's pretty much a break-even proposition, like most artistic endeavors in Durango," he says with a grin.
And seeing the antics of people in the small town of Tuna will make us all feel slightly saner with the crush of the holidays upon us. As Tuna resident Bertha Bumiller bellows: "You have five seconds to get in the spirit of Christmas before I hairlip you!"