by Mike Sheahan
T o begin, I'll enjoy a quick rant. Ahem, people please quit assaulting us with your cell phones. Seriously, the time for change is now. Nobody but you cares that your phone can play video games, the "Death March" instead of simply ringing or take really bad pictures. Nobody needs to hear your cell phone scream from across a crowded room and, for sure, nobody wants to hear your half of an inane conversation while attempting to enjoy the Clams Casino in one of our fine local eateries. I realize that yours truly grumbling about jerks on cell phones is akin to Dick Vitale declaring he loves college basketball, but the next time my 2-year-old and I almost get T-boned by a phone-yapping numbnuts, there will be serious road rage. Thank you, now on to our regularly scheduled programming.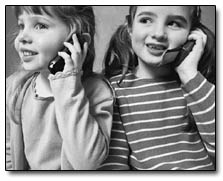 It's probably just a coincidence, but as we tumble head first into the current holiday season, Durango seems to be awash in wholesome, all-ages, smoke-and-booze-free fun for the whole family.
The good-natured fun begins Friday, Dec. 5, at the Durango Recreation Center for what's called "Rec and Roll." The evening will feature food and drinks, and live music provided by many Durango bands including, but not limited to, Amazing Larry, Dialogue and Flash Monkey. I'd say this sounds like a great night to spend out with one's teen-ager, but the truth is any self-respecting teen would rather have a root canal than go to a show with his parents. In fact, most teens will insist the folks drop them at City Market so they can walk up and claim they sneaked out of the house for the night. The music starts at 10 p.m.
The very next night, Saturday, Dec. 6, the VFW hall, at 1515 Main Ave., is hosting a contra dance . A contra dance is much like the barn dances of yore, complete with a string band, a "caller" describing the dance moves, and a hall full of people doe-si-doeing and twirling their partners round and round. It's a lot like square dancing but without the squares. No bow ties or hoop skirts here, instead one can expect Birkenstocks and, as one website suggests, the checking out of others' auras, man. If you love dancing with complete strangers without a beer buzz, then a contra dance is right up your alley.
The all-ages, sin-free extravaganza continues Tuesday, Dec. 9, at the X-Treme room in the Union Building at Fort Lewis College. Four groups, including the local bands Suitcase and Burial , will assault your sense of hearing in an attempt to entertain you. The bands are billed from "indie rock" to "metalcore" (whatever that is) which should be enough to inform folks that the night will be loud, raucous and potentially dangerous. The show starts at 8 p.m.
On Friday, Dec. 5, the Abbey Theatre begins a new tradition. Starting at 7 p.m. every Friday, it will feature movies by local filmmakers . It seems like a good chance to see what your friends and neighbors are doing with their camcorders when not trying to recreate the Paris Hilton video (yes, I have no shame). Seriously, Durango is stacked with many talented makers of film, and the Abbey is doing a great service in giving them a night to feature their endeavors. As if that wasn't enough for one night, and it could be, the Abbey then drops live music in the form of local boys done good, Freewill Recovery . Along with live tunes, the good kids from Homeslice are providing free pizza, and the boys from Ska Brewing are providing two kegs that will be raffled during the show. Let me get this straight, free pizza and the chance for free beer? I'll be there as soon as "WKRP in Cincinnati" is over.
If, like me, you watch something like 12 hours of TV a day, then surely you've noticed Durango's own Channel 22, DCAT. And maybe you've seen the quiz show sensation known as the "Know and Win Show." Here's your chance to watch host Ted and his lovely co-host Leah lead contestants down the road to big prizes or utter defeat. The next taping of Durango's biggest game show is Saturday, Dec 6, at The Abbey Theatre. A large studio audience is invited to these tapings, beer is on tap and the go gets going at 1 p.m. Be there or be there.
Website of the Week: In the fictional town of Appleton there lives a fictional man named Cliff Yablonski , and he hates you. In fact, Cliff Yablonski's misanthropy runs deeper than mine and the producers of Fox News put together. His entire site consists of candid photos of Appleton "residents" and Yablonski's smart ass captions. As a couple of friends and I recently thumbed through this site we all doubled over many times, our chocolate milkshakes darn near coming out of our noses. The best way to read Cliff is to type www.somethingawful.com/cliff/ihateyou/ but if you try www.cliffyablonski.com that sometimes works. Whatever way you get there, this is not a site for folks with an aversion to tawdry language or very large people with no shirts. Simply put, this is a site for humans who love to laugh at other humans looking silly.
Next Week: The Best Records of 2003.
What's your favorite website? mpsheahan@yahoo.com