Businesses contemplate smoking ban
Merits of voluntary and mandatory restrictions weighed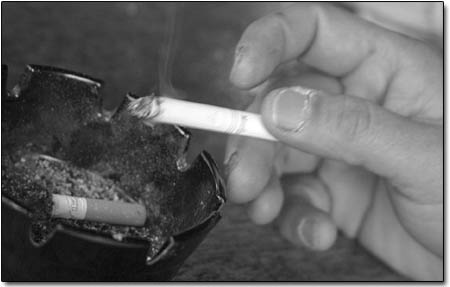 A smoker at a local bar ashes his cigarette earlier this week. Spearheaded by the San Juan Basin Health Department, a move is afoot in Durango to explore the possibility of going smoke-free./Photo by Todd Newcomer.
Smoking could become a thing of the past in Durango businesses. On Monday, a group of local restaurateurs and business owners met and discussed the merits of a Durango – wide ban on indoor smoking. While no conclusion was reached, dialogue has started and either a voluntary or mandatory ban on smoking has become a possibility.
Char Day, tobacco prevention manager with the San Juan Basin Health Department, said that awareness of smoking's danger has continued to grow in Durango lately. She said this awareness is reflected in the number of restaurants that are voluntarily posting "no smoking" signs.
"In the last 10 years, it's been hugely significant," she said. "When I first started, there were seven smoke-free restaurants in Durango. Now there are 70."
Day noted that the reason for this shift is an obvious one, saying, "There's a huge trend locally toward a nonsmoking lifestyle. The more people learn about second-hand smoke, the more people want to be protected."
Pack-a-day lungs
Second-hand smoke is particularly threatening for employees at smoker-friendly businesses. Day remarked that lifetime nonsmokers get "pack-a-day" lungs from an 8-hour shift and that, as a result, many local business owners, particularly bar/restaurant owners, have become concerned about employee health. Consequently, the San Juan Basin Health Department's Lasso Tobacco Coalition kicked off a dialogue among these business owners Monday. The group weighed the pros and cons of both a voluntary city-wide initiative for a smoke-free Durango and a city ordinance that would ban smoking in all establishments.
"These are the stakeholders," Day said. "We really wanted to hear what they were saying."
Michele Redding, owner of Cuckoos, voluntarily banned smoking in her bar/restaurant in June. She said that the move was a difficult one.
"We were hesitant to do it because of our split atmosphere," Redding said. "We have people who come in to eat, but many of our customers will be in here for seven to 11 hours watching sports on Sundays."
However, Redding characterizes the smoke-free Cuckoos as "fantastic," noting that customers and employees have applauded the decision. She added that in spite of fears about a financial hit, business has actually improved.
"We are really happy with our decision," she said. "A large part of it was our personal feelings about smoking. Our employees were also pushing the health issue and many of our workers had just quit smoking."4
Struggling with mandatory
Kris Oyler, part-owner of Steamworks Brewing Co., said that his establishment has already taken steps to reduce the impacts of second-hand smoke on nonsmokers. "We're kind of unique in that we've got these high ceilings and a huge building, and we've installed smoke eaters, which are really effective," he said. "In our establishment, you pretty much have to be sitting next to a smoker to be impacted."
Oyler said that the prospect of banning smoking in Steamworks and Durango is a two-sided one. "I have some very mixed feelings about whether we should be legislating these things," he said. "I'm not really in favor of telling people what to do with their lives. At the same time, there are concerns about the health of nonsmoking employees and customers."
As to whether he and his business partners would consider a voluntary ban on smoking, Oyler replied: "It's something we'll probably table and discuss as a management team. It would have to be something that everyone was in favor of. There's a good chance that we'd end up alienating quite a few customers and that's not a situation anyone wants to be in."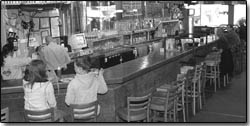 Steamworks Brewing's bar, seen above, could be one of many Durango establishments that currently permit smoking that would be affected by a possible citywide ban on smoking./Photo by Todd Newcomer
Struggling with voluntary
Lady Falconburgh's Barley Exchange is a bar/restaurant that has been weighing the merits of a smoking ban for several years, according to part-owner Zak Sinberg. "It definitely impacts employee health and there's also customer dissatisfaction to think about," he said.
Unlike Oyler, Sinberg said a mandatory ban on smoking throughout Durango would not be a problem from his perspective. "I'm all for the city saying 'no smoking' in the bars and restaurants," he said. "It's enforced everywhere else. I don't see why it has to be a voluntary thing in Durango."
Sinberg said that Lady Falconburgh's would likely join a voluntary smoke-free initiative as well. However, he said a voluntary move would be more complicated from a business perspective.
"I think it's corporate suicide to be one of the first places to say it's going to voluntarily ban smoking," he said. "There are 28 other places in a 10 block radius where you can go and get a drink and have a smoke."
Moral and legal obligation
Even though dialogue on a smoke-free Durango has just begun, Palace Restaurant owner Paul Gelose came out of Monday's meeting and went into action. Currently, the Palace's dining rooms are smoke-free, but smoking is permitted inside the Quiet Lady Tavern, the restaurant's bar. Gelose said that is likely to change after the first of the year.
"I'm directed morally and legally to provide a safe workplace," Gelose said. "My employees are such an important part of my business that at this time, I am considering going to a smoke-free establishment as of the beginning of January."
Gelose said that he is hopeful that momentum will build throughout Durango and that a number of local establishments will make the move after the first of the year along with him. "We live in this environment, and it's time to protect the workplace," he said.
Day said that the San Juan Basin Health Department is happy to have the discussion going and hopes to move toward making downtown Durango free of second-hand smoke. "We're not quite there yet," she said. "There's a lot of talk that needs to happen about what a smoke-free Durango would look like."
Anyone interested in participating in a smoke-free Durango initiative is encouraged to contact Day at 247-5702, Ext. 227 or char@sjbhd.org.