First Turns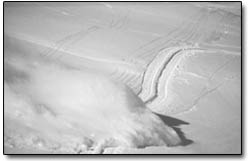 Somewhere around my second turn, the fracture ripped open and the slope exploded. My body weight combined with more than a couple of Mother Nature's tricks had turned the virgin bowl into a trap. Quick looks in either direction brought about instant realization – I was about to have my fill of an unwelcome meal.
The avalanche was an effortless and natural progression – extremely beautiful in a devastating way. But stuck deep in its middle and beginning to accelerate past my surroundings, this onlooker's appreciation was lost on me. I was far from safety and eager to be elsewhere. The elsewhere option was clearly not available.
Years of knowing avalanche risk and efforts at past avoidance seemed meaningless with the event actually under way. Precaution had failed and the specter was out in the open. During the course of the slide, my avalanche theory was replaced by the simplest kind of human struggle, struggle that was rewarded with continued life.
Regardless, my efforts were relatively meek, and I know basic luck was mostly responsible for keeping me on top of the slide. I was outmatched before and during the event. One has next to no power when riding hundreds of tons of sliding snow. You can do your best to stay in daylight, but I highly recommend keeping your fingers crossed as well.
Once the slide stopped rolling, I had covered close to 200 yards in a few seconds, obliterating the track we had painstakingly climbed up. Up above, my ski partner frantically yelled, "Are you OK?" Instead of answering, I waved my pole. I was alive, but not OK. The experience shook me to the core.
Ironically, that area in the Anthracites outside Crested Butte saw incredible traffic on that fateful day. On the order of 30 cars were parked at the trailhead, and their occupants were visible on nearly every available north-facing line. I'd passed hapless others also out for turns, and jokes about the lack of beacons and shovels abounded. Looking back, the atmosphere seemed more like a day of lift-served than a trip into the great beyond. Luckily, all of us made it, or at least none of us made the papers.
Looking back, I realize that it was high time for an awakening. My awareness of my place in the mountains had been dulled, and to be honest, I was getting sloppy. That day, I hadn't been tracking weather trends, skipped snow analysis and ignored obvious signs of instability.
Having tasted the force of avalanche, my backcountry ethic came around immediately. I still love skiing backcountry powder, but now I do it tentatively. I've even done the unthinkable and turned around after several hours of uphill struggle. I'm in no way eager to be reminded of the danger again, and the backcountry isn't going anywhere.
Every season, we see a host of new backcountry recruits following the promise of perfect turns into the unknown. We also see the old hands growing a little more relaxed in their approaches.
The combination of a fickle Colorado snowpack and typical human arrogance ensures that an avalanche fatality is always waiting in the wings. Since that fateful day in the Anthracites, I've seen it borne out and read obituaries for two acquaintances who met their ends beneath the snow. One of them died from trauma she experienced when she was caught in a slide in the Anthracites, not far from where I had my little episode.
There are plenty of ski areas in the region where we can drop off cornices, ski open shots of powder en masse and body bomb our way down 40-degree, treeless slopes. Skiing in the backcountry requires a different approach. A little respect and a lot of awareness are small prices for the pleasure of skiing powder in the best corners of the Rockies.
Personally, I plan on exploring these corners for many years to come. I just don't ever want my day's first turns to become my last.
- Will Sands