Areas weather skier-day doldrums
Local ski areas work to stay competitive in flat industry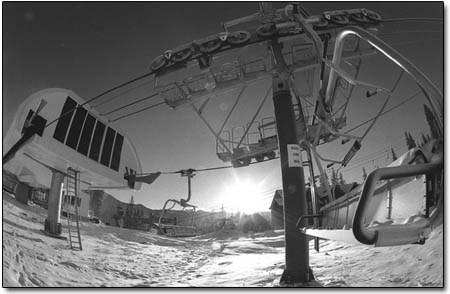 The Durango Mountain Resort Six Pack sits idle prior to its Nov. 27 official opening. Like many ski areas, DMR is adapting to flat skier numbers by focusing on a quality experience and courting the younger market with terrain parks./Photo by Ben Eng.
The ski industry has seen better days. In recent years, drought along with aging baby boomers, economic shortfall and travel woes have led to flat skier numbers. However, ski areas throughout Southwest Colorado are adapting to changing times and adjusting their operations accordingly. This in mind, every local ski area operator is looking to the future with optimism.
With the arrival of Thanksgiving Day, Durango Mountain Resort, Telluride Ski Area, Wolf Creek Ski Area and Silverton Mountain will all be open and serving skiers and snowboarders. Kristin Rust, communications director for Colorado Ski Country USA, said like ski areas throughout the state and nation, they will be facing a familiar situation.
"Numbers have been flat," she said matter of factly, noting that the days of double-digit growth in the early 1980s are now only a memory.
However, she stressed that the core of skiers and snowboarders is still out there even though the dynamic may be different. "Things are changing, and we're focusing on the youth because of that. We're still very confident in our visitor," Rust said, noting that much of her organization's promotion is now related to terrain parks and snowboarding.
Rust said destination ski areas throughout the region and state also are directing their efforts at the industry's bread and butter – the destination skier. "We need to pull the destination skiers," she said. "Those are the people who come and spend the money."
Keeping up with the Moritas
Durango Mountain Resort is one ski area that's doing its best to reach out to the destination skier. Communications Director Matt Skinner said that the effort to put skiing back on the pedestal is industrywide. "Everyone's aware of the flat numbers," he said, citing only an average season last year for DMR which followed the low visitation drought season of 2001-02.
For its part, DMR has put its focus on the quality of the ski experience. "For our destination skiers, we're trying to keep the cost reasonable, keep the experience fun and keep improving the resort and make sure its up to date and skier and rider friendly," Skinner said.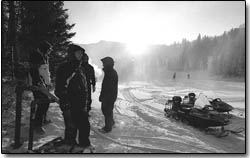 Durango Mountain Resort snowmakers Mark Penny, Ben Louis and Jared Sargent brave low temperatures and early morning hours to prepare the resort for opening day./Photo by Ben Eng.
In addition, the resort is also targeting a younger audience, as evidenced by the creation of the new Paradise Terrain Park, a new teenage program and more family promotions. "We spent half a million dollars this year on upgraded rental equipment for kids, the terrain park and a mobile restaurant which will be placed mainly at the mountain's backside," Skinner said.
He concluded that the continued upgrade of the resort hinges on the resort's 20-year master plan which calls for a mix of townhomes and single-family homes totaling 1,649 units as well as 410,000 square feet of new hotel and shop space.
"This resort development is a 20-year project," he said. "The idea is that by developing a few lots per year, we'll be able to infuse money back into the ski operation and continue to improve it over time."
A $14 million hand up
The Telluride Ski & Golf Resort is one resort that is done with improvements for the time being. Three years ago, the resort unveiled its $14 million Prospect Bowl expansion, a move that greatly enhanced the amount of skiable acreage and primarily appealed to the intermediate skier. Annie Carlson, communications director, said that the expansion had one primary motive – attracting the destination skier.
"We're very fortunate to have seen an increase in skiers over the last few seasons," she said. "We opened Prospect Bowl three years ago and that's been a tremendous draw. It's going to continue to attract the destination guest which is the resort's bread and butter."
Carlson said that Telluride also has worked to increase the number of airline flights into the valley and make them more convenient and affordable.
However, over the last six months, it also has been widely publicized that the ski area has been partly or entirely for sale. Joe Morita, son of the Sony Corporation's founder, has been the sole owner of the resort since 2001. Since that time, Morita has been a largely absentee owner and left resort operations in the hands of Booth Creek Ski Holdings, a Beaver Creek management team.
Last Monday, it was announced that Morita had signed a contract to sell a portion of the Telluride Ski & Golf Resort and begin a joint venture with the Horning Family of Newport Beach, Calif. The deal is expected to close in 2003. Carlson said that the move had nothing to do with financial distress, saying, "(Morita) was trying to rebalance his global portfolio."
And as for the $14 million price tag of Prospect Bowl, she said, "He had the idea that it would be recouped. Obviously, it will take some time."
The secret to success
The Wolf Creek Ski Area takes a more down-home approach to surviving in this day of leaner visitation. The area's last major capital improvement was in 2000 when it built the Alberta Lift, one of the only fixed-grip quads in the state.
Roseanne Pitcher, director of sales and marketing, said that with a lean marketing budget and no snowmaking equipment, the ski area relies heavily on Mother Nature and Wolf Creek's reputation for having the most snow anywhere.
"The secret is having snow and nobody can control that," she said. "When Wolf Creek doesn't have snow, we're not busy. We've been lucky that it doesn't happen that often."
Snow report aside, Pitcher said that Wolf Creek is also focusing on providing a quality, affordable experience to guests. "We think we're giving a really good value for the money spent," she said. "Not everybody is price sensitive, but at least the people that are can come and have a place to ski."
While the ski area pulls people from throughout Colorado and New Mexico for early season, it also relies heavily on destination skiers and is populated heavily by Texans and Oklahomans over the holiday season. However, Pitcher added that none of them show up when the weather is not cooperating.
"You'd like to think you get bigger every year, but then you have that year when you get no snow," she said.
The call of the steep
During its brief life span, Silverton Mountain has gotten bigger every year. And though the area has been hindered by a longer-than-expected permitting process, owner Aaron Brill said that he thinks his bet will pay off.
"We're seeing tremendous growth," he said. "It's just been a matter of providing a quality experience and for us, that's good, steep skiing and quality snow conditions."
Brill started Silverton Mountain in 2001 as an anti-resort, building one fixed-grip, two-seat chairlift that serves only steep, expert terrain on Storm Peak. Last week, Brill got the OK for what he hopes will be the area's third and final season operating under a temporary permit. Currently, he is allowed to conduct 80 guided tours a day, a far cry from Brill's original proposal for 475 unguided skiers a day paying only $25 for a ski ticket.
However, he said he is hopeful that the real permit will arrive this spring and is certain that there will be demand for Silverton Mountain.
"The market is continually evolving," he said. "As the younger skiers move into their 20s and 30s and start having expendable income, they're also just getting better, largely because of improved equipment."
Brill cited solid growth for helicopter and snowcat skiing operations at the same time resorts have posted flat skier numbers. Speaking first hand, he said. "The only thing that's a little bit of a surprise is that the spectrum of people interested in Silverton Mountain is greater than I thought it would be."
And while many resorts are pushing for increased intermediate terrain and a more casual ski experience, Brill offered a different prediction. "I think areas lacking steep skiing will have a harder time staying viable in the future," he said.