by Mike Sheahan
M ost of us know that ours is a culture dominated by mass media, where a very small handful of corporations control practically everything we read, see or hear. What you may not know is we live in a world in which a single company owns more than 1,200 radio stations nationwide and, last year, reaped 70 percent of all concert ticket revenue. This corporate homogenization has led to most of the country being spoon fed much Britney Spears and Dave Mathews and very little Southern Culture on the Skids or Wilco. Radio playlists across the country have become identical and are hypercondensed. In doubt? Ask a friend in a different part of the country to listen to the local classic rock station for six hours. You do the same, and then call one another and compare how many times you each heard The Cars or The Doors. You'll be within one song each, guaranteed.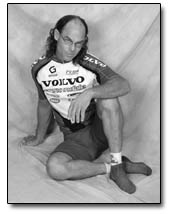 I mention all of this because we are lucky to live in a place not yet completely dominated by this massive saturation of sameness. Public and community radio is huge in our parts and nearly all live music events are produced by independent folks just hoping to bring good shows to our little corner. My hat is tipped to those of you who stick your necks out in an attempt to entertain this fickle town. Without ya'll we'd all be driving in gutted minivans to Farmington for a Foghat concert.
Local, noncorporate bands fill the scene this week starting Friday night. The best and most professional local bluegrass band The Badly Bent will hit Steamworks on Friday, Nov. 21. The Badly Bent consistently brings the real bluegrass deal (stand-up bass, one shared microphone, etc.) to its show. Add superb playing and great song selection and you've got a sure thing. Factor in the free peanuts that Steamworks offers and it becomes hard to understand why you'd want to be anywhere else. Unless of course you are deathly allergic to peanuts and bluegrass isn't your thing.
In that case Durango's favorite new(ish) rockers Freewill Recovery can satisfy your groove lust at the Summit on Friday night. These boys continue to draw crowds and for a good reason. They're sharp, consistent musicians whose music should compel you to dance. If you haven't seen them yet you should; if you have, you know what I'm talking about. Summit showtime is 9 p.m.
Like many local music fans, you've read the entertainment calendar in the past only to find to your dismay that Catalyst and Goodfoot were playing different places at the same time (If I only had a nickel). Saturday night the fun returns to Steamworks for a mixture of members of both aforementioned groups that calls itself Airborne . Saturday is also Ladies Night at Steamworks, which means guys get hosed for cover at the door and then try to make up for it by sending the cheap drink-getting ladies to the bar for their beers. Band or not, watching that is fun enough.
You may be bored with this talk of local bands,corporate sell outs andmay simply want to watch one dude or dudette beat a fellow townsperson down. The Wild Horse Saloon has just that option tonight with the glorious return of College Fight Night . Show up at 9 p.m. to watch your friends pummel one another all for the right, if victorious, to do it all over again against another foil. The end goal is a $3,000 prize to be awarded in April. If for some reason, you fancy actually getting in the ring, show up at 8 p.m. to weigh in.
Website of the Week: www.bikerfox.com is a website that features all that a guy named Frank from Tulsa, Okla., has to offer. He calls himself the Biker Fox presumably because he can do this pretty amazing flip on his bike. The biker fox is a lot more, though. He's part inspirational speaker, part fashion model and part philosopher. Sample philosophical statements are: "We are all the same we just have different names" and "Guys, listen to Dr. Phil and do what your wife tells you and everything will be fine." He refers to himself in the first person and third person in the same sentence and calls talk show host Jay Leno "inspirational." All of this is delivered via a guy with a bald-top mullet and Lycra bike shorts. There are many photo galleries to prove just how sweet the Fox looks in Lycra as he compares himself to Plato and Socrates. One warning: Stay away from beverages while viewing bikerfox.com, your spit take may rival Danny Thomas' best.
Recorded Music Selection of the Week: Paul Westerberg , once in line for the title of "Alternative Rock King," has over the years chosen to quietly slink away from the spotlight that nearly hit him and his band The Replacements. Instead of cashing in on his reputation as a post-punk hero, Westerberg has released a string of albums that have nothing to do with a legendary band that a lesser man could/would have cashed in on.
Under his oft-used alias Grandpaboy, Westerberg via Fat Possum records, has released himself a rock-solid gem. Past Westerberg/Grandpaboy releases have their moments of boredom, but "Dead Man Shake" is a solid, gritty blues-based affair that fits solidly into the Fat Possum stable. Westerberg's back-to-back covers of John Prine's "Souvenirs" and Hank Sr's "I'm So Lonesome I Could Cry" serve to define the album's raucous yet melancholy state, and the rest of "Dead Man Shake" combines to make this the ex-rock messiah's best release in several years.
Up yours, Clear Channel. mpsheahan@yahoo.com