Cold therapy

It's been a week for mercury-induced flashbacks.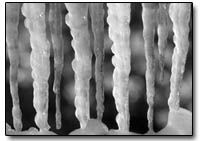 With the resurgence of long underwear, visible breath and the consistent dip of the thermometer below the freezing mark, my mind also has conjured some cold memories.
One nearly forgotten recollection surfaced just as the recent cold spell hit.
The trip had been pitched as the "deal of the century" and "less expensive than a weekly food bill for your parents." Like students throughout the world, my eighth-grade class at Telluride Middle School agreed because it would mean time off in early spring. Consequently, we loaded up the vans and headed for a week as guinea pigs for Outward Bound trainees, joining kids from Denver's suburbs at Rocky Mountain National Park for a week of backpacking. Outward Bound had envisioned spring weather and our night gear consisted of lightweight sleeping bags beneath canvas tarps. After a few hours on the trail, the storm hit. With snow falling, the temperature remained bearable that first night, and even the Cherry Creek students seemed almost content. However, a wicked cold snap followed the next morning, and after a day of breaking trail, our guides, a couple from British Columbia, made an unorthodox recommendation.
"Tonight we're going to have to zip our bags together and share body warmth," one of them pronounced in a shaky voice.
Being the only Tellurider in a group of Front Range kids, I had the last pick of bed-mates. As the British Columbians zipped themselves inside their dome tent and down bags and the Denver kids snuggled up with boyhood chums, I got into bed with Ronald.
Ronald was the red-headed kid from Arvada with an obvious addiction to Hostess Twinkies. His mom had even packed him a care package including dozens of the yellow sponge cakes and nearly a quarter mile of red vines. Not surprisingly, Ronald was always the last one into camp and the first one to start complaining about how his knees hurt.
Watching him suck down a little dessert before bed, I tried to look on the bright side and envisioned all the care-package calories keeping me warm through that night. There would be no such luck.
As I tried to get comfortable next to my new buddy, whimpers and shivers sounded from adjacent bags. At one tense moment, a kid from Littleton broke into tears and started crying, "I want my mommy." Ronald, on the other hand, passed out immediately.
Early the following morning, my eyes opened and the nightmare hit. Ronald's breath was hot upon my neck as he snored into my ear. His oversized arms wrapped around me and belly pressed against me, I was being held like a stuffed animal.
Worst of all, I was deathly cold. In a warped science fiction fashion, Ronald somehow had leeched my body heat, and as he happily dreamed of Little Debbie, I was trapped in the freezer section. Even Mr. "I want my mommy" looked warm by comparison.
More than a decade after I escaped Ronald's clutches and that doomed trip was prematurely cancelled, temperature put me through a different test.
It became obvious when a blurry spot in the corner of my delirious eye began to materialize. The blue vanished, and I distinctly saw a fairly large billboard, its words difficult to make out. Paying the sign no mind, I kept slipping forward.
Only after catching a second glimpse did I turn my head fully toward the sign. Once in full view, the illusion vanished like a bubble popping. Metal signage had no place here, and large juniper trees generally look nothing like highway billboards.
Shaken back to reality, I remembered that my legs were crammed inside a plastic kayak, my Gore-tex dry-top was cardboarded under the weight of a freeze, I hadn't felt sensation in my fingers or toes for 3 or 4 miles and was wildly hallucinating. Meanwhile, the Green River and gravity slowly propelled my personal ship of fools downstream, warmth a distant memory.
Our rafter companions (the same people who had invited me and my friend Kurt on this Gates of Lodore trip in late March) only grimaced when they found us doing jumping jacks and jogging around on the streambank at the Colorado/Utah state line.
"Maybe, we should camp here tonight," we chattered, feeling like we might be fighting for our lives.
Through thick gloves, hat, triple neoprene and socks and boots, a guy named Dwayne dropped an oar, took a sip of Coors and pointed downstream. "The camp's right around the corner," he shouted. Retrieving his oar, he took another swig and then muttered beneath his breath. "Pansy kayakers."
"Right around the corner" ended up being 6 more miles through blowing snow. The good news was that Kurt and I had brought more than tarps and light bags. There would be no zip-together that night. The bad news was that we were in for two more days of snow, sub-zero temperatures and near hypothermia. Dwayne and Company never invited us on another river trip. Still, cold has always hounded me.
I recall when the gas lines in my Toyota Land Cruiser froze as I was humming along at 40 mph during a 20-below shot in Crested Butte. That 5-mile walk rivaled my spell in Rocky Mountain National Park. My arms and hands have gone so numb ice climbing that the pain of them thawing and having the pulse return was nearly unbearable. Unable to recognize the agony of the experience, I repeated this experiment dozens of times. Not long ago, I managed to contract a little frostbite on each of my feet while working on a wet and snowy fence line during a stint horse ranching. That little incident left me hobbling for three months and neither of my feet has been warm since.
And last weekend at Wolf Creek, my lust for powder and price of modern-day ski tickets kept me outside and running laps all day. At around 2 p.m., my derelict feet went numb and my core started going cold. But I was still powder soaked and smiling. Half-frozen and exhausted, I rolled into the cafeteria at closing time and promptly started my Green River exercises. There a couple tables away was an oversized man who appeared to be my age. He sported glossy bibs, rear-entry boots and short sleeves and had been happily downing bombers of microbrew for hours in the warmth of the lodge.
As I shivered back to warmth, the door opened and a voice addressed that table and said, "Hey Ron. We better get going. We've got a long drive back to Denver."
- Will Sands