Fast-paced, gossipy dice game takes root locally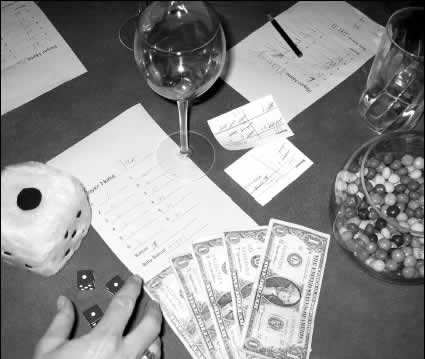 The necessary makings for a lively night of Bunko./Photo by Jen Reeder.
There is a social phenomenon that has swept across the nation and recently taken firm root in Durango: Bunko.
I hadn't heard of Bunko until a few weeks ago, when two separate friends back east casually mentioned their monthly Bunko meetings. I assumed it was an East Coast thing until a Durangoan invited me to crash her group's monthly Bunko meeting. Intrigued, I searched online where I found www.bunkonet.com. According to the site, Bunko is not only a dice game but a social game played with multiples of four people and "although the game is associated with crowds of women drinking heavily and gossiping, this is NOT required."
Naturally, my intrigue only deepened, and I wasn't disappointed at my first Bunko party to learn that the group had no problem with drinking and gossiping. Running late, I stopped at a gas station mini-mart to pick up the required "snack" - a bag of Sun Chips. I sheepishly apologized for being late as I surveyed what other Bunko players brought: shrimp cocktail, cheese platter, pasta salad, mini quiches. I cringed and put my paltry offering near the white wine, where it remained unopened throughout the evening.
Fortunately, the hostess, Barbara, immediately offered me some wine, and I joined the party of eight boisterous women. I asked Barbara, who hails from England, if people in her homeland play Bunko, and she laughed. "No - we don't need an excuse to get together. We just get together!"
But in America, Bunko seems like a great excuse to get together. In the game, two teams of two sit at tables and are constantly shifting partners so that everyone interacts. Players take turns tallying points by rolling three dice until hitting 21 points in each round. "Bunko" - the drinking version of "Yahtzee" - occurs when all three die have a specific number, which depends on the round. Bunko is an automatic win, and in this group the most recent winner gets to hold a fuzzy pink die.
There are other rules that sound complicated, but suffice to say, it's simple and no skill is involved.
Conversation was lively as the dice rolled and wine flowed, ranging from Sam from New Zealand's friend who won a half million dollars on Australia's "Who Wants to Be a Millionaire" - partly by answering a question about the total of all sides of a die - to River Trails Ranch and children and dressing up as Tom Hanks in Castaway for Halloween.
"It's obvious we don't get together to play the game - you've figured that out, right?" someone leaned over to ask me at one point.
And I had, because the banter was classic. Example: one woman had just returned from several months in Europe with her husband and four children, aged 6-16.
-"And look at how sane you are!"
-"Look at how many glasses of wine I've had."
-"Drink a glass of wine for each kid you have!"
Then there was the lighthearted teasing of my beginner's lack of luck - I lost six straight games (before winning the next six, earning me $5 in the "50/50" category) - "Jen the uber-loser! How many games can you get a prize for being the loser?"
And most people win something, based on the $5 everyone kicks in before the game, since there's even a prize for whoever didn't win. There even was a moment of high drama at the party because there were two women who hadn't won anything.
Someone declared, "We can have a roll off!" which was answered by a cackling, "Or mudwrestling in the living room!" Joan lost the roll off to Eilene, but stayed positive, announcing, "I never win - but I keep showing up!"
But in the midst of all the fun, there also was talk of using Bunko to help local charities. Chris, an FLC professor, rang the Bunko bell for silence. She said she was representing the group in negotiations for a February "Mega Bunko," which would gather all of Durango's Bunko groupies at the Durango Arts Center - about 240 people, she said, adding that they should be able to raise around $4,500 for whichever charity is selected.
"So everybody look for card tables," she suggested.
Someone else brought up prizes ("What's Bunko without prizes?"). Barbara suggested asking local businesses for donations so that all the proceeds would go straight to the charity.
Someone asked if her cleaning business would be donating.
"I'll start it off and donate a four-hour gift certificate!" she yelled back.
The idea that there are 240 others in Durango participating in the Bunko world is initially astounding. Apparently, rules differ from group to group. For example, in the group I met with, "winners wander and losers linger," meaning the winners are the ones to change tables. But in other groups, the slogan is "winners wait and losers leave."
Local businesses are getting hip to the scene too. Colorado Pongas is offering its booths to Bunko groups so women can avoid having to cook and clean up after the gatherings. Occasionally men are invited to play Bunko with their significant others, but that can defeat the purpose since men have a tendency to be competitive, I was told.
"If someone gets too competitive, we kick them out."
As the uberloser at last Wednesday's get-together, that's fine by me. •