Fort Lewis College breaks the ice
School's first-ever traveling hockey club formed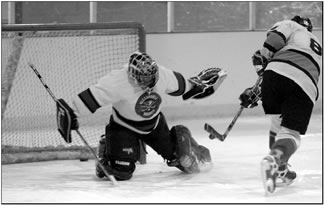 Rocky Privratsky, of Golden, tries to get one past the goalie during early morning drills on Wednesday at Chapman Hill. FLC's first home stint is Jan. 23-24 against University of New Mexico./Photo by Todd Newcomer.
At a time when most college kids are still hours away from hitting the snooze button, a handful of Fort Lewis College students are straggling into the Chapman Hill ice arena. Sporting oversized duffel bags, disheveled hair and razor stubble, they suit up into their hockey gear without much to-do. Perhaps this is because hockey is a tough sport - maybe a 5:30 a.m. wake-up call is no big deal in comparison. Or maybe the stoicism stems from the knowledge that, despite the ungodly hour, they are skating into history as the school's first hockey team.
"I was lying in bed asking, Should I go?'And why am I doing this?'" said senior James Temte, of Wyoming, as he taped up his socks. "But then I remembered."
Fellow senior Dave Herbst, of Austin, Texas, said it's the first step that's the hardest.
"It's not bad once you get out of bed," he said.
Although officially called a club, as required by the college during a sport's inaugural year, the team has already amassed around 15 players, almost enough for three strings. It is registered as a Division III school with the American Collegiate Hockey Association, and its 12-game season includes bouts against University of New Mexico, Western State College, University of Colorado and the Colorado School of Mines.
"They're pretty dedicated kids and pretty excited to get this team," said Barb Richter, an assistant coach. "Students have tried for several years to get a hockey team."
Richter, who comes from a speed-skating background and plays hockey with the city's rec league, was instrumental in getting the club off the ground.
"I knew from being around the kids that they were trying to get the club going but didn't have a lot of luck, so I told them I'd help out," she said.
Earlier this fall, Richter attended the school's club fair, where she set up a table and solicited new members.
"I wore a hockey jersey," said Richter. "By the end of the day, I had 40 kids' names and phone numbers."
That was the easy part.
Being a club sport in its first year, the team does not receive any funding from the school. As a result, the team is forced to come up with its own money to cover costs such as uniforms, referees, ice time and travel. According to Richter, the team's budget for the upcoming season (which begins in January) is close to $15,000. Although each player must come up with $400 out of his own pocket, this still leaves a deficit of about $9,000, which must be earned through fund raising.
"It's intimidating to the kids, trying to figure out how to get $15,000," said Richter.
Fortunately, Richter, a personal trainer who easily clears 6 feet in her hockey skates, said she is undaunted.
"I've started businesses, so raising the money doesn't scare me," she said.
To help defray the costs, the team has scheduled several fund-raisers, including a silent auction before its first home game on Jan. 23 against UNM. It also is planning on selling FLC Hockey T-shirts, sweats and hats and a hockey school for next fall is in the works.
Richter said she took a lot of cues on getting going from her friend and FLC cycling coach, Rick Crawford, who holds a similar camp to help raise money for the cycling club.
Head Coach Stan Schler, who coached hockey for several years in the Denver area before moving to Durango, said he realizes the first year will be difficult, but he is optimistic.
"It's kind of tough with a new team because you've got to pay to play," he said. "But it's going to turn out to be a good thing. I'm happy with the caliber, and the guys' attitudes seem good."
And with any luck, the team will return next year with some financial backing from the school, a full schedule of 19-20 games and possibly a berth in the play-offs.
"We're hoping to be good enough to go to Nationals," said Richter. "Some of the players are pretty darn good; some have played at this level before."
Of course, with a full season and playoffs in the picture, she expects the budget to increase accordingly.
"It could easily be doubled next year," she said.
For now, though, the team is focusing on the season at hand and possibly getting that 6 a.m. practice moved to a more reasonable - but expensive - time slot. But regardless of what time they practice, Richter said the enthusiasm is always there.
"It's so fun to work with them because they are so excited," she said, adding that the feeling is contagious. "I feel like a hockey mom."