by Mike Sheahan
What a difference seven days can make. Last week several readers complained of tumbleweeds actually blowing across this page while in search of things to do. They were right. Durango, with a couple of exceptions, really was a ghost town. This week finds us going from bust to boom virtually over night with much to be done almost every day of the week. To start with, whatever your favorite local band is, it is probably playing somewhere this weekend. Check this paper's calendar for details though, we've got other things to discuss here.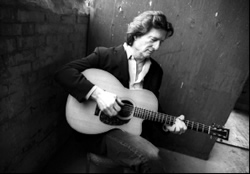 The big, big fun starts Friday, Nov. 14, at Steamworks with a hosted MC competition ala Eminem and friends in the movie "Eight Mile." If you fancy yourself a buster of rhymes, or are locally known on the microphone, then take your free stylin' self down to Steamworks and show the people what you've got. Durango freestyle rappers don't often get an
opportunity to display their skills. Hence, this is the perfect chance to turn that ball cap sideways, yank those boxers up to your belly button and drop some lyrical love. The format, of course, is the classic double- 30-second style, and the winner will get mad prizes.
Fans of authentic country and western swing need look no further than Storyville on Saturday night when Halden Wofford and The Hi-Beams take the stage.
Coming from the surprisingly fertile scene of Front Range honky tonk and rockabilly bands, Wofford and his Hi-Beams are consistently mentioned as one of the best and were recently nominated by the weekly paper Westword as Denver's best country/bluegrass band. The music that I've heard is authentic sounding and not
concerned with modern conventions or themes. A stand-up bass is used and the pedal steel looms large. If you like Hank Williams but can't stand to even look at
Garth Brooks, this is the show for you. Plus, at a mere 5 bucks, who cares if I'm wrong?
When the Durango Society of Cultural and Performing Arts (DSCPA) takes its annual summertime sabbatical, already-starved Durango live entertainment
consumers really feel the pinch. The promotion collective is back at work putting together evenings of entertainment for us, and we all should be happy. On Wednesday, Nov. 12, folk music legend Chris Smither will play at the Durango Arts Center. Smither has been hanging out with, and playing in, elite folk circles since
before I was born. In an effort to not date neither myself nor Mister Smither, let's just say he's logged an impressive run. Because I know very little about music,
I only became familiar with Smither's work last year with his release "Live As I'll Ever Be." It is an impressive collection of songs delivered by a seasoned pro
who still seems to love his job. One should expect exactly that from his show. Opener Peter Mulvey sounds, from the one album I've heard, like an older, wiser Dave Matthews. Whether that is appealing or not is entirely up to you. The show starts at 7:30 p.m.
Website of the week: Ever wanted to read the mental ramblings of a fairly intelligent punk rock author? Now, thanks to the internet and a thing called
web logs, you can. Web logs, or blogs as the kids call them, are an online "diary" that anyone can create. Most blogs are boring and pointless, but every now and
then one can come across a great one. www.nealpollack.com is one of the great ones. Neal Pollack is a fairlyintelligent punk rock author whose latest rants have included a verbal attack on a New York Times critic who dissed his book, a dissection of the latest Democratic presidential debate and an honest discussion of his addiction to the child-labor-inducing drug Oxytocin. All with hilarious results. His entries are long, and he posts frequently making it hard to stay caught up, but
whether you get deeply involved or just need a quick laugh, Pollack fits the bill.
Album of the week: Ryan Adams seems bent on making me look like an
idiot. As soon as I (and many others) started calling him the next Dylan or at
least heir apparent to Tom Petty's throne, he released a couple of indulgent, bland
albums that were nearly impossible to listen to all the way through. Then, right
after I claim him to be washed up and out of decent ideas, he hauls off and releases his best work in six years. "Rock and Roll," spelled lloR n kcoR on the album's cover (an annoying Adams' conceit), should find legions of long departed believers returning to the fold. Maybe even wondering if they just didn't "get" the last
few records.
Drawing on influences as varied as mid-'80s post punk, '70s glam and modern garage rock, Adams provides a sonic assault that is virtually nonstop over the
album's 14 tracks. The fact that "Rock and Roll" features electric guitars and full volume surely adds to the album's appeal, but it doesn't stop there. Adams' vocals possess the angry, confessional intimacy with which his best early work with Whiskeytown was filled. Songs like "This Is It" (an obvious nod to the Strokes' first release "Is This It"), "Note to Self: Don't Die" and the title track feature Adams laying it all on the line without the pretension that plagued his most recent releases.
At just 29-years-old, Ryan Adams will surely disappoint again, but that is a nonissue today. "Rock and Roll," in spite of liner notes that name Adams' girlfriend
Parker Posey "exe(cute)ive producer," is one of 2003's best.
Are you "down with it" or "Jiggy?" mpsheahan@yahoo.com