Alternative medicine gains strength
Complementary and alternative medicine continues local surge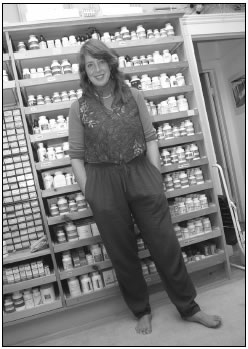 Naturopath Louise Edwards, of the Namaste Health Center, displays the numerous options available in her
herbal pharmacy./Photo by Todd Newcomer.

A

s Durango's mainstream medicine struggles with inadequate facilities, loss of primary care physicians and funding dilemmas, another form of local health care is flourishing. Complementary and alternative medicine has been growing throughout La Plata County since the late 1980s. In recent years, it has taken even greater strides as more local residents supplement existing treatment with nontraditional medicine or choose to use it exclusively.

Dr. Louise Edwards has been practicing naturopathic medicine in Durango for 14 years. Almost immediately after she opened shop, people flocked to her seeking an alternative, she said. "My practice exploded pretty quickly," she said. "I was massively busy for years."

Edwards' Namaste Health Center also was massively busy early this summer when Valley-Wide Health Systems Inc. announced it would lay off more than half of its staff at the Durango Primary Care clinic.

"When the Valley-Wide layoffs happened, a number of people called me to see if I would be their primary care doctor," she said.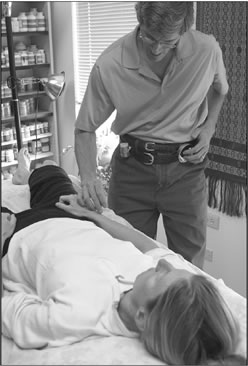 Acupuncturist Caleb Gates treats Heidi Timm for symptoms of the common cold at his Durango office on Tuesday. Like many alternative practitioners, Gates
often works in tandem with traditional doctors to treat his patients for everything from cancer to skeletal problems./Photo by Todd Newcomer.

Compassionate and effective

Edwards said that the shift toward complementary and alternative medicine is a natural one. She noted that it stems from a combination of growing consciousness about alternatives and general dissatisfaction with traditional medicine.

"In general, it takes people a long time to see a mainstream doctor," she said. "When they get to a doctor's office they're kept waiting. The visit is short, and they often don't feel that they've been heard. Then they're sent off with expensive medicine that has side-effects, and in the end, they're charged a lot of money."

Edwards added that in addition to offering a more compassionate and affordable approach to healing, complementary and alternative medicine is effective. "It works," she said. "It's very effective. It's a gentle and nourishing form of medicine, and contrary to popular belief, there's a ton of research supporting its effectiveness."

However, Edwards admitted that there is little she could do for someone who has experienced severe trauma, and as a result, she does not discount mainstream medicine. Instead, she argued that everything has its place, and the best form of medicine combines all approaches.

"Integrated medicine is the best form of medicine," she said. "It's really about using the right form of medicine at the right time."

Deb Swanson opened Dancing Willow Herbs 12 years ago. Next week, the business that started in a basement will move out of the back of Maria's Bookshop and into its own expanded space in the 1000 block of Main Avenue.

"When I opened the shop, it was right before the real estate boom in Durango, and it was also at the beginning the whole herbal movement," Swanson said. "Since then, we've really been riding this wave of growing awareness."

Looking back at Dancing Willow's beginnings, she added, "We call ourselves the pioneers of herbalism for the Four Corners because we literally have been. We've treaded on ground that nobody has."

Swanson said that her hopes are that the new Dancing Willow Herbs will become a wellness center. In addition to expanding current services, she said she hopes to lease space to a naturopath, offer more extensive classes and begin seeing people clinically.

"We want to have a place where people can go and learn more about their health and become more empowered about the decisions they can make," she said.

Swanson said she credits Durango's openness and awareness for her business success and expansion. "In other parts of the country, the light bulb is just going on," she said. "But Durango has really been waking up over the last several years and has an expanded consciousness. Even the medical establishment is looking at the value of alternative medicine. We get regular calls from physicians and having that happen is really inspiring."

Which alternative is alternative?


The brand "alternative medicine" is a curious one, according to Shauna Young, a certified doctor of naturopathy who owns and operates the Assertive Wellness Center. "It's interesting that we're the alternative when we're practicing medicine that's over a thousand years old," she said.

Like Edwards, Young said that people come to her looking for another way to heal. Citing techniques like chemotherapy and radiation, Young remarked, "One of the reasons natural medicine made such a burst in the 1930s was that conventional medicine became so brutal . Medicine has again become brutal. It's the cut, poison and burn system, and people have decided that they've had enough pain."

Young said that complementary and alternative medicine offers another approach. "Everything that a naturopath uses does no harm," she said. "We work more on balancing the immune system."

Like Edwards, Young's practice has been effective in its two years of existence. She said she is totally booked, has customers locally and in 28 states and three countries and generates her business only from word of mouth.

Supporting the natural process


Caleb Gates has practiced acupuncture for 2`BD years in Durango and also has never been hurting for business. "I've been steadily growing since I opened," he said. "I've been the busiest ever in the last three months."

Gates added that during the same period of his growth, at least four other acupuncturists have started practices in Durango. "This is a community that definitely supports acupuncture," he said.

Gates said that the biggest factor in the support of alternative medicine is that people get results. "Healing is a natural process," he said. "The body has the capability to heal itself and alternative medicine supports that. It's really about getting beyond symptoms and maintaining the body's peak performance."

Like Edwards, Gates said that this goal often requires several different approaches. He said he often works in a complementary way with people undergoing treatment with physicians. In this capacity, he has worked on everything from helping people going through chemotherapy to helping heal muscle and skeletal issues.

"I'm seeing that when patients want to use alternative medicine, their physicians don't have a problem with it," Gates said. "I think it's also just getting stronger as more and more people want to use both types of medicine. In the short time I've been here I've already built up some good relationships with local doctors."

Edwards said she also sees positive strides, but said there's a lot of ground left to cover.

"We're probably a little ahead of the national curve, but we have a long way to go," she said. "I'm not practicing in the hospital yet, but I have a lot of doctors willing to work openly with me."

Edwards concluded that the future of local medicine is in the hands of the community. "This shift is happening because people are asking for it," she said. "Where the money flows, the power goes." •