Core values
Smaller is better for 'microbrew of snowboards'
by Missy Votel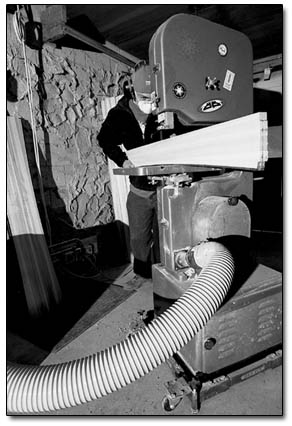 Venture Snowboard's Klemens Branner makes a cut on a core for one of his boards in his Bayfield shop on Monday. The procedure, called "bookmatching," ensures symmetry (below) and lends Venture boards their unique look. The wood is certified by Smart Wood, a program of the Rainforest Alliance that certifies wood as sustainably harvested./ Photos by Ben Eng.
Klemens Branner has always been inventive. Intrigued by a snowboarding scene in a James Bond movie in 1986, the financially strapped 15-year-old fashioned his own board using his father's tools and a piece of plywood.
"I spray-painted the bottom pink because it was the only paint we had and put some junkie rubber straps on to keep my feet in," he said.
Despite its crude design, the contraption was an instant hit among the kids at a park in Denmark, where he grew up. And Klemens, for one, was instantly smitten.
"It was a little rough, but we had a good time," he said.
Today, the love affair with the sport has taken Klemens from that small Scandinavian sledding hill to the base of the San Juan Mountains. And although much has changed since those early plywood-and-spray-paint days, "Klem," as his friends call him, is still turning out handcrafted boards, albeit with a higher level of sophistication.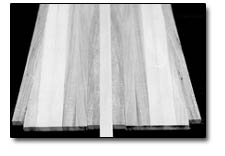 "We joke around and call ourselves the microbrew of snowboards," said Klem's wife, Lisa, who is the management and marketing end of Venture Snowboards, the couple's Bayfield-based company. The couple moved from Fort Collins about a year ago in search of a simpler, less hectic lifestyle.
"We were fed up with the city and the Front Range," said Lisa.
As big fans of Wolf Creek, they had become familiar with the San Juans and decided rural La Plata County suited their needs. Indeed, the rustic setting of the couple's home and workshop – nestled along a rutted dirt road in a small canyon north of town –seems an ideal setting for the company, which eschews the ideals of mass production in favor of small batches of boards, created with an eye toward simplicity and sustainability.
"We like to cater to the older riders, people who aren't going to buy because of its graphics," said Klem, who at 32 has been riding for more than half his life.
In fact, the current line of Venture boards (there are three models that come in varying widths) come in only a few solid colors: red, green, blue, black and orange.
"I think they look like Jolly Ranchers," said Lisa, whose production duties include cutting the Venture logo into each base.
To borrow a cliche, they care mostly about what's on the inside: a laboriously handhewn wood core. Klem, who worked several years for a snowboard manufacturer near Denver before branching out on his own, cuts each core himself, using a woodworking technique called "bookmatching," which ensures symmetry. Stacking two different kinds of wood (ash for the edges, softer poplar in the middle for flex), he cuts each block lengthwise, producing a carbon copy of itself. The two identical pieces are then placed side by side, making up the core.
Klem, who holds a master's degree in mechanical engineering, is happy to offer up a lengthy explanation for the technique – not to mention the entire snowboard-making process. But in the end, he says it just makes for a better ride.
"It corrects for wood's natural variations, so your board responds the same on both its right and left edges," he said.
Sure, some (including his wife) may accuse Klem – whose workshop floor is clean enough to eat off of – of a slight proliclivity toward being anal. He prefers to think of it as attention to detail – a "do-it-right-the-first-time" mentality.
"You end up with a much better product," he said. "In the end, I think it's worth it."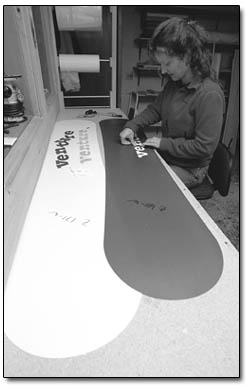 Lisa Branner pops plastic letters for the logo into the base of a board. The process not only creates a twotoned logo but cuts down on waste, she said./Photo by Ben Eng.
The process also makes for an interesting visual – which in a roundabout way has become Venture's trademark. In an effort to cut down on the amount of plastic used in its boards, Venture uses epoxy-soaked fabric as the protective covering, or top sheet, of the board. The result is a translucent effect, which allows the core to show through and gives the boards an old school look more reminiscent of fine cabinetry than a piece of outdoor equipment meant to be used and abused.
At first, the Branners were unsure if the approach would fly.
"We wondered, 'Do people really want to see the core?'" said Lisa. "But then we figured, we put so much time and effort into it – that should be what people see."
So far, the approach seems to be working, with all of last year's stock of boards selling out by Christmas. In fact, Venture has even caught the eye of a Hollywood celebrity – Seal – who called last week to have a board overnighted. He called back the next day to order three more.
"He said he had to have one for a friend, and a powder board and an all-mountain board," said Klem.
Despite the brush with stardom, Klem and Lisa remain very much rooted in their grassroots, low-key approach. For the most part, their marketing consists of word of mouth, relying on a handful of dedicated riders throughout the West to talk up their boards. And rather than paying for a team of sponsored riders, they have amassed a small group of homegrown local riders.
"None of these people get paid to ride for us," said Klem. "They just do it because they live to ride."
Venture also takes a low-impact approach to production, which involves the use of sustainably harvested wood and organic fabric top sheets (yes, there's even a hemp model).
For the Banners, the decision to run a green company was a given.
"Obviously, the connection is, we love to be outdoors," said Lisa. "Here's a piece of equipment that we're going to be using outdoors, it just makes sense to be sensitive to wanting to preserve that."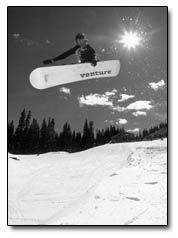 Erik Mishker, a rider for Venture's
grassroots local team, conducts a
little R&D at DMR's terrain park
last year./Photo by Ben Eng.
And as the first snow of the season fell outside their workshop window, the Branners were cautiously optimistic heading into another season. Since beginning five years ago, they have doubled production each year and have now landed a spot on the shelves of Bubba's Boards, which will also carry their demo boards. And with the addition of a press for laminating the boards this summer, which Klem made from the ground up and considers to be his trade secret and "pride and joy," Venture now has more flexibility in its production.
"We'll see what kind of demand we have," said Lisa. "We have the capabilities to build midseason."
Of course, with each board taking more than four hours to produce, this could cut into their riding time. But next to being knee-deep in powder, there's only one other place Klem would rather be: in his workshop, with Zappa blaring (the only place in the house where he's allowed) and the power tools buzzing.
"When I'm covered in sawdust and my hands are all glued up – that's when I'm the happiest."