by Mike Sheahan
I don't mean to say life in Durango will be slow this week, but the most exciting thing happening could be the release of brand new albums by both Toby Keith ("Shock'n Y'all," get it?) and Bon Jovi ("This Left Feels Right"). Toby Keith, for those who donknow, is the country musician who sings songs about wrapping an American flag around his boot before he kicks some Middle Eastern butt with it. And Bon Jovi? Its new album features redone versions of the band's biggest hits including a "jazzy, sexy version of You Give Love a Bad Name.'" If everybody proceeds in an orderly fashion to their chosen purveyor of recorded music, it is possible we'll make it through this week without the shedding of blood.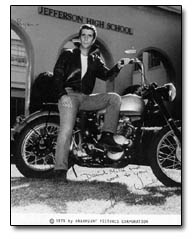 Speaking of Bon Jovi, have you seen this reality show on VH1 where B.J. superfans compete to become their tour manager? It is addicting. Not only is tour manager of any rock band the worst job in the world (imagine schlepping some joker's luggage around at 5 a.m. while they sleep one off), but to do all that for a band that did its "best" work 15 years ago but still sells out arenas must get depressing after a while.
As much as I'd love to go on about the dumb crap I see on TV, there are a couple of things worth getting off the couch for this week. A few weeks ago, the Bastard Sons of Johnny Cash landed in Storyville for a raucous night of great heartland rock. Having previously only heard their studio recorded music, I was unsure what to expect. I half expected, because of the outlandish name, a novelty band. Novelty they are not. The Bastard Sons delivered the goods that night and will be back in town this Saturday, Nov. 8, to prove it. Again the group will take the stage at Storyville, and again, I'm sure they will bring the house down. This is a great chance to catch a great band you may have missed the first time around. Trust me - they are worth whatever the cover happens to be.
Fans of performance dance will want to be at the theater in the Smiley Building for this year's Dance Co-motion . Happening on Thursday, Friday and Saturday evenings at 7:30 p.m., Dance Co-motion features dance troupes from all genres and age groups showing off the fruits of their recent rehearsals. Whether its high school kids line-dancing or full-grown adults providing their dance interpretations of various symphonies, you find it all at Dance Co-motion. This year's theme is "Just Dance," so expect people to just dance, darn it.
Website of the week: Most television shows have an identifiable moment when the show's quality tanks. A pinnacle is reached, and from then on all is downhill. On "Happy Days," for example, the change arguably happened when the Cunninghams and (for some reason) the Fonz were vacationing in California, and a water-skiing Fonzi had to jump over a shark. Since then, the process of a show heading south has come to be known as "jumping the shark." At www.jumptheshark.com , you and a community of like-minded folk can argue over things like whether M.A.S.H. jumped the shark when Trapper John left or when Alan Alda started directing episodes. With nearly 2,000 shows archived, there is almost no end to the fun.
Of course, some shows ("WKRP in Cincinnati") never jumped the shark, and others ("Designing Women") jumped on day one. Those are both options as you voice your opinion on such weighty issues. Have fun at JTS, but as you get buried in surf, remember a person should eat at least one proper meal a day to keep that clicking finger working properly.
Album of the week: The problem with a band's second album, the sophomore slump it's called, is often that the sense of newness that came with the freshman release is gone and is replaced by a feeling that you've "heard that before." That is exactly the case with The Strokes new album, "Room On Fire." The album finds the band staying close to the successful formula of repetitive, Velvet Underground-like guitar riffs and manic distorted vocals that made their debut, "Is This It," so good. While the sameness in sound may put some off, it is not exactly a bad thing. The Strokes' sound is just as fresh today as it was two years ago, if a little familiar. Songwriter Julian Casablancas still writes lyrics as if he's having an intense, intimate conversation with someone, and he still writes music as if he wants to hit that someone over the head with a guitar. And, like last time, it works.
It's not all so samey-sounding though. The potential hit "12:51" slows down the tempo and actually attempts to define a melody, something The Strokes haven't ever seemed overly concerned with. The album's last track "I Can't Win" sounds like a song straight out of the Cure's songbook. Which, again, is not all that bad. Casablancas has admitted to lifting ideas from others and, at times, stealing entire bass lines for his songs. What results is the band's influences are heard loud and clear all over "Room On Fire." The bad news is the Strokes sound will probably stay the same forever. The good news is, for this album at least, the bad news isn't all that bad.
When did Bon Jovi jump the shark? mpsheahan@yahoo.com