First tracks

Reminders of Indian Summer were everywhere. Grasses, shrubs, rocks and even dirt stuck their unwelcome faces above a few inches of snow. With every glance and every inch gained, the picture didn't improve, and this early season tour sank deeper into the realm of worthless ideas. Not only did the scenery disappoint, the pain mounted. Every slip forward and foot of elevation gained was forced, and the burn in my legs made me long to be back on that barstool where I'd foolishly agreed to take this trip in the first place.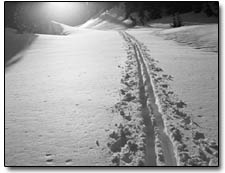 It was my first backcountry ski of the season, and I was dragging ass on the uphill, keeping my buddy Chuck within sight. Sparked by an early winter storm, we'd come with visions of consequence-free, knee-deep turns down the side of a bare peak. The burn and the scenery aside, those turns were sufficient inspiration to keep on keeping on. Eventually, even the turns seemed questionable as my screaming legs were joined by rubs on my feet. Putting my virgin feet back into tele boots had been difficult enough. Now both my heels were blistering. Still I tried to Jedi-mind-trick myself into enjoying the slog.
Unfortunately, my old bag of backcountry remedies wasn't cutting it. Blowing wind and snow kept me from spacing out. The blisters kept me from zoning out on the dance of my tips through the skin track. And counting breaths hardly ever works anyway. Despite all efforts, rhythm was nowhere to be found, and I clumsily lost more ground on Chuck.
But then, I recalled another friend's recipe for mellowing the slog. He called it "head music," finding a tune and locking it into your internal turntable. With this technique and specifically The Band's "The Shape I'm In," he peeled off dozens of miles, always in first position.
I figured this could be the answer and tried slipping on Robbie Robertson and The Band for size. I started with "The Shape I'm In," but quickly degenerated to "Life is a Carnival" and eventually bottomed out altogether with commercial jingles. Now, I was really dragging, and I was doing it to the sound of "Plop, plop, fizz, fizz. Oh what a relief it is." For close to two hours, I slid one foot in front of the other with Alka-Seltzer on the brain. In retrospect it was short-lived.
At the sound of the thousandth "plop, plop, fizz, fizz," the peak's ragged, southern shoulder appeared suddenly through a snow-driven haze. The backcountry had started taking its clothes off, and for the first time all morning, the scenery was helping and my feet, skins and skis slid forward effortlessly. At last, The Band strummed, strutted and howled within my head. And as promised, powder-filled gullies, glades and couliors were around every corner, up and down. Most gratifying of all, Chuck and I had it to ourselves. No one was to be seen or heard. The day's first turns would be ours.
I'll never forget when the sensation of skiing powder was first explained to me at the age of 9, a tender age for most, but I was already a hopeless junkie for fresh snow. I started to understand why when I was told, "If you look at the physics of skiing powder, you make almost no contact with the ground. You're literally floating, flying on a pillow of snow and air."
And I'll never forget seeing the physics in action as we floated down the side of that twisting ridge, weeks before the official beginning of ski season. Our descent began with a not-too-steep gully, bordered by fir and stair-stepping out of sight. We picked the shot apart, bouncing through short sections of bottomless, perfect powder. But, bottomless can be costly. Between face shots and perfect carves, my too-skinny skis would occasionally smell dirt and submarine.
After about 40 turns, we came upon a crossroads. The track we'd made coming up entered on the left, and we remembered seeing next to no coverage. Consequently, we'd planned on opting out and following the skin track back to the car. But, now we were looking at a slightly different exposure. Close to a thousand feet of vertical beckoned, and we hungered for more turns.
The terrain was not as dramatic as the drop off the ridge. But with eight to 10 inches of fresh resting on solid crust, the snow was supreme. Turns were effortless, and powder routinely splashed on our chests and frequently shot into our faces. We moved from glades and trees into chutes and bowls, during that long trip down. And we arrived back at the car exhausted but intoxicated.
As we returned and eyed our original skin track, I recalled my initial suffering. My feet and my new pair of nickel-sized blisters provided evidence of the toil. I thought about my reluctance to hang up the mountain bike, put away the hiking boots and bury the shorts for a long winter.
But seeing that summit poke its head through the blowing snow that day erased any of those doubts. And floating down its side on a pillow of snow and air was pretty powerful medicine.
- Will Sands