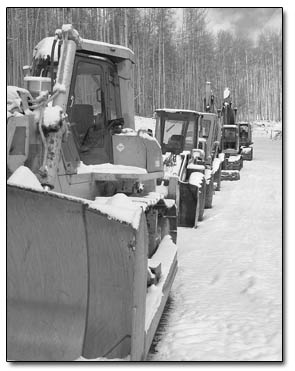 Earthmovers rest along the side of Highway 550 , just south of Needles, this week. A number of projects have
broken ground lately in the corridor, and the vast majority of them will be high end, a trend that has dominated
the north end of La Plata County lately./Photo by Todd Newcomer.
In recent months, all eyes have been leveled at development proposed on the outskirts of Durango. Meanwhile, utilities are being extended, roads are being cut and ground is being broken on a host of projects in north La Plata County. That area is picking up pace in terms of new construction, and with one notable exception, it is highly exclusive in nature.
More than 10 individual projects are currently proceeding in north La Plata County. On the one end, they have names like Windom Ranch, Two Dogs and Silverpick. On the other, they are Tamarron and Durango Mountain Resort.
The resort bargain bin?
Gina Piccoli, broker-owner of Coldwell Banker Heritage House Realtors, said that from a development and real estate perspective, activity has returned to the area surrounding DMR after a couple of flat years. "There wasn't a lot of inventory up there," she said. "Over the last couple years, it really dwindled in terms of what you could find."
Piccoli said that recently the market has been infused with some product and that it is predominantly high-end construction and land catering to second homeowners. With many prices in the million dollar-plus realm, she noted, "For the most part, the area has increased in pricing, and the new stuff has all been quite expensive."
However, while the numbers may be high relative to Durango, they are inexpensive compared with many other Colorado resort areas, a factor Piccoli credits for the recent upswing.
"When you compare it to trying to buy something in Telluride or Aspen, it's a bargain," she said. "That might be what's driving the market right now."
Aiming for second homeowners
Tamarron is one area of north La Plata County that is working to generate an exclusive appeal. To this end, the resort remodeled its existing 18-hole golf course and the existing Tamarron Lodge. Construction also is under way on an additional nine holes and a 20,000-square-foot clubhouse/recreation center that will be called the Glacier Club at Tamarron. The new nine holes and clubhouse will be available only to equity members. Directly tied to these upgrades is the planned construction of 350 high-end units, half of them townhomes and the remainder single-family homesites.
Patric Flinn, director of golf and operations for the Glacier Club at Tamarron, said he recognizes that a large amount of development is happening in his neighborhood. However, he said that the Glacier Club at Tamarron's amenities will set it apart. "There's a lot going on up here," Flinn said. "But the one thing we have that's a giant advantage over everyone is that we will have 27 holes of world-class golf."
Flinn said that the Glacier Club at Tamarron is targeting second homeowners from locales like Phoenix, Scottsdale and Dallas and offering the appeal of a more temperate summer climate. He noted that relative to other similar developments throughout the region, the Glacier Club at Tamarron will set a new high mark in terms of exclusivity.
"Given the places that we have in the area that are golf course and real estate combinations, we're definitely going to be at the high end," he said. "We are obviously pushing the private club appeal."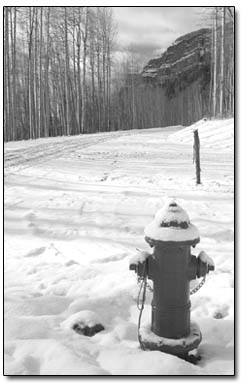 Snow begins to melt off a new fire hydrant, marking the future spot of devleopment, along Highway 550 near Needles on Tuesday./Photo by Todd Newcomer.
A more affordable angle
With a mind to Tamarron and several other smaller projects in the vicinity, Gary Derck, DMR chief executive officer, agreed that for the most part development in the north valley is of a high-end nature right now. However, he said that DMR is not in the business of upscale development currently and sees itself marketing more affordable townhomes and lots.
"Most of what's going on in the north county is really high end," Derck said. "We tend to see our role as providing something that's a little more affordable than a Tamarron or some of the others that are up in the stratosphere."
Recently, DMR set its 20-year master plan in motion – a mix of single-family homesites, townhomes, and hotel and shop space. In total, 1,649 units are planned as well as 410,000 square feet of new commercial space. The ambitious proposal includes six separate villages on 612 acres in the vicinity of the resort.
In late September, ground was broken on Tacoma Village across the highway from the resort's main entrance. The first phase includes construction of 16 townhomes with prices ranging from $350,000 to $500,000. The resort has already seen strong presale interest in the townhomes and nearby lots. Still, Derck said that the resort is taking it slow and being realistic about the number of units that will sell in coming years.
"I don't think anyone up and down the corridor has huge expectations for absorption," he said. "We're hoping to move 20 units a year. Some of the other projects may see two units a year."

Slicing up the pie
In spite of an apparent surge in north county construction, Derck said that each development appears to be doing its own thing, and that competition remains mild. "I think that right now everybody's picked their niche, and as far as I'm aware, nobody's stepping on anyone else's toe," he said
However, which developments have chosen the right niche will be determined over time, he said.
"We'll know three or four years from now which of these was the right niche," Derck said.
Regardless, both Derck and Piccoli agreed that the changes are positive for north La Plata County and the greater Durango Mountain Resort area.
"Million-dollar properties will probably take a while to be absorbed," Piccoli said. "But I think the good news is that people are starting to take Purgatory seriously."
Derck concluded that growth in the region is healthy, saying, "I see it as encouraging. It's allowing us to have restaurants and other amenities on more than a seasonal basis. It's helping us get closer to becoming a year-round resort market."