Diver,
My fantasy football league, which has been established for 7 years, wants to change a bunch of the rules. I am against this, however I am being out-voted. Should I switch leagues? Should I just quit playing fantasy football altogether?
- Wondering, Glen
Dear Glen,
You need to quit that fantasy football league right now so that you can achieve your real goal of becoming a Dungeonmaster. Yup, break out those 10-sided dice because being an imaginary wizard is far more interesting than being an imaginary football coach. D&D leagues are forming right now, so hurry.
- Enjoy, Diver
---
Dear Diver,
My daughter, who just turned 18, has gone from being the sweet little Girl Scout she was years ago to a trouble-making, drinking, smoking teen who runs with an unfavorable crowd. I can't tell if she's going through a phase, being rebellious or just bored. She has come home drunk five times in the last month and has rolled through two different boyfriends (one of whom I found in her bedroom late one night) what can I do to control her? Punishing won't work.
- Frustrated in Durango
Dear Frustrated,
If punishment doesn't work, then it appears to me that you have a very weak moral base and that you've generally failed as a parental role model. Tsk, Tsk, Tsk.
- Diver
---
Diver,
I like the show "Family Feud." Who was your favorite host, Richard Dawson, the late Ray Coombs or Louie Anderson?
- Brian
Dear Brian,
I grew up watching Ray Coombs as host. He was a good, down-home guy with classic game show hair and a zany manner. My most distinct memory of Ray, however, is when he guest-starred on "227" and was being yanked back-and-forth between Jackee and Marla Gibbs. He had this really freaked-out look on his face which I'll never forget as long as I live. Even better than Mr. Coombs, though, was Peter Tomarkin of "Press Your Luck," but I'll not get into why that is.
- Keep watching, Diver
---
Diver:

Dan Groth of the Buzz House

Facts:

Dan is a diver, game show expert, and painfully mourning the death of Hawk, one half of the greatest wrestling tag team ever, The Road Warriors.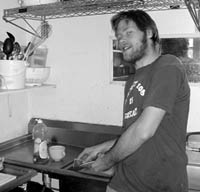 Got a dirty little secret?
Looking for guidance to remedy a sticky situation?
Seek help from the master of the kitchen! The Dish Diver has solutions to life's little messes. Send your problems to "Ask the Diver." - By mail to Durango Telegraph - Attn Diver -534 Main Ave., Durango, CO 81301; by email at telegraph@durangotelegraph.com, or by fax at 259-0448.
Dear Diver,

Reality television is driving me crazy! I think we are one step away from showing death on TV, just like the film "The Running Man." What do you think?
- Marybeth
Dear Marybeth,
I think we were very close to something like "The Running Man." However, now that we have a man (Arnold Schwarzenegger), with actual experience as a Running Man contestant in power, steps will be enacted to prevent such a spectacle from occurring.
- Good luck, Diver
---