by Mike Sheahan
W elcome to "The Goods," the weekly entertainment note that recently learned of a new board game called Ghettopoly . Much like its obvious namesake, Ghettopoly is a game rooted in capitalist culture emphasizing acquisition over fair play. Instead of aiming for posh Atlantic City properties, though, players build crack houses and fence stolen goods while trying to avoid getting car jacked. If you are like me, you can't wait to get your own and gather up some friends to finally set to rest that age-old argument about who can pimp the most hos.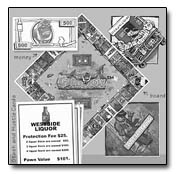 Unfortunately, well-meaning do-gooders nationwide have raised a politically correct stink that led to Ghettopoly's website being shut down for a while and retail and on-line stores refusing to sell the game. I would have never heard of Ghettopoly had these meddlers not piped up and to them I say "Thank you!" My game will be here in 10 to 14 days.
The coming week in Durango offers a wide range of diversions while you wait for your various mail order products to arrive.
Tonight, Oct. 23, local celebrity and noted Red Sox fan Tim Sullivan will present his one-man show, "Diary of a Songwriter," at the Diamond Circle Theatre. Sullivan has recently received local and national attention for his penning of a song used by the hapless Boston Red Sox to get the crowd and themselves going during this baseball post season. The song didn't have the magic needed to drive the Sox into the World Series but, more importantly, neither did the Pedro Martinez fastball or Tim Wakefield's knuckle ball. All that aside, Sullivan's critically acclaimed show should be an entertaining time delivered by the laid-back country music songwriter. The show starts at 7:30 p.m.
This next event may not be all that entertaining, but since beer is involved, I feel it warrants discussion here. United Blood Services, at 146 Sawyer Drive in Bodo Park, is sponsoring a blood drive on Friday, Oct. 24. All the Durango breweries have teamed up to give this blood drive a pint-for-a-pint theme. That's right, donate a pint of blood and receive a pint of beer from any of our local breweries. Say good-bye to the days of resting 10 minutes, eating a cookie and drinking some orange juice. Say hello to the days of increasing your blood alcohol content by having less blood for the alcohol to contain.
All told, I'm sure you'll have to wait a little while to get your free pint; it's not likely United Blood Services will tap a keg at the same place they tap your arm. Look for the kids from KDUR doing a live radio remote and know that, free beer aside, donating blood is good.
It's not all about country music, bloodletting and beer, folks. Sometimes, it's about the children. From time to time, we must drop our devilish distractions and do something for our offspring lest they become resentful and grind a light bulb into our Special K. The Durango Early Learning Center gives us the perfect chance on Friday, Oct. 24, at 890 East Third Ave. The DELC Halloween Carnival will feature activities and games for kids and dinner will be provided. The charge of $4 for adults and $2 for kids combined with the early time (5:30-8 p.m.) sets the stage for a great time for the kid and later, when the babysitter show up, a guilt-free outing for Mom and Pop.
Ladies starved for attention and the men who love them must read on. Girls, do you enjoy having men stare at your personal parts while you parade around with next to nothing on? If you do, then Saturday at Scoot •Blues is the place for you. The local live music venue will be hosting a bikini contest for you to exercise your exhibitionist rights. Every American has the First Amendment right to expose his or her half-naked body in front of a group of drunken lookers. First prize for best bikini girl is $200 cash, second is a trip to Las Vegas (worth less than $200?) and the third is a $25 gift certificate. Each prize is worthwhile I suppose but, personally, I wouldn't take my shoes off for $25.
Good luck ladies.
Website of the Week: Many people know that The Onion is a nationally available weekly faux newspaper that spends much of its time poking fun at the news of the day. Originating from Madison, Wisc., The Onion is not always fun and games though a simple visit to www.theonionavclub.com will show that. The AV club provides several weekly reviews of albums, books and movies. Also, each week features an in-depth interview with some interesting luminary in the biz plus it links to "Savage Love," the best advice column this side of "Ask the Diver." The music reviews are nearly as good as this one.
This Week's Album in Review: Speaking of Madison, Hum Machine is a band from that neck o' the woods whose new album, "Last Action Rocker," demands constant listening. The band combines wholly original songs written via vast influences (Replacements, Bowie, Neil Young) to create a sound that plays like something new.
Whether it's an intelligent rocker ("Remember When") or a heartfelt kiss off to a friend and town ("Reno"), Hum Machine's fourth release is the best new record I've heard in weeks. Find it at www.cancerrecords.com
Wanna play Ghettopoly? mpsheahan@yahoo.com