If you're not familiar with the 24 Hours of Moab, allow me to explain. Mountain bikers flock from all over the country to the desert to ride their bikes from noon on Saturday until noon on Sunday. These insane people bike through deep sand, technical downhills and rolling desert – over and over again. They beat up their bodies and bikes; exhaust themselves; and brave heat, sweat, dirt, blood and bruises. And they actually have a good time. Or at least I did.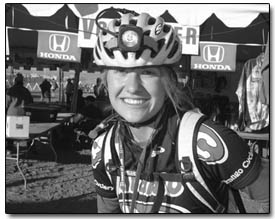 The morning after: DHS sophomore Sabina Kraushaar after a rough night on the trail in Moab./Courtesy photo.
The race begins with the first person on each team sprinting, in bike shoes, about half a mile, inhaling tons of dust along the way. The racer then grabs his or her bike and embarks on the first lap of many. Each lap is about 15 miles, with riders starting and finishing in a tent where the wooden baton is passed, ID cards are swiped to keep track of times, and finishers attempt to scramble out of the chaos.
Most riders choose to be on a team made up of either two, four or five people. This year, there also were 78 diehards who rode the race solo, biking for 24 hours straight.
I found my team, "Waterside West," off a message board on the Internet. Out of the five people on it, I was the youngest by a long shot and the only girl. Our captain, Mike Eland, was a purist; he rode a singlespeed with no suspension and didn't believe in Spandex, Lycra or bike gloves. "It's just you and your bike," Mike told anyone who would listen.
The race started at noon with the chaotic running, and the riders disappearing down the trail while the dust settled. I was eagerly awaiting my teammate Brad LaRochelle as he came in from his first lap, and almost tripped over myself sprinting out of the tent to grab my bike. The second rider in our line-up, I rode my first lap, passed the baton, went back to camp, got a massage and rested. It seemed simple.
The next lap I took was to be in the dark. This was going to be my first night ride ever, unless you count the times I've ridden home in the dark because I don't drive. All the caffeine that I'd shoveled into my body was flowing in my bloodstream, and my hands were shaking by the time Brad came in. I readily took the baton and swiped my card, oblivious to what I was getting myself in to.
Starting amid the cheering of my mom and teammates, I grinned as I flew through the tent and past scattered campfires. My lights shown bright, and my bike seemed to be in an agreeable mood. I felt good in my own little world, which spanned only about 15 feet in front of me.
And then I heard the most dreaded sound that can possibly pierce the silence when you're riding at 11:30 p.m. – a faint pop followed by a hiss. I had a flat, and a wave of panic hit me as I realized I had never changed a flat on my tubeless tires. I wasn't sure whether to cry, scream, kick something or ditch my gear and hike to the finish. I slowly got off my bike and trudged off the sandy trail. Time didn't matter now, I thought bitterly to myself.
There were a few others who shared my fate, spread out in the dirt also fixing their bikes. I was surprised at how optimistic they were, stranded with flats, in the middle of nowhere, in the dark. I also thought how bizarre it was that I was one of them. "And we actually paid money to do this?" one of them yelled.
I threw my bike into the sand and tried to take off the back tire. I soon realized that my head light was failing, and within minutes it was dead. More panic. "I'm screwed," I thought to myself.
With nothing to do but try to make the best of the situation, I wrestled with my tire in the dark for half an hour, until I finally threw it down in disgust. It simply could not be done without a light, especially by someone like me, who obviously didn't know what she was doing. In the end, I relied on a generous biker who stopped to help. Soon, I was on my way again, with a fixed tire and only the light on my handlebars to guide me.
I crept along, my eyes straining, as I tried not to kill myself on the downhills. "I can't believe I'm doing this," I kept thinking to myself. Somehow I survived, and I was never so glad to see the headlights and campfires of the starting area.
I pedaled in with the baton that had been rubbing against my sweaty leg for the past 2BD hours clenched in my teeth and a huge smile spread across my face. My teammate was obviously freezing as he shuffled out to meet me; he had been waiting in the cold for almost an hour. He managed a grimace as he swiped his card and started out on our team's next lap.
I went back to camp and managed to get a few hours of sleep before I had to peel my eyes open again and start out on my third lap. I struggled out of my cozy sleeping bag at five in the morning, threw on my dirty bike shorts and tried telling myself I was having fun as I ate a plate of hot hash browns and drank a mug of chai tea. As I rode, the sky gradually began to lighten, and soon I switched off my lights. I could see the sun peeking over the desert, and I noticed my shadow on the ground beside me. I instantly felt the warmth creeping into my tired body, and smiled knowing that the night riding was over.
That morning was incredible. With the Rolling Stones playing in my headphones, it was just me, my music, my bike and miles of desert. My bike flew over the rocks and sand with ease, seeming to subconsciously pick the best line.
And just when I thought it couldn't get any better, I found myself sprawled on a rock with a mouthful of sand and my breath and bliss knocked out of me. With a red and purple bruise forming on my leg and that harsh snap back to reality, I realized I wasn't done yet. My faithful Jamis had a bent headset, so I got out an allen wrench and fixed it. Then I jumped back on the piece of metal, rubber, and grease that had carried me this far and kept riding.
I passed the baton one last time (so I thought) to my teammate Bob Binckes and watched him ride away. With a great sense of satisfaction, I enjoyed a long shower and flopped down in a lawn chair.
The happy delirium was quickly shattered when a teammate found me at camp and asked if I would be willing to ride one more lap because our singlespeeder would probably arrive before noon. At first I was unwilling, but after some persuasion and bribery, I finally agreed, threw on my smelly clothes and waited for my teammate in the starting tent. He came in 20 seconds before the deadline, so I was one of the last riders to take off for the final lap of the race.
In the end, my team "Waterside West" finished in 40th place, which wasn't all that bad considering my incredibly long night lap and that only one of us had done the race before.
Regardless of our time, the energy I took from 24 Hours of Moab was awesome. My passion for cycling, adventure and life in general was renewed. The support that I received from my family, friends and complete strangers was overwhelming, and I was lucky to be part of something like this. The 24 Hours of Moab is like a little community that pops up once a year, and then disappears leaving only empty beer cans, Power Bar wrappers, ash-filled fire pits and tire tracks that cover a collective 65,235 miles.
Many people think we're crazy to do a race like this; and in some ways I would agree. But there is so much positive energy and excitement at the event that it makes up for the exhaustion and sore legs. It is the quintessence of adventure and challenge, and I'd do it again without a doubt.
– Sabina Kraushaar
(Sabina Kraushaar is a sophomore
at Durango High School.)