by Mike Sheahan
G iven the recent local influx of great touring bands and musicians, one might think something crazy has happened. It's almost as if some magical "touring musician's" map has been issued with "Durango" on it in big bold letters, causing people to drive 300 miles out of their way to do a show for us. Nice thought, but there is no such map, this recent renaissance is largely because of the hard work of local folks who have finally decided that a Phish cover band will not do as the only option for fun on a Saturday night. Because of this hard work, there seems to be an abundance of fun-time options every week. Next time you see one of these folks, thank them for saving you from another coma inducing "ladies night" with DJ Blah Blah.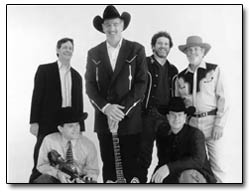 For 30-some years now, Ray Benson has roamed the country with his ever-revolving line-up known as Asleep at the Wheel. Over the decades, the Wheel has thumbed its nose at every superficial fad to hit country music, opting to carve out a niche in the staid world of western swing. Asleep at the Wheel makes no bones about its affinity for, and debt to, Bob Wills, arguably the king of modern western swing. 1993's album "A Tribute to the Music of Bob Wills" introduced a whole new audience to Wills (not to mention the group itself) and 1999's "Ride With Bob" earned the band several Grammy nominations.
Really, one need not look past the Wills connection for further explanation of Asleep at the Wheel . Sure it is much more than a cover band, but at the same time (please excuse the horrible pun) it is not trying to reinvent the wheel. The band seems to love its musical roots and has no reason to venture too far from them. Oh yeah, Asleep at the Wheel plays the Fort Lewis Concert Hall on Friday, Oct. 17, at 7 p.m.
One of America's most popular Cajun/Zydeco bands, BeauSoleil , will perform Sunday, Oct. 19, at the Abbey Theatre. Like Asleep at the Wheel, BeauSoleil has been entertaining audiences for decades. However, I think the Zydeco genre occupies a world all its own. Reggae, rap, country, punk, hell, almost any genre of music, while providing enjoyment to many, can turn off others. I dare anyone to not enjoy the rapture that is the combination of a fiddle and accordion. Add to that a syncopated Southern beat, and I guarantee there won't be a slow foot in the place. Except my right one. It's muscular, please don't laugh.
Readers of this column know that one of the best downtown places to see a show is Storyville. However, the sound system has become antiquated, and it seems something has to be done. That is why several of Durango's favorite bands have teamed together to create Story-Aid , a benefit to help the folks at Storyville remodernize their sound system. Many of your favorite local groups will be performing pro bono to help raise the necessary cash. Call 259-1475 for a musical line up or just show up Saturday, Oct. 18, with your goodwill and help keep one of our musical strongholds alive.
Website of the Week: All you music lovers must stop whatever it is you are doing and visit www.franklarosa.com/vinyl right this minute. This site is a hilarious tour through some guy named Frank Larosa's largely ironic record collection. Included in this collection is the "Barking Beatles," dogs barking the lyrics and melody to poorly remade Beatles songs. Other highlights include a spoken-word album by '70s daredevil Evel Kneivel; Goldie Hawn, as a recent Laugh In grad, singing in either French or Spanish (it's impossible to tell which - it could be both); and the cartoon Pink Panther singing country. Each album's page boasts cover art, a selection of songs to hear and a message board for posting your own opinion of said selection. In my mind, there is no better way to waste two hours than trying to find something funnier than Telly Savalas talk-singing "You've Lost That Loving Feeling." Pure gold, baby. This is the most fun site I've seen in weeks, and you don't have to love music to love hearing Mohammad Ali take on the dental scourge of tooth decay in recorded form.
Album of the Week: A couple of years ago, the Strokes filled airwaves and boomboxes across the country and in doing so, gave rise to a decades-old form of rock music called garage rock. The rise was smooth and fast and soon this loud, driving form of guitar-based rock was being used to sell us everything from Coors Light and Smirnoff Ice to Toyota Camrys. Many albums were released, some good, most horrible, but mostly the world just needed another Strokes album.
Enter the Kings of Leon and its sophomore release "Youth and Young Manhood." Much like the Strokes, the Kings of Leon came from nowhere amid much industry buzz. And also like the Strokes, they sound a lot like the Strokes. It's probably not their fault, they have been around longer, but "Youth and Young Manhood" bears striking similarities to the Strokes' 2001 Debut. That said, "Youth and Young Manhood" is a spectacular example of modern garage rock. It has the perfect mix of jangly, distorted guitars and off-kilter bass and drums. Add to that intelligent lyrics and a well-done lo-fi production, and you wind up with the cream of an overly derivative crop. Meanwhile I hear a new Strokes album is set for sometime this winter.
Goldie: French or Spanish? mpsheahan@yahoo.com