by Mike Sheahan
Can you believe that, in a matter of a few days, we may hear the un-uttered, the unheard of, the unspeakable? It is possible that we may soon hear FOX broadcaster Joe Buck exclaim: "Cubbies, Red Sox World Series!!!!" Not only would an announcement like this turn the baseball world on its ear, it would mean that at the conclusion of such a series, either Chicago or Boston would probably implode in strange silence, and we'd never have to listen to one or the other city's fans complain again.
Sure the Cubs have to get past the '97 world champion Florida Marlins, and the Red Sox must overtake this new squad from New York, I think they're called "Yankees," but a "perennial loser" series is in the works. Buy the TIVO, steal your neighbor's VCR, call in sick, whatever. Even weirdos who don't like baseball should love what's left of this year's post season. I predict the Cubbies over the Sox in six.
Maybe I haven't fully convinced you to stay glued to your TV, maybe you need to get out and see your neighbors. Fair enough. Here are some other options for nonbaseball-related fun. Sometimes the name makes the band. Such is the case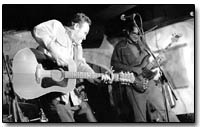 The Bastard Sons of Johnny Cash
with the "Bastard Sons of Johnny Cash" – a band that draws enough style from the legacy left behind by the Man in Black but is far enough removed from country to earn the "Bastard" part of the name. The band is rooted in country tradition but far from country; it is folky and rocking. Although I have never seen the Bastard Sons live, both of their albums indicate the show will be an Americana good time. I hate to use that term "Americana," but it applies. The Bastard Sons of Johnny Cash play Storyville on Friday, Oct. 10. Local troubadour Greg Oldson will open, and good times should ensue.
There are two big weekend-long happenings this week, and I mean to drop knowledge about both. Firstly, the second annual Rocky Mountain Festival for Runners happens all weekend. www.durangomarathon.com provides all the details, but I would like to focus on Sunday's Harvest Block Party. Main Avenue will be shut down from 7th to 10th streets with plenty of fun for young and old, hungry and thirsty, athletic and infirm. An actual marathon is run the same day and finishes on Main between 7th and 10th. My favorite memory of last year's Harvest Block Party is eating a scrambled-egg-and-cheese submarine sandwich from the Durango Diner while watching depleted marathon runners cross the finish line, thinking to myself: "Who's the real winner here? I've got cheesy eggs."
The Durango Songwriters Expo is the other weekendlong event, and the whole thing happens just north of town at Tamarron Resort. The Expo features workshops for aspiring songwriters but also will feature a huge final night concert. A personal favorite, Kim Richey will perform as will Colorado fave Tony Furtado and Glen Phillips, of Toad the Wet Sprocket fame. Bring your guitar, show up early and who knows? Someone might actually like that song you wrote about your mom "Catching You." Visit www.durangosong.com if you need more of anything.
Website of The Week: I'm not one to make fun of our elected leaders, but since our current president wasn't really elected, I feel good about this one. www.bushorchimp.com explores the correlation between Dubya's facial expressions and those of various primates. Even if, for some inexplicable reason, you agree with the politics of Bush II, the site is still funny because G.W. does kinda look like a monkey.
Still more of you, according to the website, may think such a comparison is unfair to the chimps. It seems not a single primate was hurt in the making of the website. Thanks Jen!
This week's record of music: Steve Earle doesn't seem to care about pissing off John Ashcroft. Earle's release from early 2002, "Jerusalem," was heavily political, a bit heavy-handed and from a musical standpoint, overly produced. His response, "Just an American Boy: The Audio Documentary," is the exact opposite. A live, double-disc release, "American Boy" captures all one could want from a country rock vanguard. Spreading time between his electric Dukes and his Bluegrass Dukes (both bands featuring too many superstars to mention, although his son and brother show up), Steve Earle covers his entire sonic history.
The songs that receive the best treatment come from "Jerusalem," but Earle's monologues about his life and opposition to the death penalty rival any music moment. It's not like Earle has lightened up on his overt political stance, but this laid-back live approach provides the proper unobstructed avenue into the mind of Mr. Earle. Plus, it happens to be his best release since the spectacular "El Corazon."
The drive is nowhere as criminal as some might lead you to think. Earle's politics may turn some people off, but we all can't love Toby Keith can we?
Want fries with that?