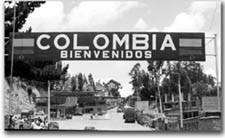 I didn't recognize the psychological toll traveling in Colombia was having on me until I'd been there for a few weeks. Things had been nerve-wracking from the start.
My boyfriend, Bryan, and I were a few months into a six-month "shoestring" backpacking trip through Central and South America in 1997 when we found ourselves in Cartagena. The city was described in the Lonely Planet as a "colonial gem," but it seemed like a place where locals badgered gringos on cruises into taking tours of the city or buying crap. Ready for a change of scenery, we boarded a bus bound for Santa Marta, gateway to a coastal national park, Parque Tayrona.
A few hours from our destination, the bus was inexplicably stopped, and everyone started getting off. We overheard explanations like "guerillas." I asked a woman in Spanish what was going on, and she held a finger to her lips in the "shhh" gesture.
We ascertained that no buses would be traveling through until the following day, so we got in a cab with two Israeli girls who spoke English but no Spanish and were fresh out of their mandatory military service. Naomi and Daniella were visibly confused and frightened, so I didn't mention that the Planet descried Baranquilla – our home for the night – as a "dirty, dangerous port" to avoid.
We decided to share a hotel room as the taxi pulled up to a red light. A deranged, toothless man grabbed our cab driver's arm. The cabbie shook him off, cursing, got out of the car (still cursing) and grabbed a boulder, threatening the man to back off. The man countered by brandishing a shovel. At this point, Naomi locked her door and put her head in my lap, moaning: "I don't like it; I don't like it at all."
Meanwhile, in the front seat, Bryan was climbing to the driver's side to keep the cab from rolling into traffic, since the cabbie hadn't set the emergency brake.
Needless to say, once we reached the hotel, we started calling our respective embassies to see if we were safe. I couldn't get through at first to the U.S. embassy, so I called the U.K.'s. A nice British gentleman informed me that we were actually in the safest region in the north and that down south it was, "Red hot, if you know what I mean."
He went on to fill me in on the repercussions of being an American in such a region. "If you come to a guerilla roadblock they'll take you as a gringo or not, regardless if you say you have no money or have no money," he said. "And sorry, but Uncle Sam is Enemy No. 1."
After looking into flights, we learned that we couldn't afford to fly. We were stuck continuing our trip by land.
We spent the night consoling ourselves with pizza and beers in a hotel, and the next morning took a taxi back to the bus. During the taxi ride, the radio was blaring warnings about road closures from guerillas or military cocaine busts. Eventually, we made it to the park and spent several days enjoying the ocean and sleeping in hammocks. Still, our fears were fueled by traveler's stories about robberies in Colombia, such as the woman who had a large necklace torn right off her neck. And all too soon it was time for another dreaded travel day.
About five hours into the trip – I was watching a subtitled "Speed" – the bus stopped and men in fatigues with big black guns boarded and barked some orders. All of the passengers started filing out. I looked around and realized that we were the only gringos, and I was the only female. We got off and saw everyone standing spread-eagle with their hands above their heads against the bus, holding IDs as the men frisked them. I tried to stand next to Bryan and the man separated us with his gun and said "Dama" and pointed to another armed man. By now I was so paranoid that I was convinced they'd plant drugs on Bryan to solicit a bribe and take me in the woods and rape me. I thought about running for it, but we were in the middle of nowhere. Then it was over, and we were back on the bus – apparently, as a woman, I didn't need to be frisked.
Later we rolled into the town of Bucaramanga, famous for its delicacy: fried ants. But it was a Sunday and banks were closed. We only had enough money to buy a roll and two beers at a liquor store where locals were drinking on plastic chairs. We were something of a curiosity, and tried to keep to ourselves. But then a slightly disheveled man in a business suit sat down at our table and plunked two beers in front of us. He spoke to us briefly in Spanish, then gestured to the beers and said in halting English, "Good and bad people in every country." Then he left us with our beers.
I enjoyed Colombia a lot more after that. I tried to let the irrational fears subside enough to notice the small boy standing on the bus, singing along with the radio in a sweet breathy voice about "matrimonial." I laughed with the locals who pulled Bryan's ponytail and joked that he was a guerilla because "all guerillas have long hair," and listened to men describe the women of drug cartel haven Cali as the most beautiful women in the world. We drank coffee at espresso stands, saw ancient statues and gothic churches with testimonials of miracles engraved into a wall. I started to see the good with the bad, and learned that if you're going to take risks, you might as well enjoy them.
– Jen Reeder