by Mike Sheahan
Here at "The Goods," it's hard to believe that the regular baseball season is over. This means that fans of the game, like me, will be nervously searching for a way to fill the hours we normally spend poring over box scores. Excuse us as we clumsily pretend to be interested in our lives again.
As always, some of the best teams in the game (Mariners, Phillies, Cardinals) didn't make the playoffs and some of the poorest (Marlins, Cubs, Athletics) did. Baseball, with its current playoff system, is simply built that way. The overly long season rewards teams that play well in September and punishes teams that start well. If my current insane ploy plays out, and I am actually named the next commissioner of Major League Baseball, I'll shorten the season by 20 days and add another wild card to the playoffs. More money will be generated for the playoff teams and cities and the major television networks. Plus maybe, just maybe, my beloved Seattle Mariners won't break my heart again and will play a ball game in October.
Speaking of October, 'tis the season for an onslaught of yearly Oktoberfest celebrations. In the weeks to come, everyone, from owners of your favorite late-night hangout to those guys who live in a house together and really wish Fort Lewis had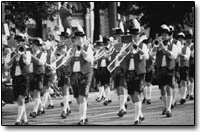 a Greek system will be hosting some sort of Oktoberfest shindig. For my money the best happens this Saturday, Oct. 4, at Steamworks. A mere $20 will get you dinner and a huge ceramic beer stein that you can keep and fill up as much as you want that afternoon (you do enjoy beer, right?). At the same time, there will be a street party with fun for the children and a real life Umpa band. As I've continually said, Durango loves an excuse to shut down an in-town street, and this week's Oktoberfest is the best excuse since last week's high school homecoming parade and Tour de Fat. The mayhem commences at 2 p.m.
Your friends at Storyville have a big weekend in store for you and your music-loving pals. Friday, Oct. 3, local heavy metal rockers Sacred Sun will pack the Storyville house. I recently had a heated discussion with a good friend who insisted Sacred Sun is the best live act going in Durango. This is our chance to see what said friend was all fired up about.
The very next night, DW Revival makes a showing on the Storyville stage. The band previously known as Dixie Wrecked seems to have realized that there are many other groups called Dixie Wrecked and has chosen to rename itself. Good job as I see it, the goofy old moniker gets in the way of the fun and funny country/punk shows the band delivers. If high-energy rock and roll with a country bent and tongue locked in cheek sounds like a good time, then DW Revival is just what the doctor ordered. The fun both nights gets running around 9:30 p.m., and cover should be nominal.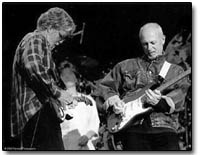 The big ticket item of the week happens Saturday night when blues rock jammer Little Feat brings its show to the Community Concert Hall at Fort Lewis College. With more than 30 years of experience under some of its band members' belts, Little Feat continues to draw large audiences, and this all-acoustic tour should not be an exception.
Little Feat was born in the early '70s, recorded a lot of music, then split when a band member died later in the decade. During the late '80s, when it seemed the '70s were finally being understood, Little Feat reunited. Since then, Little Feat has been a touring warhorse, and with the addition of a couple of new members, this might just make them the show of the week. Co-sponsors Steamworks also will have plenty of beer on hand for music fans to make the night a complete success.
Website of the Week: I have spent more than a year complaining about the world's end, and I must admit something: The end is not near. I know. I am as disappointed as you. Instead of imparting impending doom, I now will use this space to tell you of the hot new websites that I ceaselessly surf.
In order to get this new ball rolling, I'm going to softball this week's website so y'all get the drift. www.mulletsgalore.com is a hilarious look at the misguided hairstyles of our local mechanics, soccer players and cab drivers. Try to find the video of the be-mulleted woman who physically attacks her photographer. As always, remember: TV or Internet, both mean no talking while watching.
This week's album you should love: Big Star was a band that spent the early '70s making pop guitar music that should have overhandedly challenged the best pop music coming from across the big pond at that time. The combination of Jody Stephens, Chris Bell and Alex Chilton died before its time and was never recognized for its brilliance while the rest of the world fell for groups named the Rolling Stones and the Beatles. Whatever.
"Big Star Story," new on RYKO Records, chronicles the musical life of a band that chose to burn out and not fade away and part ways rather than divorce. "Big Star Story" not only follows Alex Chilton's life during and after Big Star, but the record also biographies the tragic Chris Bell story. Bell wrecked his car into a telephone pole not too long after deciding he was done with rock music. Along those lines "I Am The Cosmos," the sole, post Big Star legacy of Chris Bell, lives in the top 20 list of songs recorded in the mid '70s. Southwest Sound has at least one copy left, www.rykodisc.com has the rest.
Get it while you can. This may well be the best pop record you've ever heard. I could gush for forever about these songs but paper costs money. Buy Big Star in any form.
Next Week: The new Steve Earle. mpsheahan@yahoo.com