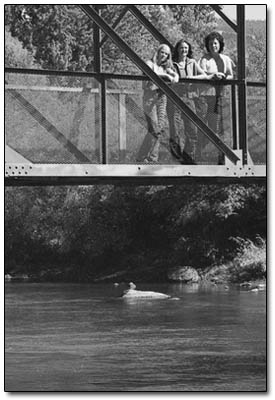 Braided River Peace Project Intern Vi Farmer, Director Tami Graham and Lead Trainer Peg Christian, pictured above the main braid of the Animas. The group
takes an unconventional approach to social and criminal justice./Photo by Ben Eng
In late January of 2002, Brenda Allen and her 9-year-old son were driving near Farmington Hill when a minivan crossed the double yellow line and crashed head-on into their vehicle. Though her son was uninjured, Allen took the full impact of the vehicle and broke nine bones, including both legs and both arms. She spent the subsequent three weeks in Mercy Medical Center, and after nearly a year and a half, including months of intensive physical therapy, her body is still not back to normal.
"I still don't have complete feeling in my arms and hands, and I still have days where I have trouble with my feet," Allen said. "But all in all, I'm pretty much a miracle."
Nearly as surprising is Allen's view of Tod Anderson, the Durango High School teacher who struck her car after crossing the double yellow on a night when he had been drinking.
"If anything, he's probably suffering more than we are in the long run," Allen said. "It was tough going for us for a few months, but he's got a long, hard road ahead of him."
Allen credited much of this forgiveness to the Braided River Peace Project, a local group that undertook mediation this April at Anderson's request. For the last six years, the project has been taking an alternative approach to crime and punishment, called restorative justice, and Allen and Anderson's example is one of many success stories.
Of the group's mission, Peg Christian, Braided River lead trainer, commented, "People really believe that nonviolent offenders should be repairing harm to their victims rather than going to jail."
According to Christian, Braided River works to create an environment where offenders are held accountable for their actions and harm is repaired to victims.
In the case of Anderson, he approached Braided River for the mediation and wanted to make peace with Allen and her family of four. Tami Graham, Braided River project director, characterized what followed as "the most profound" restorative justice case she's been involved with.
"The impact upon all of their lives was so intense," she said. "There were major injuries and damages, but they both wanted to heal."
Of her experience, Allen noted: "I think if we hadn't gone through it, we'd still be enemies, but instead Tod's very concerned about our family and how we're doing. Though the mediation, he's expressed how grateful he is that we've been forgiving. It was especially beneficial to my son."
A month after the accident, Allen's son was diagnosed with post-traumatic stress syndrome and continued to be haunted by the experience. "When we met with Tod, I told him that I could forgive him, but that my son was going to be a tougher nut to crack," Allen said. "My son was having a hard time with what was going on. He felt like people need to face consequences and at first, he was not seeing it happen."
Following the mediation, which Allen characterized as smooth and professional, the family and especially Allen's son have a different view of the situation. "Tod's having some really tough consequences in his life," she said. "He's lost his job and he's a convicted felon now."
According to Christian and Graham, who run Braided River along with Julie Goodman, this kind of healing and accountability is the aim of the project and restorative justice.
Over the last six years, the program has handled everything from dramatic cases like Brenda Allen's to basic neighborhood disputes. Based on aboriginal and tribal models, restorative justice argues that punishing and jailing offenders does little to repair the harm they did and little to prevent people from continuing to commit offenses.
"What if a person goes to prison?" asked Christian. "Does that absolve them from their responsibility to make things right? I would say 'no.'"
Graham added: "The theory is to bring the offender into the circle of community and face to face with the person they harmed. People then have a chance to be heard on how the incident impacted them, and people are held accountable in a whole different way."
Weighing the options, Graham also asked, "What's going to be better in the end? Getting attorneys and isolating the parties or sitting people down together?"
Over the last year, the Braided River Peace Project sat hundreds of people down in 65 separate cases. Most of these were county court and juvenile cases, but the group frequently dovetails with the traditional justice system and works with felons. Having been involved since 1998, Christian looks back over the past six years and sees some growth.
"I'm happy with the willingness of most officials to listen and examine new ideas," she said. "I'd really like for them to go from consideration to action."
However, she said that the community has really embraced the movement. "Within the community, there's been significant change," Christian said. "I get phone calls all the time from people who've been victimized and for lack of evidence, they can't prosecute. To have the community wrap around and say we want to make it safe for you is really powerful, even though the offender can't be prosecuted."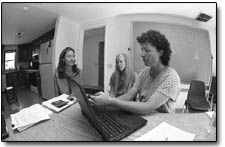 Tami Graham, Vi Farmer and Peg Christian prepare for a mediation. One of Braided River's premises is getting offenders to repair harm to their victims within a community context. /Photo by Ben Eng
However, the Braided River Peace Project also has shifted gears this year. With the State of Colorado budget crunch, its funding stream disappeared and consequently, the group has gained nonprofit status and moved into a donated space at La Plata CountyRiverbend Center. In spite of this, Graham said she sees a lot of positive momentum.
"Everything's falling into place," she said. "The county's seen how well restorative justice has worked and been very supportive and donated the space. We've got several different state and federal grants, but some of the reason we transformed into a nonprofit is the ability to look to the community for support."
A new push for the Braided River Peace Project will involve lending support back to the community. As one of the braids in the river, community mediation will become a function of the group in the future.
"It's putting community problems back into the hands of the community," Graham said of the forthcoming effort to mediate conflict within neighborhoods and the greater Durango and La Plata County community.
"Conflict is a natural part of human life," she said. "It's how you deal with it that makes a difference. It's fascinating, given the opportunity, how conflict can transform community."
Speaking of the transformation of her accident, Brenda Allen added, "Tod and my family basically started at a point where neither of us were talking. Now we communicate even though we're not required to... Every time I talk to him, he expresses how remorseful and concerned about our family he is."