Celebrating beer and bikes
Tour de Fat returns for another spin through Durango
written by Will Sands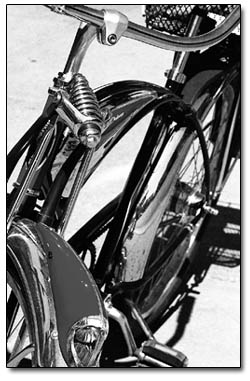 The Skinny's cruiser rests in anticipation of Saturday's event./Photo by Ben Eng.
Beer and bicycles, two great tastes that go surprisingly well together, will be reunited this weekend. The Tour de Fat, a self-proclaimed beer festival on the back of a truck, will close down Main Avenue between 12th & 13th streets on Saturday, Sept. 27, as old Schwinns and suds reign supreme.
In its second year, New Belgium Brewing Co.'s Tour de Fat is bringing its "Ballyhoo of Bikes and Beer" to 15 towns and cities across the West. Organizer Dave Kemp said the Tour is an effort to export the beer and bike culture of New Belgium's home. "It started in Fort Collins, and it's kind of a slice of our culture," he said. "We wanted to bring our cruiser bike and beer culture to other cities."
Kemp said that Durango was a natural choice for a Tour de Fat stopover, namely because of an established love of the event's backbones. "I took one trip to Durango and saw cruiser bikes everywhere," he said. "Durango is big for bikes and especially big for vintage cruisers."
And as for old school klunkers and cruisers, Kemp added, "The Tour de Fat is really all about bikes in general, but we see cruiser bikes as the grandparent of bicycling. They're something you could hang on your wall and then take down for a spin. They represent a 'stop and smell the flowers' approach to bicycling and are really just fun to ride."
The day's festivities begin with organized morning rides guided by local bike shops, Durango Cyclery and Mountain Bike Specialists. Intermediate mountain bike and road rides are planned. Registration begins at 8:30 a.m. with a 9 a.m. departure. For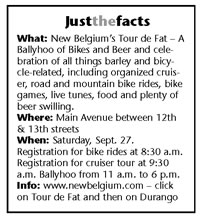 obvious reasons, the "Wacky Cruiser Ride" will take off a little later in the morning, buying participants an extra hour on the snooze bar. Costumes are encouraged for this low-impact, 10 a.m. ride with a 9:30 a.m. registration. As this leisurely Tour de Durango rolls back to the 1200 block of Main Avenue, members of the New Belgium family of beer will begin flowing, grub from East by Southwest and Scoot 'n Blues will be served, and the games will get under way. From 11 a.m. to 6 p.m., local cruiser-meisters can test their skills in events like the "paperboy challenge," "rim toss" and "ghost ride."
Live music played atop a solar-powered stage will run the entire afternoon. Listen, a techno jam band from Fort Collins, will kick things off; Kipchoge, a California jam band will keep them going; and Tucson's Warsaw will close it down with ska and punk. In between, the Mile High Extreme Team will entertain with BMX stunt riding and San Francisco's Cyclecide will present its renowned Bike Rodeo. Cyclecide also will have its cast of bicycle mutants, including the world's longest chopper, the bicycle-mower and the double-decker bike, on hand for free demos.
And while the festival promises to be fat on fun, the Tour de Fat also kicks money back into the local community. The Tour de Fat's mission is to raise money for cycling organizations throughout the country, and last year it dumped more than $120,000 back into communities. The San Juan Mountains Association, the local public lands stewardship organization, will be the beneficiary of this year's event.
"They come in and set up the bands and events and bring the beer," said Nicole Smith, SJMA's education and outreach director. "We provide the volunteers, and we get the proceeds."
Looking back on last year's event, Smith added, "It seems like people kind of dust off their cruisers, shine them up and come on down. It should definitely be a good time."