Dharma in Durango
Growing Buddhist Sangha seeks a new home
written by Jen Reeder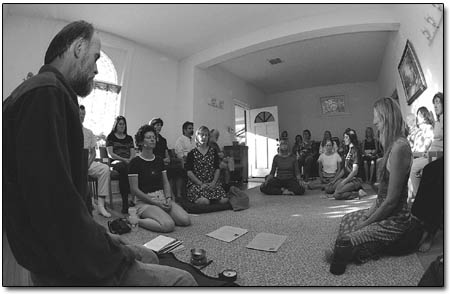 Members of the Durango Sangha gather for meditation Monday. Over the last few years, the Sangha, or meditation "community," has grown from 15 to 20 people per meeting to over 50, forcing the group to look for a larger, permanent meeting place./Photo by Ben Eng
Often, in times of stress, people seek spiritual solace – hence the saying, "There are no atheists in foxholes." And with so much concern about war in the Middle East, many Durangoans are finding comfort in religion, including Buddhism.
Valeta Bruce, a leader with the Durango Sangha, a local Buddhist meditation group, said since the war began, there has been a surge of local interest in Buddhism. The Sangha's retreats have been filled with people who feel "choices were made in their name that they didn't approve of or agree with," she said. Whereas a few years ago meditation groups saw 15 to 20 people, as many as 50 people now attend, she said.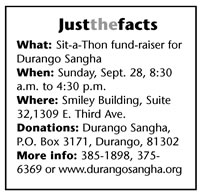 Marlena deCarion, who has been involved with the Durango Sangha since she moved here from Moab a year ago, said she believes the teachings of Buddhism speak to the current global situation, thus the rise in interest.
"Because I think Buddhism 85 has such profound teachings for the issues of our time and the conflicts that we face, we're seeing the rising of it in Durango – a huge increased interest," deCarion said.
And if the trend continues, as Bruce and deCarion believe it will, the Sangha will soon need a new – and permanent – home. Currently, the group holds its biweekly meditations in a roughly 400-square-foot rented space in the Rocky Mountain Retreat Center, on East Third Avenue.
"We're running out of room," said deCarion.
As a result, participants at the Durango Sangha have started a fund-raising campaign to buy a space of their own. The new place ideally would allow for more frequent retreats and meditations, as well as someone to live on site, so people could stop in and meditate whenever they wished, Bruce said.
The first step in the fund-raising will be a "Sit-a-Thon" this Sunday, Sept. 28, where community members will be sponsored to meditate at a daylong retreat in the Smiley Building. The goal is to raise $20,000 to get the house hunt started.
The Durango Sangha began in the early 1990s when several locals decided to "sit" together. "Sangha" is a Pali word spoken by Buddha more than 2,500 years ago to refer to "community or interbeingness," Bruce said.
She said the Durango Sangha is open to all lineages of Buddhism - and all people – but is guided by the Vipassana tradition of Theravada Buddhism. Two main aspects of the tradition are insight and compassion, she said.
In addition to offering biweekly group meditations, multiday retreats and meditation classes, the Durango Sangha also brings in outside Buddhist teachers, including the popular ZaChoeje Rinpoche, a Tibetan monk who now lives in Arizona.
Bruce said that retreats and the weekly meditations are lead by dharma ("teaching") leaders like her, who undergo 2BD years of training in Buddhist teachings to gain insight into issues such as racism, ageism, classism and same-sex relationships.
DeCarion said it is important that teachers address such current issues so they can provide pertinent guidance.
"We're not just sitting and navel gazing," she said.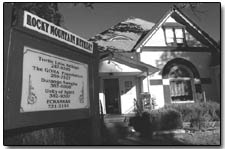 The Durango Sangha now holds its regular meditations at the Rocky Mountain Retreat Center on East Third Avenue. However, the group has outgrown the space it rents there, and a fund-raising campaign to find a new home is under way./Photo by Ben Eng.
Bruce said Sangha leaders try to help participants develop skills to deal with their experiences in a "nonviolent way that still allows assertion and effectiveness."
Heidi Timm, who will participate in the Sit-a-Thon, said having a dedicated space to meditate is important to her.
"I would love to know if I was really stressed out I could go into the space and sit," she said.
Timm said she has been involved in different Buddhist sanghas since 1982 and joined the Durango Sangha when she moved here three years ago.
"One of the first things I did was look for a spiritual community, so I was really happy to learn there was a Buddhist sangha 85 a community with like-minded people," she said.
A strength of the Durango Sangha is that it joins people of different Buddhist traditions, as well as religions, Timm said. In larger cities, they would probably be separate, but the Durango Sangha meditation groups are "inclusive," she said.
"It's open to all people," Timm said. "They don't have to leave their spiritual tradition to do it."
Another participant, Randi Schweitz, also plans to participate in the Sit-a-Thon because she feels a dedicated space for the Sangha would be good for families like hers.
"I think that one of the pluses of an expanded space is that families and kids could be involved," Schweitz said. "There's all kinds of activities kids can get involved in without meditating."
She said it would be great to do "something special" for teen-agers, like forming a peer meditation group with a younger teacher.
But ultimately, she said the new space would allow for the increased numbers of participants to continue learning about meditation and offer peace in today's hectic lifestyle.
"It's a special place where people can speak honestly from the heart," she said.
Sit-a-Thon planners like deCarion said that although people can help by sponsoring people like Timm and Schweitz, general donations to the Durango Sangha's Site Committee also are welcome. She said the biggest challenge will be the high price of real estate, but that Sangha supporters are staying positive.
"That's just the reality," she said. "But we hope to see possibility, not limitation, there because the lineage of Buddhist generosity is so deep and so vast that anything can happen."