by Mike Sheahan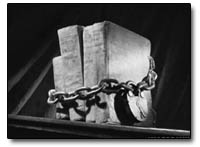 Normally, The Goods is concerned only with the ways and means of mindless entertainment and momentary diversion. The reason? I write what I know. However, this week finds us nearing the end of "National Banned Book Week," and attention is due. While most of this country is busy losing touch with books not written by John Grisham or Dr. Phil, there are people hard at work trying to keep you or your kids from reading Captain Underpants and Shakespeare.
The obvious irony is that every time a West Virginia preacher or an ultra politically correct soccer mom seeks to ban a book from local libraries, it only becomes more popular. A book like Daddy's Roommate probably would have slipped under the radar had some homophobic housewife not created a stink after spying it on the shelf of her local library. This silliness should not stop you, though, from re-reading Moby Dick or buying your kid a Judy Blume novel in honor of the week.
Now, on to mindless diversions.
This Friday night, Sept. 26, leaves us with more choices than a Texan has in a Chinese restaurant. These selections are presented in order of affordability.
KDUR radio will be hosting yet another of its crazy cover nights at Storyville. These nights happen twice a year, and this season's object of worship or ridicule is one David Bowie. Usually these cover nights attract an equal number of bands hoping to do right by their subject and others poking fun. Either way, David Bowie Night will produce an opportunity to see your favorite local band(s) do new material that will surely become part of their regular arsenal. Also, the crowd is always huge, good natured and virtually jack-ass free. The cover is only five bucks for hours of multi-band fun. The music starts around 9 p.m.
As the "song" portion of the annual "Cinders, Song and Sauvignon" event in Durango, blues chanteuse Shemekia Copeland will perform at the Fort Lewis Community Concert Hall the same night. The daughter of blues legend Johnny Copeland and a relative newcomer to the blues scene, Copeland's straight-up alto delivery will probably win over anyone in the room not already familiar with her work. Copeland is touring behind her latest release, "Talking to Strangers," an album she says is her best yet. Showtime is 7 p.m.
If that's not enough for a Friday night, country rocker Joe Ely will bring his road show to the Abbey Theatre. Ely is touring in support of his new release, "Streets of Sin," and one can expect a night of exceptional music by a man whose peers include Lyle Lovett and Robert Earl Keen. This is by far the highest priced of the day's events but should be worth every cent.
If you have any gas left after Friday night, you'll be ready for the yearly Tour De Fat bicycle-based event Saturday in downtown Durango. Sponsored by the New Belgium Brewery and benefiting the San Juan Mountains Association, the Tour de Fat features a combination of bike, beer and music fun that will appeal to most anyone. Cyclists will want to show up at 12th and Main at 9 a.m. to register for bike rides of varying seriousness. Music fans and beer drinkers need not show up until noon as the "ballyhoo" begins then. Music will be provided by local and touring acts, food will be served by local eateries, and plenty of Fat Tire will be on hand for swilling. The Tour de Fat is yet another great reason to close off Main and it's free. See ya there.
This week's sign the end is near: If I'm not mistaken, six months ago I gleefully announced the coming of pop fossil Cher's farewell tour. Much to my chagrin, it

seems she has so many fans in Albuquerque that her farewell tour warrants another stop at the Journal Pavilion on Monday. If you must, see her tired act now, there isn't another farewell tour planned until winter.
This week's new album: I have always tried to dislike Robert Earl Keen. He seems to appeal to a backwards ballcap-wearing, frat-party-going group whose taste I find suspect. The same folks who enjoy Limp Bizkit and Jimmy Buffett also dig Keen, I assume. So with each new album by Mr Keen I'm ready to disapprove and am usually right. His latest, "Farm Fresh Onions," has me at a loss. It's actually a good record. The lead track, "Furnace Fan," has a classic quality that doesn't sound timeworn, and the title track is fun and goofy while avoiding the novelty tag.
Like many albums, "Farm Fresh Onions" seems a few songs too long. The 13 songs (53 minutes), could have been trimmed to a neat 10 leaving off the likes of the phoned-in "So Sorry Blues" and pointless "Famous Words." Also, Keene could try to not sound so bored when he sings.
Complaints aside, this is the best I've heard from Robert Earl Keen for several years, and I can recommend its purchase without feeling bad.
Penthouse and Swank do not count as banned books. mpsheahan@yahoo.com