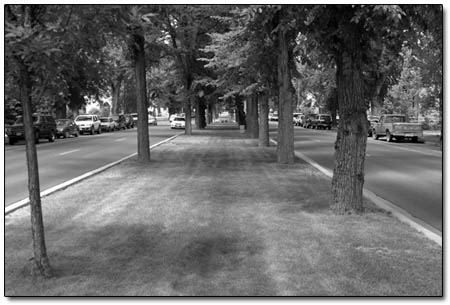 The boulevard of East Third Avenue has long been attractive to homebuyers. However, interest of prospective homeowners has yet to match some price tags that are reaching into the multimillions./Photo by Todd Newcomer.
With multimillion-dollar asking prices becoming more common, the cost of real estate along East Third Avenue appears to be sky-rocketing beyond a still hot Durango market. However, appearances can be deceiving, according to local Realtors, and asking prices do not always lead to money and property changing hands.
East Third Avenue, Durango's boulevard, has been the city's premier street since its creation in the late 1800s. The street boasts a grassy, treed median, many of Durango's ornate churches and a number of its large, historic Victorian homes.
"The boulevard, as it's referred to, was the premier street in Durango when it was created," says City Planner Greg Hoch.
However, Hoch notes that East Third is home to incredibly diverse housing types. The avenue's historic qualities led to a successful push, largely by boulevard residents in the 1980s, to create a local historic district and provide a greater degree of protection to the structures. In the late 1990s, boulevard historic district guidelines were drafted, and the Neighborhood Boulevard Association was formed. Since that time, the guidelines have influenced any changes to the face of the avenue, and the association has fought hard to maintain the thoroughfare character.
"The city recognizes Third Avenue as a valuable resource and has attempted over the years to help protect that resource," Hoch says.
That resource includes much more than large Victorians, according to Hoch. The historic preservation guidelines for the street outline 14 different housing types along the avenue's 12 blocks. These range from mining shacks that were hauled to Durango from New Mexico to the elaborate Hood Mortuary building, a former mansion. "What's interesting is that the way Third Avenue has evolved is that it has a diverse mix of housing types and income levels," Hoch says.
A recent evolution on the historic street has taken place among real estate prices, with cost per square foot outstripping nearby and comparable neighborhoods and some of the highest asking prices in La Plata County appearing on signs in front of homes.
"Exclusivity is a matter of perspective," Hoch says. "But the prices of homes on the boulevard have really increased and they tend to be higher than elsewhere in town."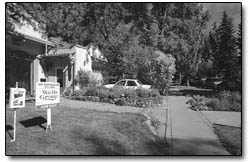 One of many upper echelon homes for sale on East Third Avenue. Only two homes listed by realtors on the street have sold in 2003. Both were smaller homes priced under $300,000. Two more homes priced under $500,000 are currently
under contract./Photo by Ben Eng.
Currently, nine East Third homes are listed for sale with local real estate brokers in addition to a handful of homes for sale by owners. Three of the listed homes have prices exceeding $1 million. The most expensive home on the street – and inside city limits – is now advertised for $2.75 million. The home of Carol Withers, president of the Neighborhood Boulevard Association, is currently listed at $2.25 million. She and her husband, Dr. John Withers, moved to a smaller home down the street recently. Withers acknowledges that the price is high but argues that the value of East Third Avenue has risen.
"I've heard the old-timers talking about their amazement at the prices," she says. "My take on it is that people are starting to see East Third for its worth."
Withers adds: "I think one of the things that makes it attractive to a prospective buyer is the same thing that's annoying to many of us – the historic preservation standards. You know you're not going to have anything strange coming in next door. You're not going to see a scrape."
Withers says that the Neighborhood Boulevard Association, which she has headed for the last two years, has fought to maintain this integrity. She cites efforts to block a boutique hotel, prevent the library from moving into the Mason Center site and most recently, prevent the Smiley Building from expanding its charter to allow professional offices and a cafE9.
"I keep thinking each year that we've encountered every possible threat, but each year a new threat to the integrity of the neighborhood pops up," Withers says. "We want to keep it residential. It's a wonderful place to be."
Withers also approves of the recent push by the Durango Historic Preservation Board to clean up neglected homes on the boulevard.
"Derelict housing is not whether you have pretty flowers in your front yard, it's a question of neglect," she said. "Would I like to see everybody having a $700,000 house on the boulevard? No. But I would like to see some upkeep."
While property values on East Third Avenue now exceed other areas of Durango, they have not yet jumped into the multimillion dollar levels that several homes are reaching for, according to local Realtors.
John Wells, broker-owner of the Wells Group, says that while there is a distinct appeal to East Third, it is not as appealing as some price tags would suggest. "To date, I don't think we've seen anything sell for over $1 million, although there are currently three homes priced at or over that on Third Avenue," he said.
Wells noted that a property's value is quite simply dictated by what a buyer will pay for it. In the case of the three homes exceeding $1 million, Wells credited the luxury of being able to wait and see for the high price tags.
"Those three homes have been placed on the market at a very special price, and that special buyer hasn't materialized," he said.
Wells noted that only two homes have sold on East Third Avenue this year, and they were smaller structures priced under $300,000. Two more homes priced under $500,000 also are currently under contract.
Gina Piccoli, broker-owner of Coldwell Banker Heritage House Realtors, agrees that East Third Avenue is one of Durango's most attractive neighborhoods. "Third Avenue has a bonus attached to it," she said. "It's considered to be a desirable street, especially for people who come here from out of town because of its trees and the boulevard."
However, Piccoli pointed to the lack of sales of the higher priced homes on East Third as an indication of over-pricing.
"There might have been a perception by some of the property owners that their properties were worth more than they are," she says. "As a result, they haven't sold."
However, Piccoli is quick to add that in the brisk Durango market, it does not mean that they will not sell. It's simply a question of when. "There's always a buyer for everything," she says. "The question is, 'When will that buyer come in?'"