Dear Diver,
I'm going on a European backpacking trip, and I need to know what to bring. I have decent walking shoes, the Let's Go book and clothes, but what do you recommend besides that? Have you ever been to Europe?
– Heather,
via e-mail
Heather,
I've never been to Europe, but here are some really good tips that have come from my strong intuitive grasp on culture. 1. Three words: fanny packs, fanny packs, fanny packs. Can there be anything as pragmatic and handy as a fanny pack? 2. Make sure you talk very loud and slow when in non-English speaking countries. They might not understand you. 3. Bust out your old "These Colors Don't Run" T-shirt. Let those Euros know who's boss.
–Thanks
Diver
---
Diver,
Does recycling really work?
– Curious in Durango
Curious,
Recycling works, but it also serves to make an otherwise environmentally careless person think he/she is a regular Thoreau. For example, one might put a bottle in the recycling bin, but then shower for 45 minutes after taking a Hummer "mudding" through a pristine alpine wetland. Recycling only really works if it is part of a broader behavior pattern. Unfortunately, people usually think of themselves as more earth-friendly than they actually are. Maybe we are all doomed.
–Thanks,
Diver
---
Diver:
Dan Groth, of Buzz House fame
Facts: Dan once judged a "hip moustache" contest among Hollywood hot-shots. Tom Selleck was barely edged out by Lee Horsely, but then was beaten in the finals by pitching great Rollie Fingers.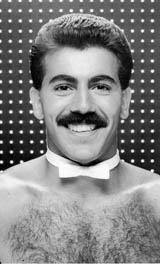 Got a dirty little secret?
Looking for guidance to remedy a sticky situation?
Seek help from the master of the kitchen! The Dish Diver has solutions to life's little messes. Send your problems to "Ask the Diver." - By mail to Durango Telegraph - Attn Diver -534 Main Ave., Durango, CO 81301; by email at telegraph@durangotelegraph.com, or by fax at 259-0448.
Dear Diver,
I keep getting asked to be on that goofy game show on DCAT, but I don't want to because I think I will be humiliated. However, I think it looks kind of fun, I'm just nervous. What can I do to calm my nerves, and then go on?
– Beth,
Durango
Beth,
You are gorgeous. No matter how badly you perform on the game show, your gorgeousness will blind people to reality. I suggest you purchase an evening gown for the show's taping (perhaps a tiara with an enormous gem will even more fully enchant viewers). If you still feel nervous, horse tranquilizers work really well.
–Good luck,
Diver

---