Old tools, new forestry
Lorax Forest Care takes a gentler approach to logging
written by Ole Bye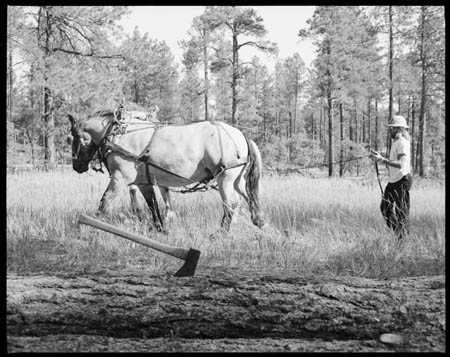 Chris Vandeleur drives his draft horses Fanny and Dan past a log deck on the Timberdale Ranch subdivision near Bayfield. The Belgian- Percheron crosses are brother and sister and weigh 2,000 pounds each./Photo by Ole Bye
Care is not a sentiment typically associated with logging. But the employees of Lorax Forest Care seem to genuinely care about their work, and it shows in all facets of the operation, from the marking of fated trees to the final sawmill cuts. But the great embodiment of this care is in the draft horses used to drag felled trees out of the woods. Horses are the environmentally sensitive backbone for a modern philosophy of logging practiced by Lorax owner Eric Husted and his crew. Husted's hope is "to try and change people's perceptions from logging to forest restoration, to look at it as a service that's going to enhance the value of their property, rather than a way to make money off the land."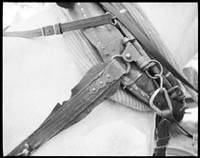 A detail of a part of the harness called the collar, which bears the weight of the horse's pull./Photo by Ole Bye
The relatively minor impact left by Lorax and its horses leads employee Chris Vandeleur to echo these sentiments: "We're not just working and making a buck 85 we're making a little bit of the whole better."
The Bayfield-based crew thins forests on private land with the main purpose of protecting rural homes from wildfire. But fire mitigation isn't the only consideration people make when hiring Lorax. Many are combining fire-fuels reduction with a desire to maintain forest health. Residents of Timberdale Ranch, near Bayfield where Lorax is now at work, decided that low-impact logging was the right path to good forest stewardship. Resident Doug Maxwell says, "Initially my concern was the fire danger. And the bonus is that we get to restore the forest to a healthy, natural condition."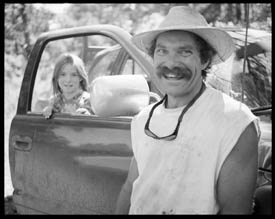 Lorax owner Eric Husted and daughter Kyla./Photo by Ole Bye
The work
On a typical day, one might not even notice the Lorax crew at work. Only the distant whine of chainsaws betrays the intense labor of Lorax employees Luis Ramos and Luis Arellanes. The pair is usually well ahead of the horses, felling trees on distant properties while the team follows behind, bringing logs to the roadside.
Felling trees is far from easy. Ramos and Arellanes first evaluate marked trees and predict where they can be dropped to benefit the horses. Brush must then be cleared from around their bases, and any snags that might impede the fall must be removed. Eventually, the tree is cut and all of its branches are removed. This "slash" is piled to one side leaving a clear path for the horses to remove the log.
Although men are doing some of the hardest work, the horses remain the stars. Husted concedes, "(People) come and all they want to do is take pictures of the horses." Coming upon the team working in the woods feels a bit magical, as if one is looking into another age. From a distance, the horses seem to move smoothly and naturally through the woods. But up close, the ground shakes as they pound past, hot breath rasping through dilated nostrils, with Chris Vandeleur in tow.
Vandeleur pauses tensely in the otherwise constant motion of his work, a leather rein held firmly in each hand. At his fingertips are the combined 4,000 pounds of Dan and Fanny, brother and sister Belgian-Percheron crosses. The horses shift and stomp, eager to pull, despite the heat and dust. Their heavy leather harnesses creak and sing with a metallic jangle. "Wait for me," Vandeleur warns crossly as Fanny shows signs of jumping the gun. Then he says in an even, conversational tone, "OK, let's walk."
The team explodes into motion, nearly cantering as they thunder out of the stand of ponderosas with a 30-foot log in tow. Vandeleur careens after them, hopping back and forth across the skidding, bouncing log, attempting to keep slack reins while not being crushed. In a few seconds they reach the edge of a field and pull alongside other logs in a "deck" formation, where Vandeleur halts to unfasten the log chain. Then all three return to the woods to repeat the process.
Fanny and Dan seem to enjoy the logging, and so does Vandeleur. He says of the work, "It might be the best I've ever done. (It) keeps me in shape for hunting season."
That's no wonder, considering the miles he runs following his charges. An apparent vein of fun runs through the work, along with a vein of concern. Husted says that he wouldn't be in logging without the horses. "Yeah," he replied. "They're the main incentive. They're the best part!"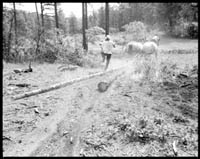 Vandeleur leaps across two tumbling
logs as he races to keep up with the
team./Photo by Ole Bye
Getting down to business
Being fun and eco-friendly are not the only traits that make the horses valuable to Lorax. They also keep Husted from having to advertise. "They sell themselves," he says. "A lot of the people who hire us, hire us just because the horses are involved." The premise works well. Husted is booked for the next two years and has increased his work force from just a couple employees to six. He has four horses to choose from when making up teams and is raising a fifth.
A fairly new addition to the business has been a small, mobile sawmill, operated by two people, which is used to cut rough lumber. In the future, Husted plans to open a woodworking shop as a further extension of the process. But he's cautious about capitalizing on his easy source of timber: "I don't buy any of the material unless I've already got it sold," he says. "All that stuff we're milling down there is from pre-existing orders. The standard logging thing where you buy standing trees and cut them down and try and make money is just bad forestry. Because really the only way you can make money is if you go in and take the nicest biggest trees and get out as fast as possible, with no mitigation."
Lorax's profits come mostly from the fees landowners pay to have their forests managed. Husted says that selling logs doesn't pay the bills when using horses. "I tried that for the first year and a half," he says. "If you do really high volume and work 80-hour weeks, you might be able to make a living that way, but it would be hard."
Still, Lorax's niche is a valuable one, according to Husted. People are willing to pay more for a better, more environmentally sound job. And people also are willing to pay for the ideals espoused by the company.
"We'd be better off doing more things with a lighter hand than always bringing in big guns, big technology, big power," Husted says. "You can accomplish the same things with a much lighter touch."
Lighter touch also makes for smaller overhead. "I started with two horses for about 3,000 bucks, and a chain saw, and a trailer and a truck," Husted says. "So you can get into business way cheaper with horses than you can with heavy equipment."
One paradox of the Lorax operation, however, is the use of an outside contractor's mulching tractor to chop up ladder fuels after the horses have removed the logs. The result is a low-fuel, nutrient-rich forest floor, which is ready to sprout grass. Except for the mulch, you might not know a tractor had been in the woods, because if there is impact, it isn't visible.
"We don't really need giant bulldozers and stuff for most of this work. But then I'm not opposed to... (the) chipping unit. It does exactly what we want. It lays stuff down on the ground and makes it fire safe," says Husted.
As for the future, Husted is optimistic. At a pace of 1 to 2 acres a day, he has work in his current location for months to come. "There are thousands of acres that could use the same thing that we're doing," he reports. "We're supporting about five families on three, 400 acres of timber a year. So you could support dozens of little operations like this around here, and people would make good money, and they'd get to stay close to home."
Making the Lorax choice
Although homeowners in the Four Corners area were marginally interested in thinning trees on their property before the summer of 2002, "There was a catalyzing event, and it was called the Missionary Ridge Fire," says Joni Hedemark, a resident of Timberdale Ranch. Hedemark was largely responsible for initiating the process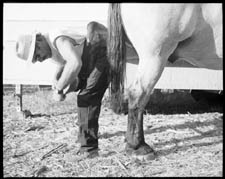 Husted trims and files Dan's unshod hooves, which keeps them from chipping or breaking./Photo by Ole Bye
that led to hiring Lorax to do work at Timberdale Ranch. When Hedemark learned of cost-share grants available from the State of Colorado to aid in wildfire mitigation, she tossed the idea to the Homeowners Association, and 80 percent of residents indicated they were willing to participate. Homeowners began to educate themselves on what needed to be done to protect their homes from fire. They brought in Husted, who lives nearby, to give talks on forest management, and a partnership was born.
But it wasn't just neighborly goodwill that led Timberdale Ranch to hire Lorax. Residents also admired Husted's ideals and methods. "Many of us liked his approach to forest management – more of a common-sense approach, if you will; nonaggressive and perhaps not typical of what we would picture to be a logging approach," Hedemark says. And, of course, there's the horses: "We also liked that he utilized the horses, a tool that was so common at the turn of the century."
When thinning is completed to correct standards, Timberdale residents will receive a $93,000 grant from the state. To date, all properties in Timberdale that have been thinned have passed inspection even though the Colorado State Forest Service offers no incentive to encourage environmentally sound logging practices.
Husted says that horses seem to be an ideal, if not sanctioned, tool for thinning forests on private property around houses. "I see the horses as an excellent tool for doing just exactly what we're doing – thinning in areas that are populated and already roaded," he says.
The team can work in tighter spots, for example, around houses than big machines can. Also, less impact appeals to homeowners like Hedemark, who notes, "If (Eric) were to skid logs on your property, depending on the situation, in three to four weeks the skid trails are gone."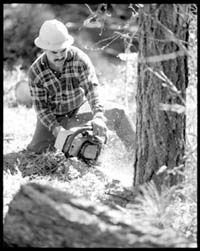 Luis Arellanes fells a tree./Photo by Ole Bye
Healing the forest
After Husted and crew pass through a forest, its face is changed dramatically. Trees stand well apart from each other, the forest floor is shorn of ladder fuels like scrub oak, and sunlight fills the woods. Initially, it looks too manicured to be natural, but Husted comments, "That's a little closer to the original components of the ecosystem – bigger ponderosas and more grass."
Fewer trees are now competing for water in the thinned area, so they have a better chance of being healthier and disease-resistant. "When trees start to get bigger and closer together, and you throw in a drought, the competition becomes even more keen," says Kent Grant of the Colorado State Forest Service.
Moving onto the next area of Timberdale to be thinned, Husted marks trees to be cut and explains what he's looking for in the trees he's cutting. "We're thinning for 15- to 30-foot spacing," he says. "We're removing anything that looks unhealthy or weak."
And then indicating a large ponderosa, he says, "Wow, that's a cool tree."
Walking on, he suggests that the forest can be restored to its natural, original state. "It'll take a hundred years, I'm sure. But yeah, I think it's doable," he asserts, spraying another blue "x." A quarter mile below, the horses are working, but they can't be seen or heard.